Darden Earnings Could Bring Fight Over Red Lobster Spin Off To Screaming Boil
Darden Restaurants reports earnings tomorrow, and another weak report could be enough to move shareholders to side with an activist hedge fund that is trying to stop the company from spinning off its chain of Red Lobster restaurants.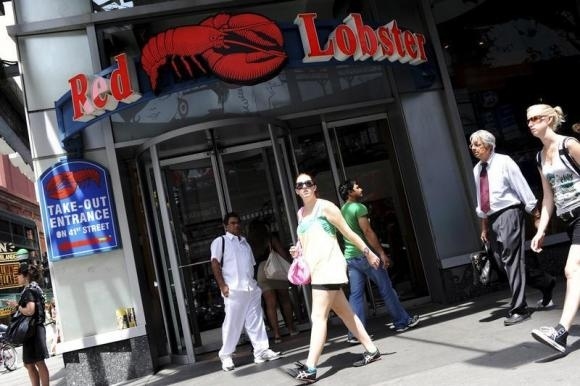 Tomorrow marks earnings day for Darden Restaurants, owner of Olive Garden, Red Lobster, and a number of other chain eateries across the country. The event, a generally banal quarterly ritual for most companies, will perhaps be one of the most significant announcements for the company in recent months, as its fight with a pair of activist hedge funds to spin-off or sell the Red Lobster brand has turned increasingly hostile.
"Poor earnings can give ammunition to the dissident side and make their campaign more credible," said Mark Chen, associate professor of finance at Georgia State University's Robinson School of Business. "If [shareholders] are more dissatisfied with the current management they're more likely to side with the dissident. Poor earnings can be a symptom of poor governance."
Just this week, Darden and Starboard Value, the activist hedge fund pushing for a special shareholder vote to determine if the deal should go through, publicly sparred in an exchange of correspondences with shareholders urging them to take a side. What Darden wants is simply to spin-off or sell the Red Lobster brand before May 26, the end of the company's fiscal year.
But Jeff Smith, Starboard's CEO, believes shareholders should have a say in whether the sale or spin-out happens. Problem is, Darden's annual shareholder meeting, when such a vote could take place, doesn't happen until September. Hence the need for a shareholder vote, which Smith has been actively pursuing in letters to shareholders.
The battle goes back to December, when another hedge fund, Barington Capital was pressuring Darden to spin-off both Olive Garden and Red Lobster into a separate company. Darden countered the effort by saying it would spin off only the Red Lobster brand, and possibly sell it. Smith then joined the fray, calling for a shareholder vote before the company could go ahead with its plans.
Adding to the tension is a report yesterday that Darden's earnings will be weaker than expected. Further, claims of shareholders opposing Darden's vision being iced out by the company are ratcheting up the pressure on Darden to perform well or face the kind of scrutiny that could move shareholders to action.
"In general, earnings tell you how well management has performed and that is used as a very good indicator for how management is going to perform in the future," said Thomas Lys, professor at Northwestern University's Kellogg School of Management. "One of the best predictors of the future is the past, so when management is not delivering on earnings, it is an indication that they may not be that capable. So bad earnings diminish the credibility of management so they may not perform that well in the future. This is especially important in proxy fights in whether to trust the management or go with the outsider of the hedge fund."
Darden has experienced four consecutive quarters of year-over-year decreases in revenue, which in turn has caused volatile swings in its stock price. Shares of the company have vacillated between $46 and $54 over the last six months, creating a pattern that could be concerning for shareholders.
Smith needs something to happen ahead of the proposed May 26 closing date for the spin-off, and with projections favoring a drop in earnings, he might get the leverage he needs to move the needle just enough.
"While one bad earnings report is usually not a key issue that drives a proxy contest or an activist's proposal, I think a string of bad earnings reports can galvanize shareholders to take action," Chen said.