Cupcakes, Teddy Bears, And Egg Cartons Among Hedge Fund Managers' Hot Picks
BuzzFeed scored an invite to the 2014 Value Investing Congress in Las Vegas, where hedge fund managers from across the country and around the world come to divulge their favorite longs and shorts, and place a few other bets in the process. Here's the scoop on what's hot and what's not.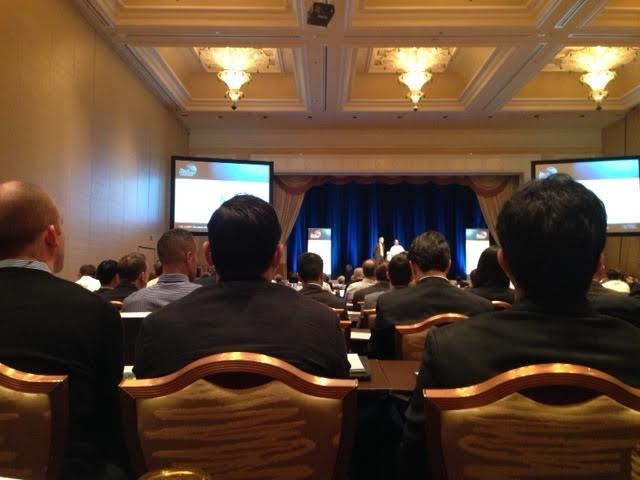 LAS VEGAS — In a grand ballroom at the end of a winding maze of opulent hallways and meeting rooms at the Encore hotel and casino, 250 suited men and roughly four women eagerly awaited the next hedge fund manager to take the stage. He, like other presenters before and after him, would tell them how to turn millions of dollars into tens and hundreds of millions of dollars with his best stock picks. A bet of a different kind here in Sin City, predicated on the idea of value investing — a type of security selection that identifies companies that this group of investors think are worth more or less than their current value. And if these value investors are right, they stand to walk away with much more than anyone stumbling out of one of the Encore's high roller rooms.
Though Vegas is better known as a place for losing money than making it, the latter was exactly what this group, gathered here at the 9th Annual Value Investing Congress, had come to do. Hosted by famed value investor Whitney Tilson, the two-day event drew attendees from Sydney to Baltimore, all to hear a procession of speakers' stock picks, a litany of securities much more diverse than the almost entirely white, male crowd. After not allowing press to cover the event in recent years, BuzzFeed was able to charm its way into the conference last Thursday and Friday and get a firsthand look at the presentations as the only media outlet in attendance.
The takeaway, it appears, is that this year hedge fund managers see big investment opportunities in cupcakes, teddy bears, egg cartons, and soda.
Carlo Cannell, founder of Cannell Capital, is salivating over Crumbs Bake Shop, for example. He thinks the cupcake company's stock, which is trading at around 50 cents per share, is cheap and has the potential to rise.
"It's a cheap luxury," Cannell said. "They're selling an addictive substance: sugar. They think they can do 400 stores, they have 60 now. There could be franchise opportunities."
During Cannell's presentation, Crumbs' stock jumped four cents to its week-long high of 64 cents per share. This was not an unusual phenomenon at the VIC, as various speakers' presentations moved the market throughout the two-day event.
Another of Cannell's favorite long positions is Build-A-Bear Workshop, which he called a strong brand. "In its worst year, the company generated more than $24 million in cash flow; it's an accessible luxury that occupies children," Cannell said to chuckles from the crowd. "Until recently, the company was delightfully neglected by investors, but a turnaround is coming."
But cupcakes and teddy bears have nothing on egg cartons, apparently. At least that's what Eric Andersen of Western Standard thinks. He said leading egg packaging company Hartmann stands to benefit greatly from rising egg demand and its ability to manufacture "high end" egg cartons for people who are into that sort of thing. Which, apparently, many customers are, as it represents more than 40% of Hartmann's European business.
Other presentations were just as esoteric. Osmium Partners' John Lewis waxed emphatically about Tucows, a subscription-based telecommunications company. Bed, Bath & Beyond? "Not a declining retailer," said Lane Five Capital Management's Lisa Rapuano, the only woman out of the two dozen presenters. And Tilson's very own idea, the single-serve carbonation drink manufacturer SodaStream, has "a few fixable problems," but he says the "view that it is a fad" that underscores the short thesis that is rampant in the market is "mistaken."
The two biggest short presentations involved online banking and electronic car maker Tesla. Regarding the former, Kerrisdale Capital's Sahm Adrangi said he is shorting Bank of Internet, an online banking service suffering from "new competition weakening their position," a comment that immediately sent its stock price down nearly $3 from $82 to just over $79 per share. On the former, Cannell said, "Its audience is overvalued. People who buy an expensive efficient car to drive across the country so they only have to stop and fill up their car a few times can also afford to fly across the country. All of these high flyers like Twitter and Tesla, there will be a time to short them."