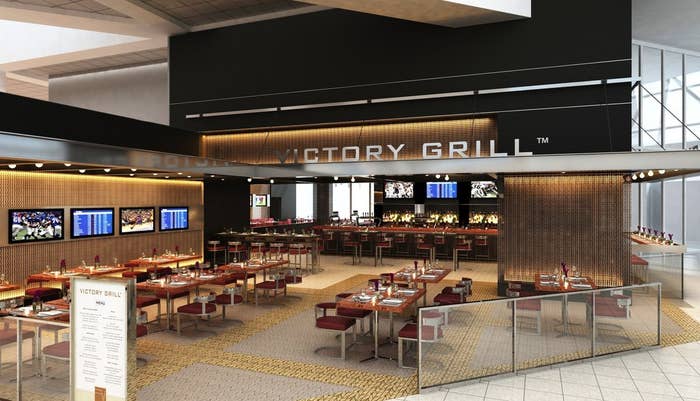 Just a few years ago, the prospect of flying into or out of New York's LaGuardia airport would've sent chills down the spine of most travelers. The smallest of the New York City metropolitan area's three main commercial airports, LaGuardia offered little in terms of amenities, with low ceilings and dated, drab design. It was a grim experience.
But at the end of 2012, Delta stepped in with $160 million, determined to change the status quo at LaGuardia. It tapped the airport development firm OTG to transform its two terminals there into an oasis of dining, shopping, and work-while-you-wait options, including local favorite Artichoke Pizza, a French restaurant from the chefs at Balthazar and Minetta Tavern, the Sullivan Street Bakery-inspired Crust pizza place, and even a Brooklyn-themed beer garden.
"It has really just been a wonderful, fabulous experience," OTG founder and CEO Rick Blatstein told BuzzFeed News. "We have wonderful restaurants, be it wine bars, steakhouses, pizza, or the beer garden, and what's nice is, we see that our customers are coming to the airport a little bit earlier and really enjoying the experience."
The new terminals are even becoming something of a destination in their own right. "If you'd have told me this years earlier, I'd say you're nuts," Blatstein said, "but customers are coming off the plane and having lunch or dinner — they're having a meal in the airport before they even come into the city!"
The push to rev up the terminal experience is in full swing at other airlines as well, with each company deploying capital for renovations during a time of record profits. In many ways, better terminals are an easy win for companies whose core product is becoming more unpleasant: Celebrity chefs and designer furniture are arriving in glitzy new terminals at the same time that economy-class seats are shrinking, fees are rising and studies show customer satisfaction with U.S. airlines is at an all-time low.
United recently unveiled plans for a massive redesign at Newark International Airport that Bloomberg dubbed a "foodie theme park." Meanwhile, American last year announced a $2 billion investment in "customer improvements" at terminals in Los Angeles, Phoenix, and Dallas.
And JetBlue, an early mover in the upscale terminal game with its gut renovation of JFK's former TWA-operated Terminal 5 (which was also an OTG job) is currently renovating terminals in Boston and Fort Lauderdale.
"Probably, over time, travelers did feel neglected, and that's one of the successes of JetBlue to bring customer satisfaction back to the airline industry," Richard Smythe, JetBlue's vice president of corporate real estate, told BuzzFeed News of its efforts at JFK. "Throughout the terminal we don't necessarily brand it, all of our customers just know that the whole experience is the JetBlue experience. And we know that our design and concept has informed airlines' work at other terminals, and the feedback has been overwhelmingly positive."
Indeed, JFK Terminal 5 ranks number one by a large margin on the Port Authority of New York and New Jersey's annual survey of airport terminals, and has done since its opening in 2008. JetBlue recently completed an extension of T5, and it hopes to re-create the experience in its Boston and Fort Lauderdale projects. "We're hoping that the end product is going to look and feel very similar to JFK," Smythe said.
One industry watcher told BuzzFeed News the terminal beautification race is a result of airlines chasing big-spending customers, as more penny-pinchers defect to budget carriers.
"They're losing customers on the bottom end and adding customers at the higher level and the international level, and the customer that travels globally is used to international customer service and amenities at the terminals around the world," said Mark Sixel, founder of airline and airport consultancy Sixel Consulting Group. "The international traveler is much more lucrative than the domestic-only traveler, and they have to invest in things that will differentiate or at least bring themselves on par with other international airlines to compete. So it's catering to a more service-conscious passenger."
The changes in terminals are also a reflection of how the industry changed in the last decade, with airlines merging and cutting the number of flights and routes on offer. "Demand has increased and capacity did not increase, so the main carriers have cut their service to lower airfare customers. It ratchets up the price per passenger and squeezes the number of people that can fly on a regular basis," Sixel told BuzzFeed News. "When people pay more money, they expect more service, and that's what's happening in airline infrastructure."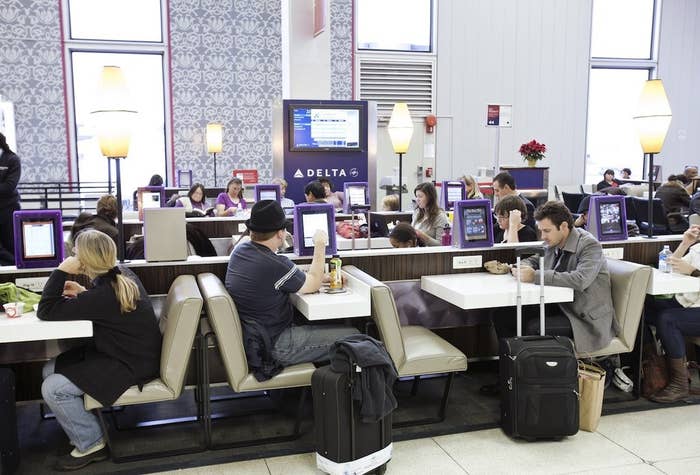 With LaGuardia's makeover nearly finished, Delta has also been focusing renovation efforts on JFK Terminal 4, where it rolled out a $1.2 billion renovation beginning in May of 2013 and culminating at the beginning of this year. The project includes a 346,000 square-foot addition to the terminal, 11 additional gates, outposts of local New York City eateries like The Palm Steakhouse, Shake Shack, and a bistro by celebrity chef Marcus Samuelsson, as well as a 24,000 square-foot glittery new SkyClub complete with a rooftop terrace that looks like something straight out of a South Beach nightclub.
But Delta's most recent efforts have been in Los Angeles. Next month it is slated to unveil its renovations of the former U.S. Air Terminal 5 at LAX, a $229 million improvement project that features completely renovated ticketing, gate, and security areas, as well as local vendor restaurants and shops. In a nod to the high rollers, there's a brand new "ultra VIP" check-in area with frosted glass windows, iPad check-in reminiscent of a chic nightclub's entry protocol, and a private escalator and lounge access for the highest-spending travelers.
"We've had a track record of investing in the ground business for a long time. The ground experience is critical; it sets the tone for the journey itself," Ranjan Goswami, Delta's vice president of sales for the West Coast region, told BuzzFeed News after a tour of Terminal 5 at LAX, some of which was still under construction. "With food and beverage, we learned that to be global, you need to be local. You see all those elements having been incorporated in our terminals. What we are really excited about being a first mover and setting the standard in New York and L.A."
Airlines believe terminals with beer gardens, comfy seating, and good food translate into more loyal customers, a claim that will be easier to evaluate once the current round of terminal mega-renovations is finished and frequent fliers start developing their favorites. But in the short term, the winners are fliers, who get something a better on the ground even if the experience in the sky is going downhill.