Anonymous Documents Sent To Hedge Fund Back PetSmart Into Likely Sale
Hedge fund Jana Partners, which has been pushing for a sale of the pet supply company citing poor financial performance in the last year, received anonymous documents that appear to have persuaded PetSmart into considering a deal. Competitor Petco or a private equity firm is looking to bid on the company.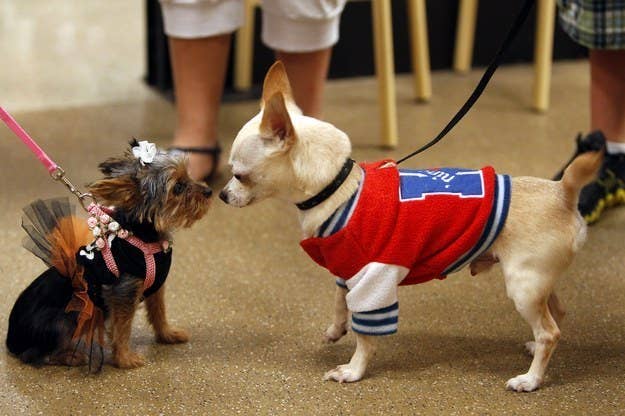 An "anonymous, unsolicited package" sent to activist hedge fund Jana Partners saying PetSmart employees "exhorted to enhance upcoming quarterly results" appears to have trapped the company like a rat in a cage.
After initially fighting Jana's campaign to force a sale of PetSmart last month, the company now appears to be rolling over in part because of the information contained in the documents, which a Jana employee with knowledge of the documents told BuzzFeed came from a very high up PetSmart employee. The source said the nature of the package of documents, which the hedge fund subsequently returned to PetSmart, was unprecedented for the activist fund that has waged campaigns against Walgreens and McGraw-Hill Companies.
PetSmart said yesterday that it would consider a sale, just one day after Jana Partners, a $10 billion activist hedge fund with a 9.8% stake in the company, revealed it had damning documents showing PetSmart planned to inflate its earnings to stave off a proxy fight from the fund. The announcement came ahead of the company's second quarter earnings call Wednesday, where it posted a 10.1% earnings increase to $0.98 per share, and $98.1 million of net income, a 5.1% increase.
Jana had been pushing for PetSmart to sell either to its main competitor Petco, or a private equity firm since announcing its stake in July. The hedge fund laid out its case in multiple letters to PetSmart's board of directors, citing a weak e-commerce presence, suboptimal pricing structure, inadequate cost management, failure to develop new store formats, and a lack of product innovation as reasons that a sale of the struggling business would add the most value for PetSmart shareholders. After shooting up nearly $10 per share upon Jana's initial announcement of its stake, PetSmart stock ranged from around $67 per share to nearly $71 per share over the course of the activist campaign, which appears to have culminated with PetSmart's announcement Tuesday that it would consider a sale.
But up until Jana announced in a filing Monday that it had received in the mail "an anonymous, unsolicited package" containing documents that show PetSmart planned to juice its third and fourth quarter earnings to get the hedge fund off its back, PetSmart was not taking Jana's plan lying down. That appeared to change after Jana's disclosure of the documents
Despite sluggish attendance and lagging behind its competitors in recent quarters, PetSmart also reported a 1.4% sales increase in the second quarter. On the company's earnings call Tuesday, other than a brief mention during CEO David Lenhardt's opening remarks, PetSmart executives steered clear of discussing the sale for the most part, focusing more on its acquisition of an online pet specialty retailer, Pet360, its return to more mass market, grocery brand pet food, and cost-cutting and other initiatives to raise traffic at its stores, which has been down for the last three years.
When pressed by a Barclays analyst, Lenhardt said the company's decision to consider a sale was spurred by its own internal investigation, as well as a dialogue with shareholders.
"The board of directors has been engaged in a thorough review," Lenhardt said on the call. "And as you've heard us talk about the performance initiatives, we absolutely believe those are the right ones to grow the business going forward. We've outperformed as a company for a long time. We absolutely believe we can again in the future.
"At the same time, the board has also been engaged in listening to many major shareholders, who believe that in addition to pursuing the initiatives that we talked about, that we should seriously explore other ways to maximize value, including the potential sale if it's in the best interest of our shareholders." Lenhardt and others on the call did not mention the anonymous documents that Jana received or the hedge fund by name.
Shares of PetSmart were trading at around $69.80 per share after the earnings call Wednesday morning.