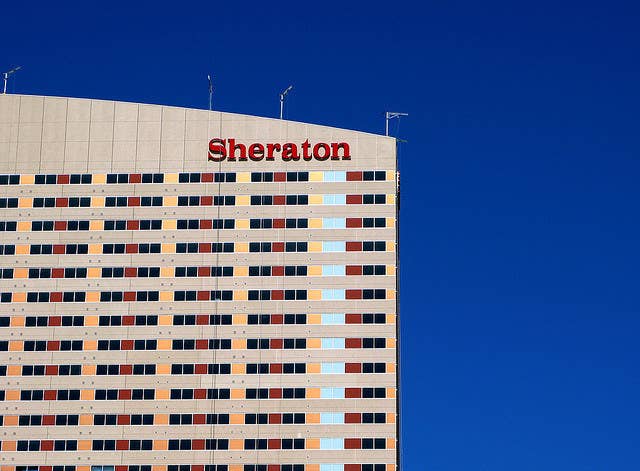 A little more than a month after announcing sweeping layoffs and relinquishing its corporate jet in an effort to improve its financial situation, Starwood Hotels & Resorts Worldwide has unveiled plans for a major facelift for its Sheraton brand, the company's largest.
The "Sheraton 2020" plan, announced Monday morning, includes a ten-step playbook for turning things around. Sheraton has struggled in recent years as its parent company has endured quarter after quarter of earnings misses. CEO Frits van Paasschen resigned in February amid pressure from its board to stem the company's losses.
Starwood's 10-point plan to "put Sheraton Hotels and Resorts firmly back into the global spotlight" includes a $100 million marketing campaign primarily aimed around existing Sheraton hotels, the 150 new properties Starwood plans to open by 2020, and the introduction of a new "premier tier" of hotel, Sheraton Grand.
Certain elements of the plan will be rolled out as soon as this month, and include a new "visual identity" for Sheraton. Starwood plans to "elevate" 100 properties to the Sheraton Grand level to highlight the brands best hotels, "lure high-value travelers", and encourage more renovation by franchisees to "better match guests' expectations" of Sheraton.
The plan was thin on details, but offered plenty of talking points like "reclaim Sheraton's Status as THE Meetings Brand" and "Maniacal – and consistent – focus on excellence in service delivery." More specifics could be on offer Tuesday, with Starwood executives scheduled to address a hospitality conference at New York University.