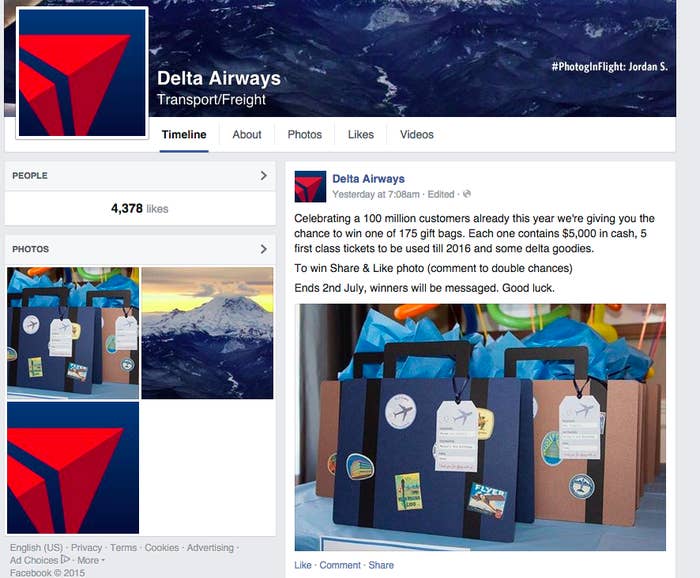 In the past 24 hours, "Delta Airways" has been scoring some viral love on Facebook, with a promotion to give away 175 gift bags containing cash and first class tickets. It has already been shared 65,000 times.
The only problem? It's a fake.
"We are aware of this item, and it is not an official Delta site," a Delta representative told BuzzFeed News. "We have reached out to Facebook to remove it ASAP."
The airline, which officially goes by Delta Air Lines, has a verified Facebook page that has nearly 1.5 million likes. That page makes no mention of the promotion, which is on the non-existent "Delta Airways" Facebook page.
The post claims Delta is "celebrating a 100 million customers already this year we're giving you the chance to win one of 175 gift bags. Each one contains $5,000 in cash, 5 first class tickets to be used till 2016 and some delta goodies."
If they want to win, Facebook users are told to "Share & Like photo (comment to double chances) Ends 2nd July, winners will be messaged. Good luck."
The hoax appears to be working: after being up for just 24 hours, the promotion has been shared 64,000 times as of Wednesday morning, and has more than 26,000 comments.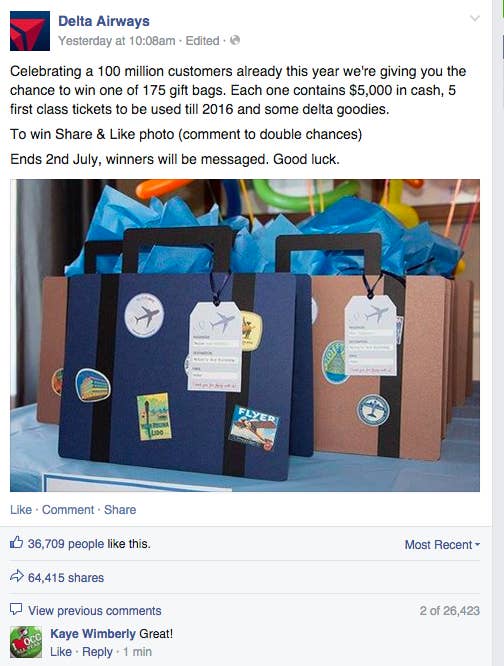 People are also sharing the promotion on Twitter.
As of mid-morning Wednesday, the page took down the official Delta logo, but is still up on Facebook.