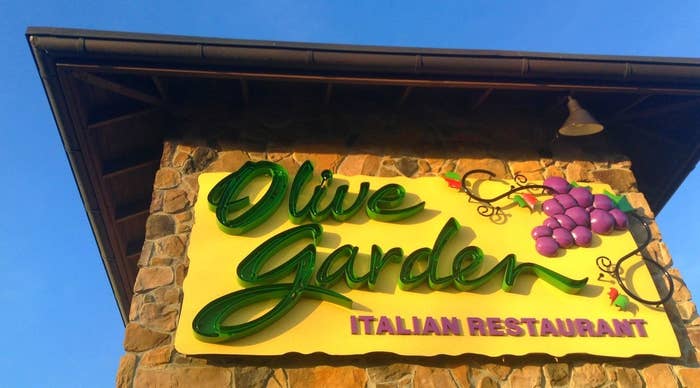 How does $23,294 a week for the next two years sound, just for quitting your job? Or stock options that have increased by $10.8 million since you left, that are yours to keep for all that hard work you did in leaving a company?
That's what Clarence Otis, the former CEO and Chairman of Olive Garden parent company Darden Restaurants, will receive when he walks away from his role for good at the end of the year, according to a report by the progressive think-tank Institute for Policy Studies.
Moreover, two additional Darden executives will get hefty packages as well. In total, the three will rake in nearly $68 million after taking leave of the troubled company in the middle of a battle with activist hedge fund Starboard Value, which is out to replace its entire board at the annual shareholder meeting next Friday in Orlando.
"By allowing executives to hold stock-based compensation after they resign, corporate boards open the door for these kinds of perverse windfalls from failure," Sarah Anderson, global economy director at IPS, told BuzzFeed News.
Anderson used public filings and stock data to calculate the total compensation packages that Otis, as well as outgoing Darden COO Andrew Madsen, and Chief Restaurant Operations Officer David Pickens, are slated to receive as part of their severance agreements and stock options that have vested in the last 10 years, including some that will continue to vest after they leave.
In the cases of Madsen and Pickens, the men will walk with $21 million and $11 million in salary, stock options, and retirement account contributions, respectively. Otis's total compensation package is worth $36 million, including the salary he will continue to receive for the next two years.
What's more, Otis will receive income from Darden's growing stock price, which is up 14.6% since he announced his resignation in late July. The stock has gone up, in part, because of investors cheering his departure, but that cheering has also increased the value of Otis's Darden shares by $10.8 million.
During Otis' tenure at the helm of Darden, the stock has gone from around $23 per share to more than $55 two years ago, before dipping into the $44 range throughout various points of 2013. It closed yesterday at $51.48.
The stock has been on a rollercoaster since Starboard got involved in December of last year, amid declining sales and attendance at Olive Garden and Red Lobster, with Otis overseeing the sale of the latter despite majority shareholder approval for a vote to discuss the matter ahead of the deal closing.
Meanwhile, Darden pays tipped servers at Olive Garden around $2.13 per hour.
A Darden representative told BuzzFeed News his stance on the matter has not changed from what he told the local Orlando newspaper, calling IPS's analysis "hugely misleading" adding that its report "significantly overstate[s] the actual severance."
In response, Anderson said in a statement, "the IPS report could not be more transparent. It provides extensive details of the various types of compensation the executives are walking away with, based on the company's own reports. The aim of this report is to provide the clearest, most comprehensive picture possible of the fortunes these three executives are likely to put in their pockets after their resignations from Darden. Exact figures will depend on the value of Darden shares when the executives cash in their option and stock awards."