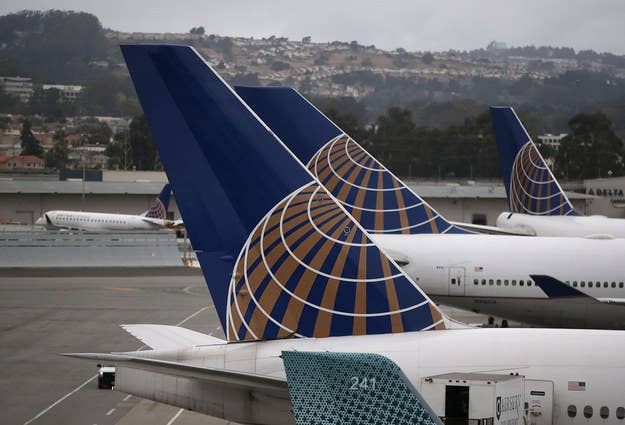 On a day when technical glitches caused havoc at the New York Stock Exchange, the Wall Street Journal, and United Airlines, it was almost certainly the latter that led to the most headaches for the American public.
The airline was forced to ground or hold 4,900 flights in the 81 minutes that a server outage crashed the company's computer systems. According to a calculator from trade group Airlines for America, using data compiled by the U.S. Department of Transportation, delays on U.S. commercial flights cost airlines billions each year. More specifically, Airlines for America estimates that in 2014, the average cost of a delay for a single flight on a U.S. carrier was $81.18 per minute, including things like fuel, crew, and maintenance costs.
Some back-of-the-envelope calculations show just how costly today could have been. With 4,900 planes sitting on the tarmac, by Airlines For America's cost estimations, United would be burning out about $400,000 per minute. Keep that up for nearly an hour and a half and you're talking about more than $30 million.
And the financial effects of United's glitch don't stop once the systems are back up and running. The airline will incur costs involved in passenger recovery, or the compensation airlines provide stranded passengers in the form of hotel and meal vouchers, and by rebooking passengers on other airlines.
These kind of mass groundings have happened many times before. In April 2013, a glitch in the booking system put American Airlines out of commission for more than half a day, and back in November 2012, United experienced a problem with its ground operations software that grounded "some but not all" flights for most of a morning. In June 2011, a power outage halted an undetermined number of US Airways flights.
Repercussions from Wednesday's glitch, which will reportedly affect an estimated half a million travelers, will likely last through Thursday and potentially into Friday. In Recovery Operation mode, as it is called, United will have to balance the glitch's impact on its flight schedule, aircraft rotations, crew schedule, and passenger itineraries, which will involve cancellations, as planes are taken out of commission and moved to other airports. There will need to be a reorganization of of flight attendant and other crew pairings—not to mention the costs of getting every passenger to his or her final destination, on United or another airline.
In the meantime, a United representative tells BuzzFeed News, "We are working as quickly as possible to get all of our customers to their final destinations. For customers who wish to change their travel plans, we do have a waiver in place."