4 Years And 14 Steps To Making A $5 Billion Sausage Deal
Here are the key dates and events that led to the blockbuster $5 billion deal between China's Shuanghui International and U.S. pork producer Smithfield Foods last month, based on information from its recently released proxy statement.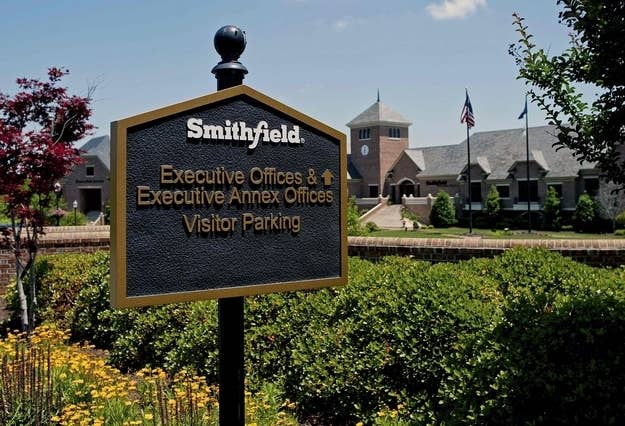 14.
2009: The first contact between Shuanghui and Smithfield.
In a conference call with analysts after its $34 per share sale to Chinese meat producer Shuanghui International was announced, Smithfield CEO Larry Pope said he'd been trying to put together a deal with the company since 2009.
13.
2010: Smithfield engages in sale talks with a company that was not Shuanghui.
Smithfield throughout 2010 engaged a non-U.S. public company, known as "Company A" in the proxy, in merger discussions under which Smithfield would acquire the company's U.S. assets in exchange for shares of Smithfield stock. The discussions were halted until March 29, 2013, when, after seeing a shareholder activist campaign regarding Smithfield, a representative for "Company A" told Smithfield CEO Pope that he'd be interested in reviving merger talks.
12.
January 2013: Smithfield considers becoming a buyer instead of a seller.
The Virginia-based pork company considered a "potentially significant acquisition of a large business in the packaged meats sector." It also retained investment bank Barclays to act as its financial adviser. Smithfield was also evaluating other smaller acquisition targets during this time.
11.
March 7, 2013: Smithfield becomes the target of an activist investor.
After Smithfield announced third-quarter earnings, its shares jumped 10%, closing at $24.68. After trading concluded, major shareholder Continental Grain Company released a letter to Smithfield's board arguing that the company should split into three separate businesses: hog production, U.S. processing and packaged meats, and international dealings. Smithfield dismissed the suggestion as not in the best interest of shareholders.
10.
March 21–24, 2013: The first contact between Smithfield and Shuanghui occurs.
A Morgan Stanley representative called Pope, the Smithfield CEO, on Shuanghui's behalf to inform the pork producer that Shuanghui was prepared to make a non-binding proposal to acquire all of its outstanding shares of common stock for $30 per share in cash.
Smithfield commenced a conference call with its board and decided the proposed offer price was "not at a level that the Smithfield Board would be interested in pursuing" and asked management to see whether a bid for the company at a higher price was available.
Phone calls between Pope and Morgan Stanley took place over the next few days, and on March 24, Shuanghui came back with a $33 per share cash offer.
9.
April 1–8, 2013: Low earnings results threaten to derail Shuanghui's interest.
The Smithfield board discussed in a conference call the fact that lower-than-anticipated earnings were expected in the fourth quarter. The board worried this might derail negotiations with Shuanghui and representatives for Smithfield promptly met with the firm's largest investors to discuss the option of splitting the company up as Continental Grain had suggested in March.
After determining that a breakup wasn't in the best interest of its shareholders, Smithfield also decided to reject Shuanghui's offer of $33 per share as insufficient but drafted an agreement allowing Shuanghui access to non-public information about the company.
8.
April 11, 2013: A second buyer emerges for Smithfield.
Smithfield received a letter from another non-U.S. public company, "Company B," that it had previously spoken with over a potential joint venture stating that the company was interested in purchasing a "significant minority stake in Smithfield."
However, five days later that "significant minority stake" was revealed to be no higher than 9.9%, citing the potential that Smithfield could be involved in a "transformative acquisition or management-led leveraged buy-out." Should such a deal occur, "Company B" said it wanted to be involved.
7.
April 17–19, 2013: Smithfield asks Shuanghui to raise its offer; Shuanghui suggests it might lower it.
Smithfield CEO Pope went to Shuanghui's Morgan Stanley representatives and said he'd recommend the board sell the company if Shuanghui upped its bid price to between $35 and $36 per share.
Shuanghui countered with a price of $33.50 per share, letting Pope know that it was reluctant to raise the price by 50 cents given Smithfield's weak earnings forecast, and had even considered reducing its offer price.
6.
April 21, 2013: Smithfield board meets to consider its options.
The Smithfield board held a meeting in Williamsburg, Virginia, to discuss the Shuanghui proposal and consider four alternative options:
1) Spinning off Smithfield's hog production assets and a portion of its fresh pork business, and leaving a portion of the fresh pork business plus the packaged meats and international businesses as part of a new company called "New Smithfield."
2) A similar spin-off scenario that would involve taking "New Smithfield" public.
3) Acquiring a large packaged meats sector company with which Smithfield had already held preliminary discussions.
4) The board also reviewed presentations by Barclays that showed some of the alternatives would make the company worth more than $33.50 per share, as well as the expressions of interest from "Company A" and "Company B" and the potential sale of Smithfield to a private equity firm.
The board decided to continue pushing Shuanghui to improve its offer, though it worried about the execution of the deal because of "cross-jurisdictional enforcement issues" and other risks associated with regulatory approval.
5.
May 8–17, 2013: Increased offers and executive meetings.
After making Smithfield a $30 per share offer, "Company A" raised its offer to $33.50, while "Company B" offered to purchase Smithfield for between $31 and $35 per share.
A week later, Shuanghui and "Company B" conducted Smithfield site visits over two consecutive days, after which "Company B" submitted an offer of $34 per share for Smithfield.
4.
May 21–22, 2013: Generating a bidding war.
On the same day that "Company B" made its $34 per share offer for Smithfield, representatives for the pork producer informed Shuanghui about the other bidders and asked all three companies to submit their best price by May 31, 2013.
A day later, "Company A" expressed concern that a deal with Smithfield could raise antitrust issues, and "Company B" suddenly disclosed that, "for internal reasons, it would not be able to execute or announce any potential transaction earlier than June 13, 2013."
3.
May 24, 2013: Shuanghui issues an ultimatum.
Early in the morning, Shuanghui received Smithfield's markup of its acquisition offer, to which Shuanghui responded that if a deal was not reached by 6:00 p.m. ET on May 28, 2013, it would withdraw its offer.
2.
May 25, 2013: Smithfield counters Shuanghui's proposal; "Company A" walks.
Smithfield responded to Shanghui's ultimatum by asking for a 50 cents per share increase to its offer, or $34.50 per share, and proposals for termination fees should a deal be entered into but not approved. Smithfield also dismissed "Company A" from the process, believing it could not present a better offer by Shuanghui's deadline.
Later, Shuanghui and Smithfield agreed to a $34 per share price and termination and reverse termination fees of $175 million and $275 million, respectively. There was also an agreement on a special termination fee of $75 million.
1.
May 28, 2013: Sold!
After preparing, presenting, and recommending the approval of the finalized agreement, Smithfield's board approved the deal. At the end of trading in New York, the merger agreement was executed.
And that's how this particular $5 billion sausage was made.