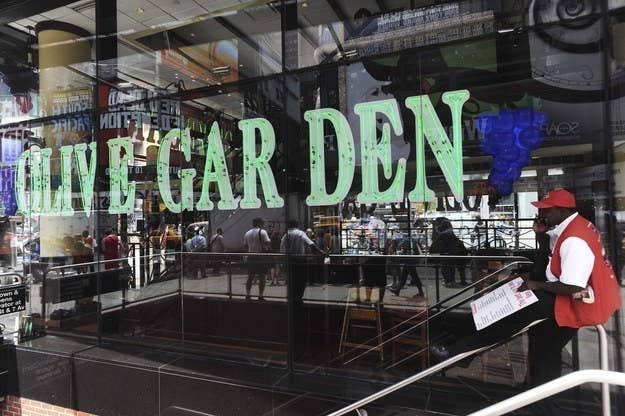 Olive Garden and its parent company, Darden Restaurants, have issues. So many issues, in fact, that Starboard Value, the activist hedge fund trying to replace the entire board, enumerated them in a 300-slide presentation it released to investors late last night ahead of Darden's annual meeting next month.
In response, Darden released a statement saying that it's own improvement plan is in the works, and the company believes Olive Garden is on the right track.
"While we will carefully and thoughtfully review Starboard's plan, which has been promised by Starboard for some time, upon initial review," the company stated, "we believe many of the brand and cost optimization strategies are already being implemented across our company and are showing results."
Starboard founder Jeff Smith has been gunning for change at Darden since December, and has been repeatedly rebuffed by the company. The feud came to a boiling point when Darden announced it would sell Red Lobster despite Smith winning majority shareholder approval for a special meeting to vote on a possible sale.
Starboard has laid out a lengthy case as to how exactly Olive Garden and Darden are failing, exploring everything down to the last splash of salad dressing and basket of breadsticks. Here's a look at what the hedge fund found.
1.
Serious breadstick overload. Like 700 million worth.
Starboard found that most servers at Olive Garden are breaking the company rule to deliver one breadstick more than the number of people at a table with each serving. This has resulted in an average serving of three breadsticks per customer, totaling 700 million breadsticks served per year. "The average customer does not consume 3 breadsticks," Starboard states, leading to massive breadstick waste. Also, the breadsticks get cold and cause servers to ignore their tables as customers presumably sit in breadstick-stuffed heaven.
2.
Too much salad dressing.
Olive Garden uses three to four times the amount of salad dressing as its competitors. And customers can eat as much salad as they want, resulting in massive salad dressing costs and unhappy customers, Starboard asserts.
3.
Starboard says Olive Garden should google "How to cook pasta."
4.
The asparagus is too long, which is wasteful.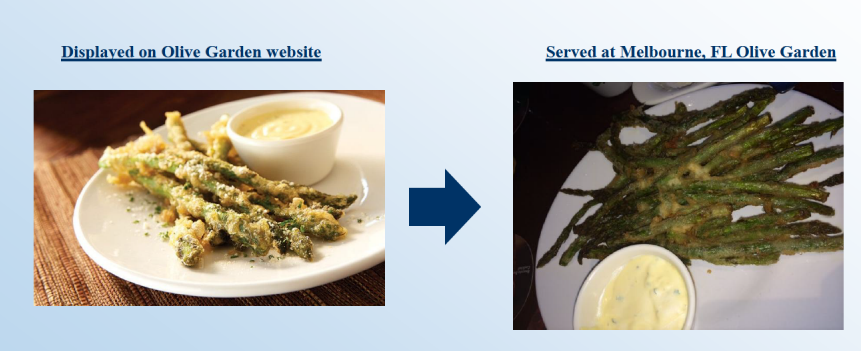 Starboard found that asparagus length at Olive Garden is "not in line with industry standards."
5.
Darden Restaurants use "The Cadillac of to-go bags".
Customers apparently don't even notice the quality and the bags are not an industry standard.
6.
Hosts are apparently giving customers "false wait" times.
Starboard asserts that a lack of training, convoluted server rules, and slow table turn can create false wait times at Olive Garden of up to 90 minutes especially on Friday and Saturday nights.
7.
No one's boozing at Olive Garden, while Chili's is crushing it.
Only 8% of the company's beverages ordered are alcoholic — an industry low. Meanwhile, over at Chili's, the number is nearly double that.
Starboard suggests implementing a Happy Hour, bulking up wine pairings, and even training servers to ask customers if they'd like a drink, which, according to Starboard, isn't happening at Olive Garden today.
8.
Some of the menu items "make no sense" to Starboard.
"Vegetable lasagna topped with chicken doesn't make any sense—if you wanted meat on your lasagna, you would order meat lasagna," is just one of many observations Starboard has about Olive Garden's many menu items that it believes cause "customer confusion."
9.
The hedge fund believes Olive Garden customers want to drink just like the rest of us, they just don't want to drink at Olive Garden.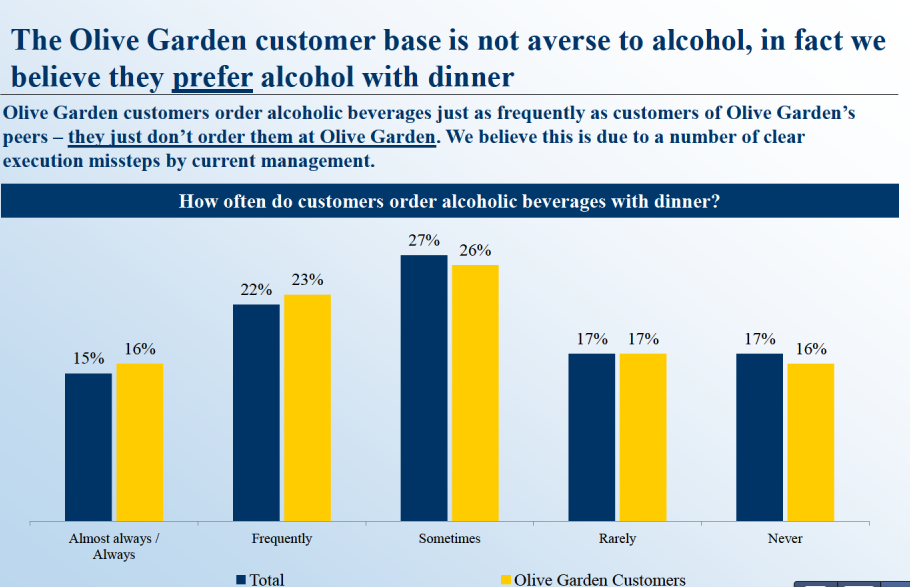 10.
Slow table bussing is costing Olive Garden $6 million per year.
Olive Garden's average table turn time is two minutes slower than its peers, in large part due to slow bussing, Starboard estimates. Improving this alone could mean millions of dollars per year in sales increases.
11.
Starboard is unimpressed by Olive Garden's breadstick game.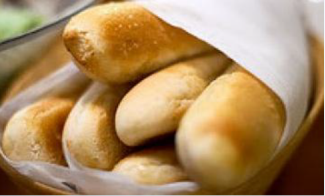 Multiple slides note the diminishing quality of breadsticks that are "filled with air" and resemble "hot dog buns".
The "fresh golden brown quality breadsticks" are of a bygone era.
12.
Olive's Garden new logo is totally basic, the hedge fund argues.

13.
Hummus isn't even Italian.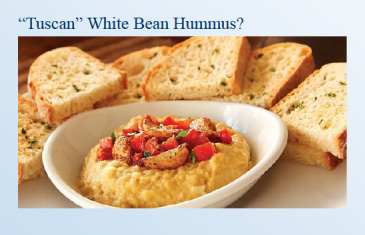 Starboard also takes issue with certain menu items, like cheeseburgers, Spanish tapas options and hummus, which stray from Olive Garden's Italian roots.
14.
Everyone knows wine and Italian food go together, why doesn't Olive Garden?
"Wine is integral to the Italian dining experience," reads a Starboard slide. Alas, Olive Garden customers aren't ordering because, according to the hedge fund, the company isn't doing enough to promote and sell wine to its customers.
Starboard recommends specific wine and menu item pairings, better server training in wine knowledge, and broadening the wine list as possible solutions to Olive Garden's wine and aforementioned authenticity problems.
15.
Some of the dishes at Olive Garden are actually straight up gross, Starboard thought after trying them.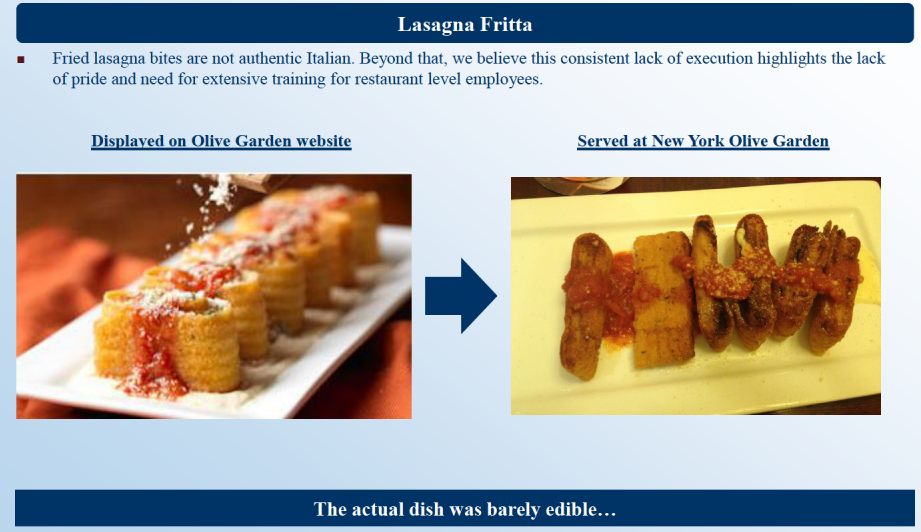 16.
Olive Garden's lengthy menu makes it look like some kind of trashy diner.
Starboard's findings indicate that Olive Garden's menu complexity creates a higher probability of server and kitchen errors, heightens customer confusion, increases ordering time, and "presents a cheap diner image and signals to the customer that "we do everything but, nothing well.'"