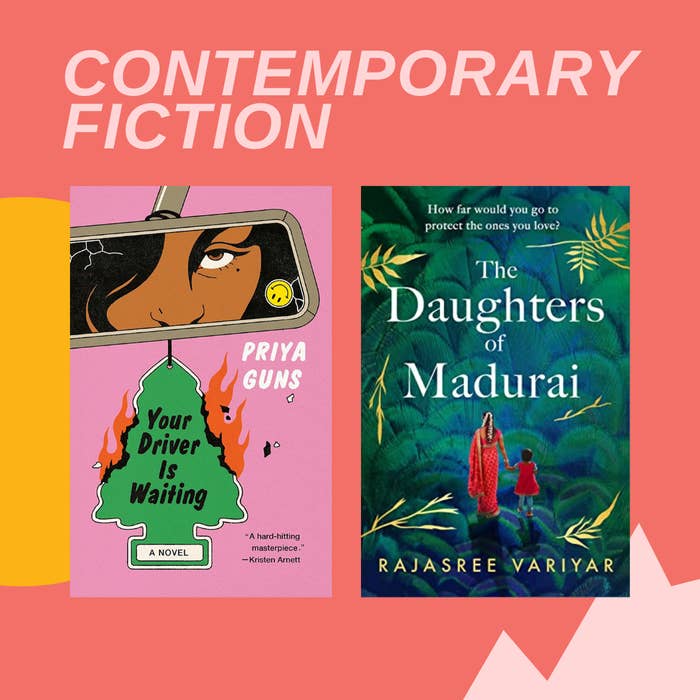 BuzzFeed may collect a share of sales or other compensation from the links on this page if you decide to shop from them.
Your Driver Is Waiting by Priya Guns
Marketed as a "gender-flipped reboot of the iconic 1970s film Taxi Driver," this novel tells the story of Damani, a rideshare driver who's dealing with loss, a sick parent, and chronic low wages. One day, she gives a ride to Jolene, a rich white woman, and begins to fall in love with her, until Jolene does something so shocking that Damani may never be able to move past it. Engrossing with a strong narrative voice, this is a book that will grab you and never let go. —David Vogel
The Daughters of Madurai by Rajasree Variyar
This heartwrenching novel set in alternating timelines deals with the horrific practice of female infanticide. It's 1992 in Madurai, India, and Janani is pregnant once more. While her abusive husband and in-laws allowed her to keep her first daughter, when her next two pregnancies resulted in girls as well, her mother-in-law killed them. She prays for a son, but regardless of gender, she plans to do whatever it takes to keep her next child safe. In Australia in 2019, Nila, Janani's daughter, knows nothing about her mother's past. When her grandfather in India falls ill, she agrees to accompany her parents to India, but she's hiding something from her mother, and both her secrets and her mother's will unravel on the trip. —Margaret Kingsbury

Order on Amazon or Bookshop.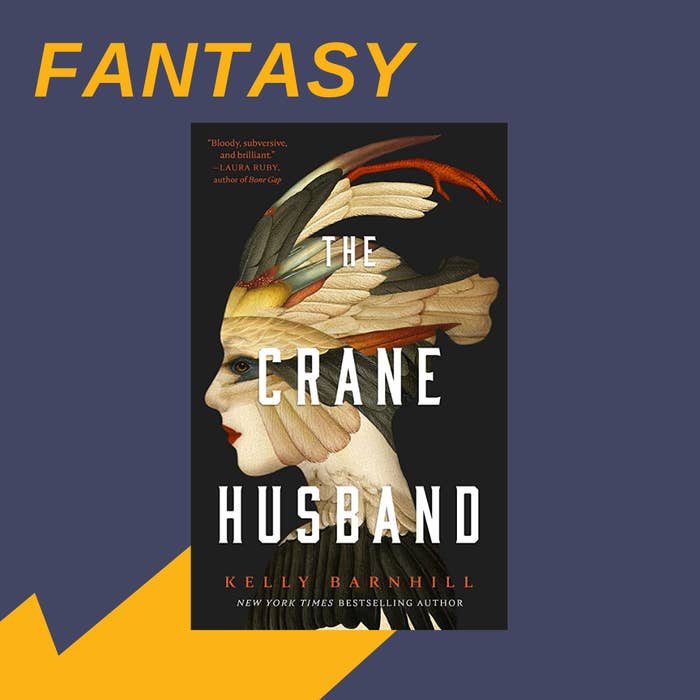 The Crane Husband by Kelly Barnhill
As in When Women Were Dragons, Barnhill explores themes of motherhood, feminism, and flight in this fantasy horror novella, but in an entirely different setting — a climate-ravaged future — and with an altogether different, unsettling tone. In the Japanese fairy-tale "The Crane Wife," a crane transforms into a woman to convince a man to marry her. Barnhill gender swaps the tale, and instead a single mother is seduced by an abusive man who transforms into a crane every night. The 15-year-old narrator has been caring for her mother, younger brother, and the farm since her father died of a terminal illness years earlier. While her mother makes art, she finds buyers for the art online and keeps up her mother's social media presence. She immediately sees the crane for who he is — an abusive monster — and is desperate to try and keep herself and her family safe. It's a powerful, consuming read.
—Margaret Kingsbury
The Magician's Daughter by H. G. Parry
Magic has almost disappeared in this gorgeously rendered historical fantasy set in an alternative version of the early 1900s. Biddy's entire life has been spent on the magical, isolated island of Hy-Brasil with her adopted father, the magician Rowan, and his rabbit familiar, Hutchincroft. She has never met anyone else, nor has she ever been off the island. Rowan has told her about the world outside Hy-Brasil, and Biddy knows how magic is slowly fading. After Rowan fails to return one night and Biddy enters his dreams to save him, she discovers that Rowan — transformed into a raven — steals magic from the tyrannical leader of a magic council and gives it to those in need. While Biddy can't practice magic, a magician has placed a magic spell in her heart, a spell that Rowan has never been able to crack. It turns out that the magic locked inside Biddy's heart might be the key to learning more about why magic is disappearing, but if she wants to help save magic, she'll have to leave the island. The audiobook narrated by Rose McPhilemy is beautiful and so easy to get lost in. —Margaret Kingsbury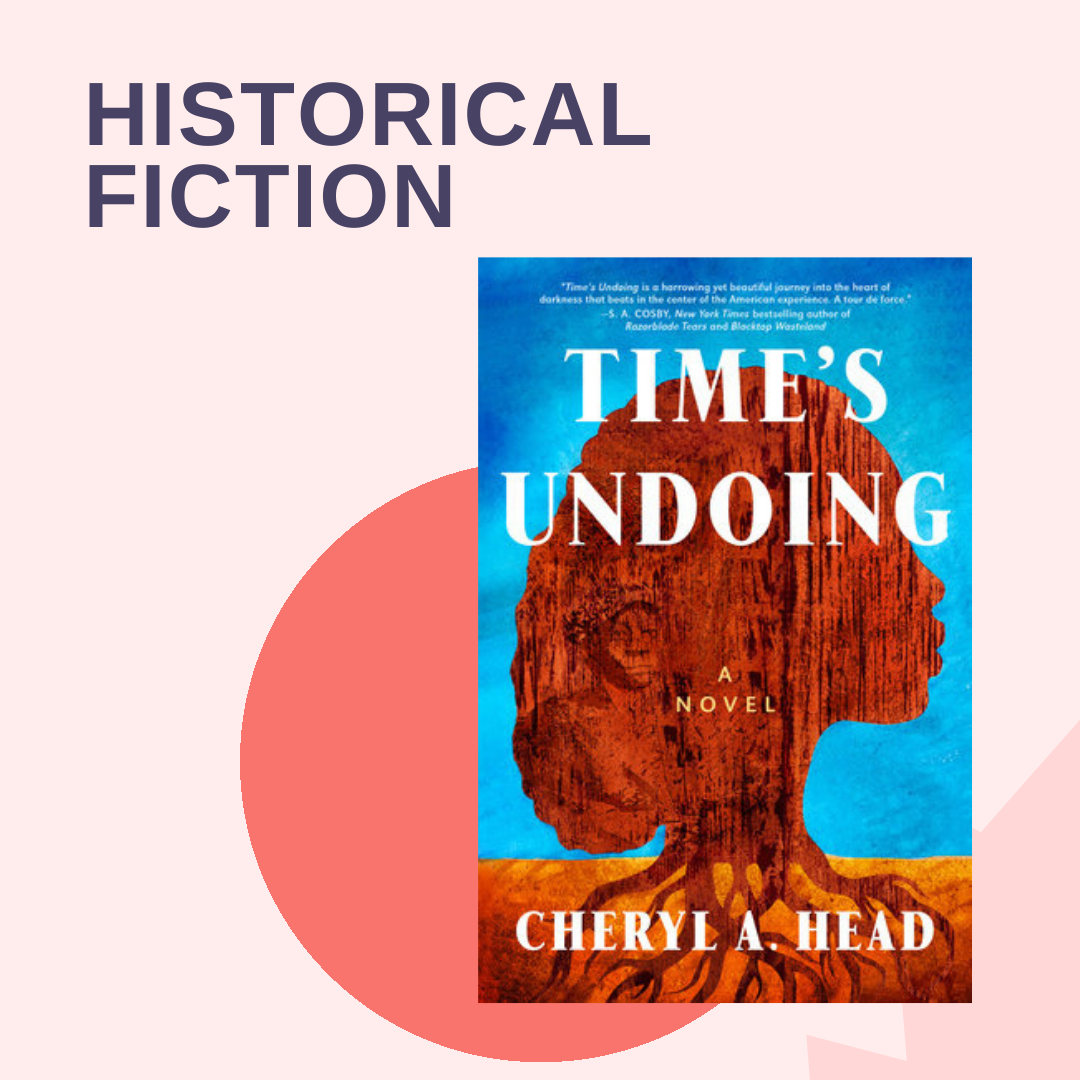 Time's Undoing by Cheryl A. Head
In this riveting debut novel, two timelines converge in a racially charged Birmingham, Alabama. In 1929, Birmingham is a booming city in the South, nicknamed the Magic City. Robert Lee Harrington, eager to take advantage of everything Birmingham has to offer, has recently moved there with his light-skinned wife and daughter. However, while Birmingham may be an industrial center of the South, it's also a stronghold of the Klan. As a Black man, Harrington experiences constant racism and segregation. In 2019, Meghan McKenzie, an investigative journalist covering the Black Lives Matter movement, has always been interested in learning more about her great-grandfather's unsolved murder. His body was never found, and no one was ever brought to justice for his murder. She decides to travel to Birmingham to investigate his death with the idea of using it in a piece about intergenerational trauma and police violence. —Margaret Kingsbury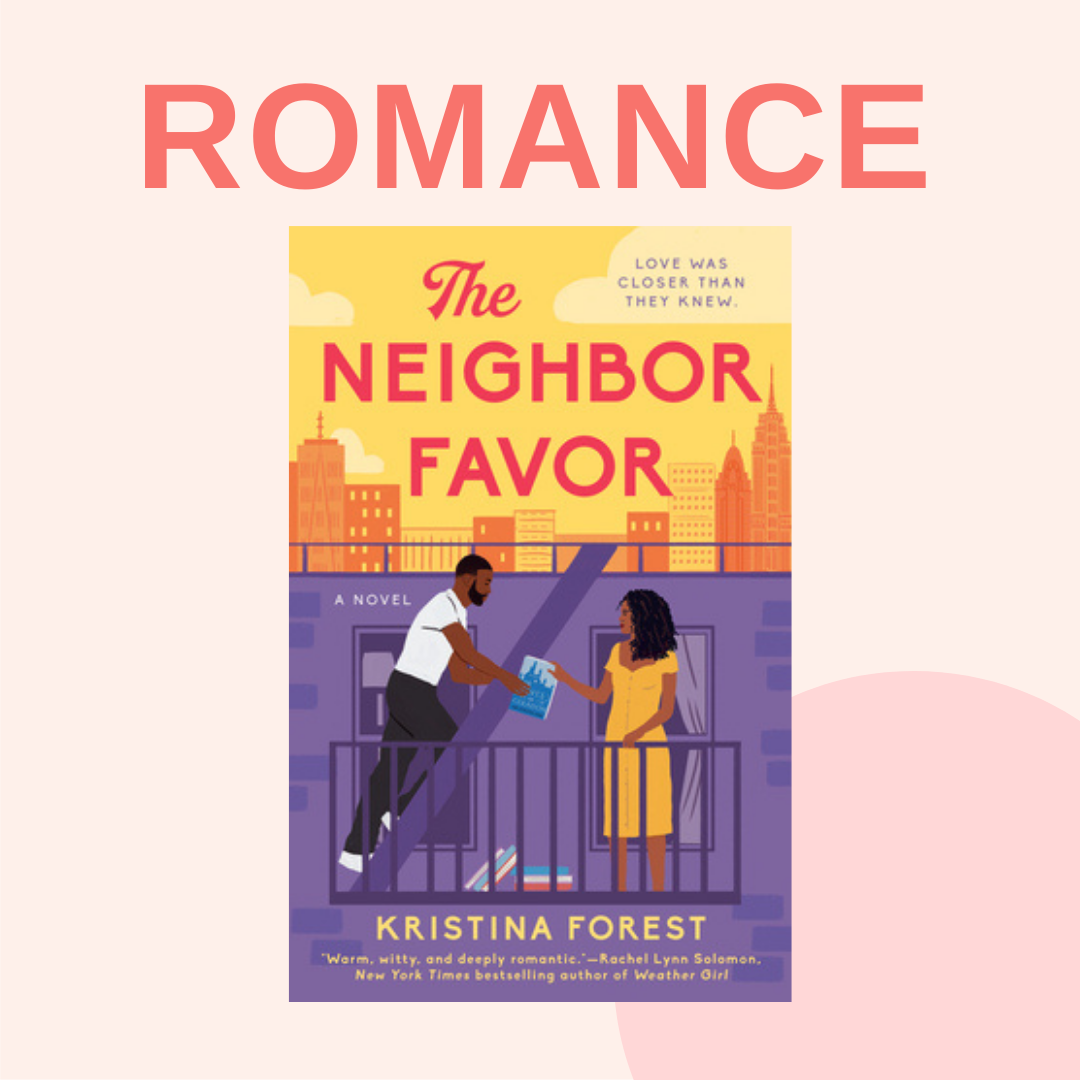 The Neighbor Favor by Kristina Forest
Lily Greene is a shy and awkward book lover who aspires to work in children's fiction. Although she's been working in the nonfiction sector for a while, she isn't sure she'll land a promotion. There is one person who seems to understand Lily — her favorite fantasy author, whom she's been corresponding with. Until he ghosts her. Months later, and in search of a date for her sister's wedding, Lily asks her new neighbor for help. But what Lily doesn't know is that Nick Brown is the very fantasy author who ghosted her months ago… —Farrah Penn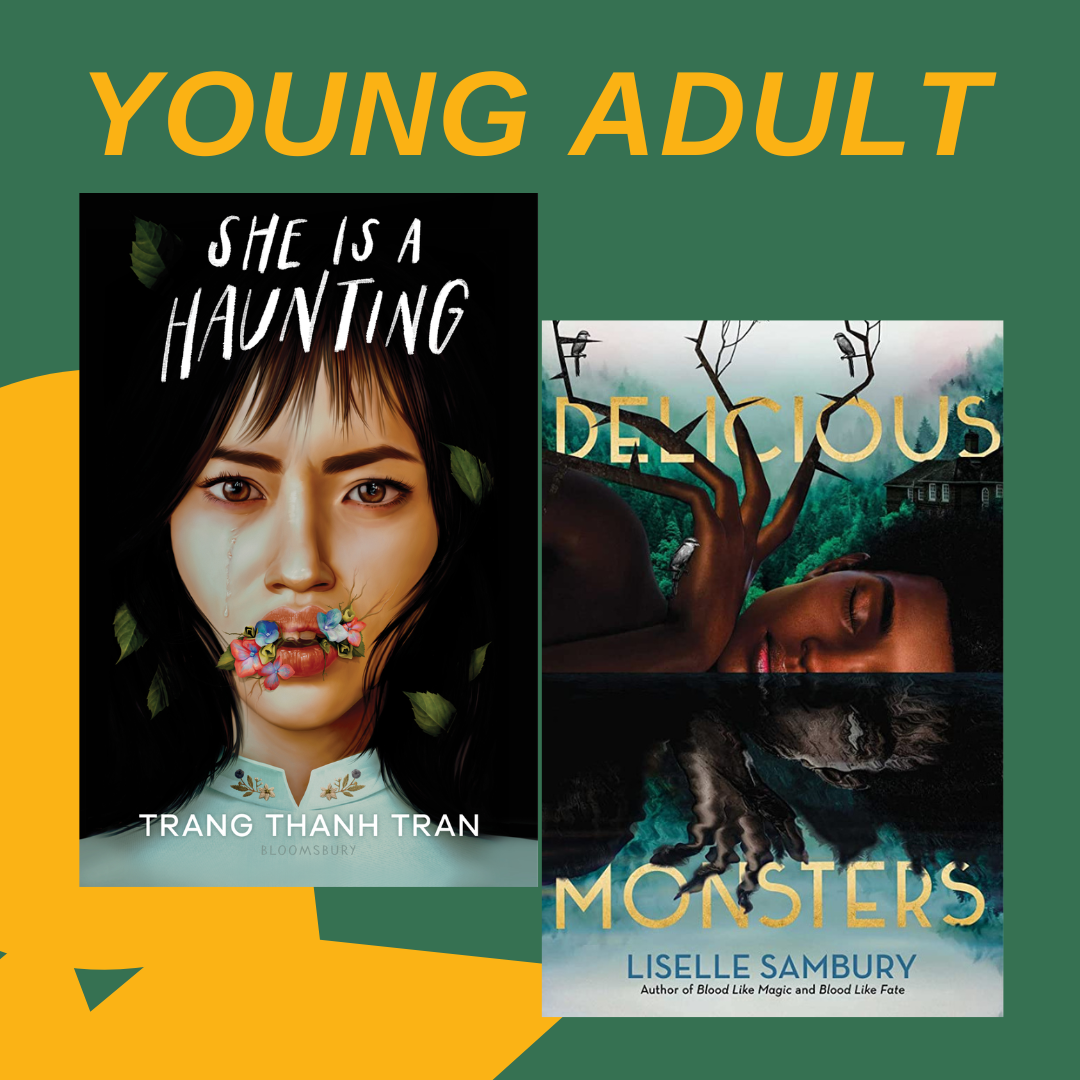 She Is a Haunting by Trang Thanh Tran
In this must-read YA horror novel set in present-day Vietnam, Tran brilliantly uses the haunted French colonial house as a metaphor for French and American colonizers' insatiable greed for power and wealth. Her heroine, Jade, juggles teen angst and generational trauma while using her diasporic power to resist the oppression that haunts her native Vietnam and ancestors. —shireenwrites
Delicious Monsters by Liselle Sambury
In this addictive YA horror story set in Northern Ontario, Brittney travels to the legendary vacation home "Miracle Mansion" to investigate a missing Black girl for her burgeoning web series, Haunted. Brittney is determined to unravel the truth about the house, specifically the harsh accusations about former teen resident Daisy. —shireenwrites
Chaos Theory by Nic Stone
As a senior year transfer student, Shelbi isn't planning to make friends at Windward Academy. But when she finds a wallet at the site of a car crash, she decides to return it to its owner, Andy. Andy, recently charged with a DUI, runs into Shelbi once again while completing his community service. As the two begin a friendship, they each begin to heal. —Rachel Strolle
The Wicked Bargain by Gabe Cole Novoa
Mar didn't wish for el Diablo to come and take their father's soul as a 16th birthday present, but that's exactly what happens to this pirate teen. With the rest of the crew's souls also taken, Mar is rescued and brought face to face with el Diablo again, who offers them a bargain they refuse. It's only with the help of the regrettably handsome son of the captain whose crew rescued him, a genderfluid demonio, and Mar's own hidden magic that there's even a chance to get their father back. An epic story that will sweep you away to the Caribbean, wrapping you in magic, salt air, and found family. —Rachel Strolle
Liliana's Invincible Summer: A Sister's Search for Justice by Cristina Rivera Garza
In this stunning and harrowing memoir, Cristina Rivera Garza traces the story of her sister Liliana's murder by an abusive ex-boyfriend on July 16, 1990. Liliana was only 20, an architecture student eager to take on the world. In unraveling her sister's story, Rivera Garza — who is also an award-winning Mexican novelist — explores her and her sister's childhoods in Mexico, Mexico's history of domestic violence, its corrupt criminal justice system, Liliana's incredible summer leading up to the murder, and the trauma and grief that followed for years after. It's a heartbreaking and essential memoir about toxic masculinity, systemic injustice, and sisterhood. —Margaret Kingsbury
Who Does That Bitch Think She Is?: Doris Fish and the Rise of Drag by Craig Seligman
This book is an entertaining look at the life of drag entertainer Doris Fish (born Philip Mills), who became a celebrity and pioneer of the movement that led to drag becoming popular in mainstream culture. Seligman traces Fish's origins in Sydney to her move to San Francisco, where she firmly established her reputation and emerged as a camp icon who inadvertently shaped the fight for queer liberation. Campy, fabulous, and informative, Who Does That Bitch Think She Is? is more necessary than ever now that the rights of LGBTQ+ people are once again under attack. —David Vogel