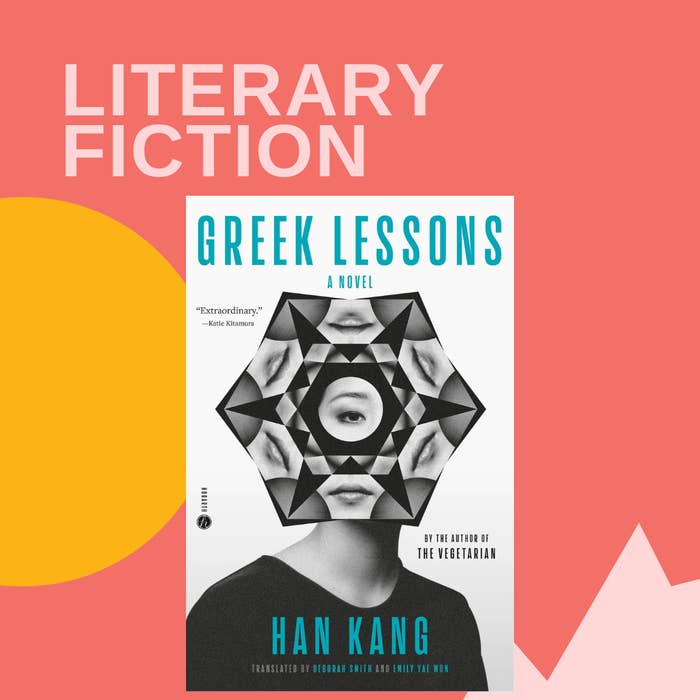 Greek Lessons by Han Kang, translated by Deborah Smith & Emily Yae Won
Award-winning Korean author Han Kang's (The Vegetarian, Human Acts) latest novel translated into English is a quiet, lovely meditation on language and disability told through two perspectives: a mute woman who has recently lost custody of her son shortly after her mother's death, and a man going blind who teaches ancient Greek and who has also experienced loss in his travels between Korea and Germany. Their lives connect when the woman begins taking ancient Greek classes from the man in an attempt to reclaim language and her voice. Their alternating voices build a story of the quiet violence of grief, the gaps language can and cannot bridge, and the necessity of communication and connection. Much like her previous translated novels, it's a slim yet powerful read, though more subdued, and more hopeful. It's wonderfully narrated on audio by Greta Jung and Earl T. Kim. —Margaret Kingsbury

Order on Amazon or Bookshop.
The Five Sorrowful Mysteries of Andy Africa by Stephen Buoro
Published last year in the UK, this debut novel about a young, horny 15-year-old named Andy Aziza who lives in northern Nigeria is a compelling, frustrating but never boring portrait of a teen poet who desperately wants to date a blonde woman and leave Nigeria by any means necessary. He fixates his energies on Eileen, the visiting niece of the white priest of a church in his hometown of Kontagora. But around him, tensions between Muslims and Christians reach a boiling point and the mystery of his paternity corrodes his relationship with his mother. Written in an obscene, colloquial style reminiscent of Junot Diaz and Sherman Alexie (for better and for worse), the novel is funny, raucous, and most devastating in its depictions of the dearth of choices young Nigerians have today. —Tomi Obaro

Order on Amazon or Bookshop.
Any Other City by Hazel Jane Plante
Plante's 2019 debut, Little Blue Encyclopedia (for Vivian), is one of my favorite novels of all time. I was so excited when I heard about her new one that I put off reading it for weeks after I received a copy. Happily, it is everything I dreamed it would be and more. It's written as the fictional memoir of a semi-famous trans musician, Tracy St. Cyr. The first half is set in 1993, when Tracy arrives in a new city and finds unexpected kinship among a group of trans women artists. The second half takes place over 20 years later, when she returns to the same city seeking healing and respite after suffering a major trauma. The whole book is a beautiful ode to trans femme friendship. Playful, vulnerable, and often funny, it's full of pulsating music, joyful trans sex, queer magic, and gorgeous descriptions of songwriting and artmaking. "A body is a slow time machine," writes Tracy in the introduction to the second half of the memoir, and so is Any Other City — a time machine that beautifully captures all the complexity of moving through the world as an artist, a trans woman, and a human. —Laura Sackton
Symphony of Secrets by Brendan Slocumb
Bern Hendricks, an expert on 20th-century composer Frederick Delaney, has just been called in by the Delaney Foundation to help with a newly discovered piece. While searching for clues that might help them confirm that the score is Delaney's famous lost opera, Bern and his acquaintance Eboni discover a more shocking piece of information: that Delaney might have not been the only one behind his best-known work. In the 1920s, musical prodigy Josephine lived on the streets, until meeting and partnering with Fred Delaney. While Delaney's career takes off, Josephine's contributions are left unsung. Music and history are strung together in a delicate harmony that further solidifies Slocumb's place as a must-read author. —Rachel Strolle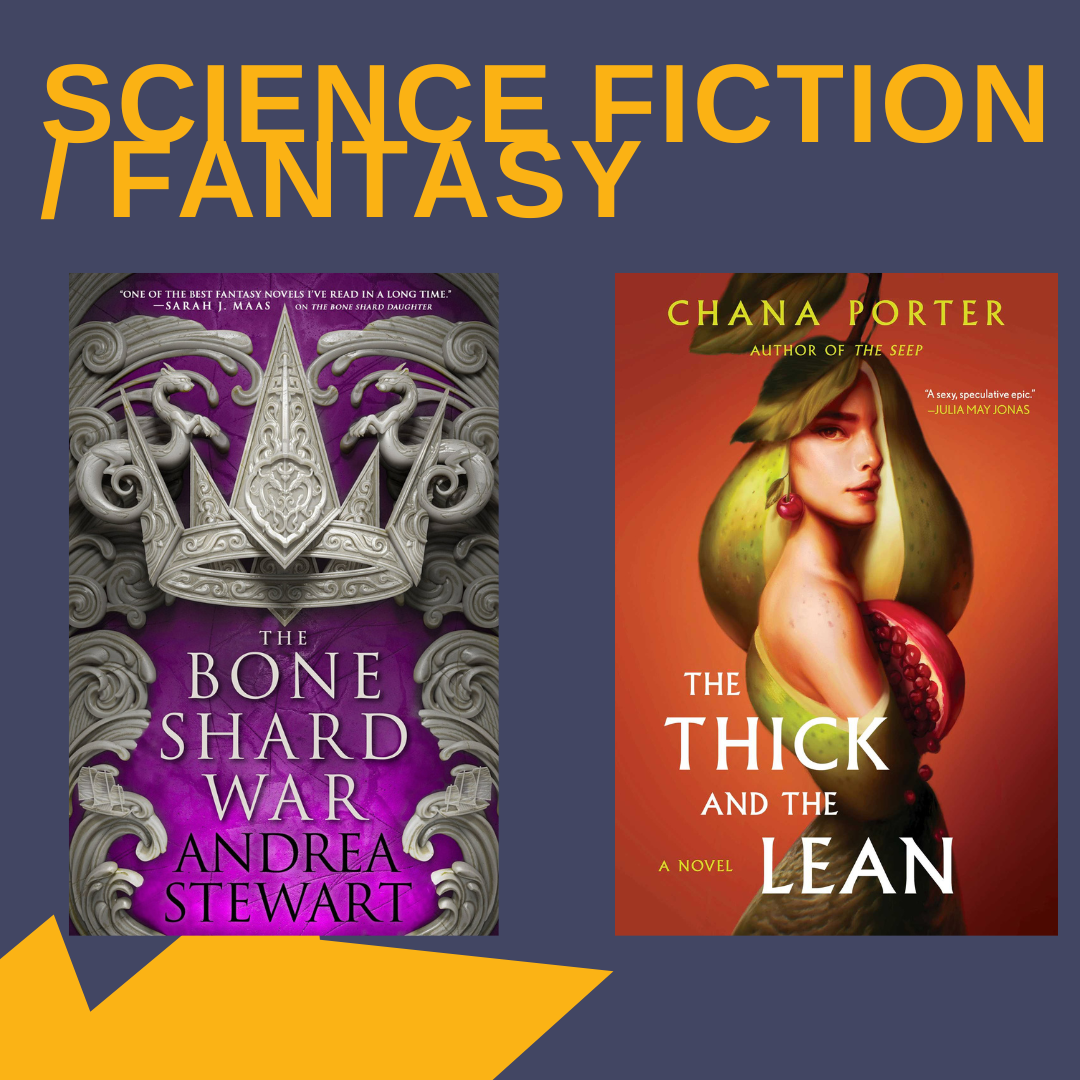 The Thick and the Lean by Chana Porter
In her second novel, Porter once again builds a fascinating dystopian setting, though this one is quite a bit different from the world in her first novel, The Seep. Beatrice lives in Seagate, a town governed by a cult-like anti-food religion. Her thinness and beauty are hailed as perfection by everyone in Seagate, but she longs for a different life. Despite having never tasted a real meal, she dreams of becoming a chef and cooking delectable treats. Meanwhile, Reiko — who lives in the poorest level of society — dreams of becoming rich and escaping the climate disasters and inequities that plague the poor. When she receives a scholarship to a university for her avant-garde tech art, she snaps it up, hoping it will be her way out of impoverishment. Entwined with their narratives is the story of a young chef told in a banned book that both Beatrice and Reiko have managed to get copies of. The Thick and the Lean is a riveting, provocative read about classism, body politics, and taboos. I interview the author in Sunday's newsletter! —Margaret Kingsbury
The Bone Shard War by Andrea Stewart
The final book in the stunningly executed epic fantasy trilogy The Drowning Empire begins two years after the conclusion of The Bone Shard Emperor. Lin, now emperor, believes Jovis to be dead and holds an uneasy alliance among the Phoenix Empire governors, who are growing restless with their inability to mine witstone. Jovis, who is very much not dead and under the control of his old boss, is stealing witstone right from under the empire's nose. He calls himself the ghost and seeks to free himself and Mephi. Meanwhile, Nisong continues to plot to overthrow the empire and has joined forces with Ragan. It's a very satisfying conclusion. If you've been waiting to read these until all three books were published, now's the time to pick them up! I listened to this last one on audio (narrated by Natalie Naudus, Feodor Chin, and Emily Woo Zeller), and it was a very fun listen. —Margaret Kingsbury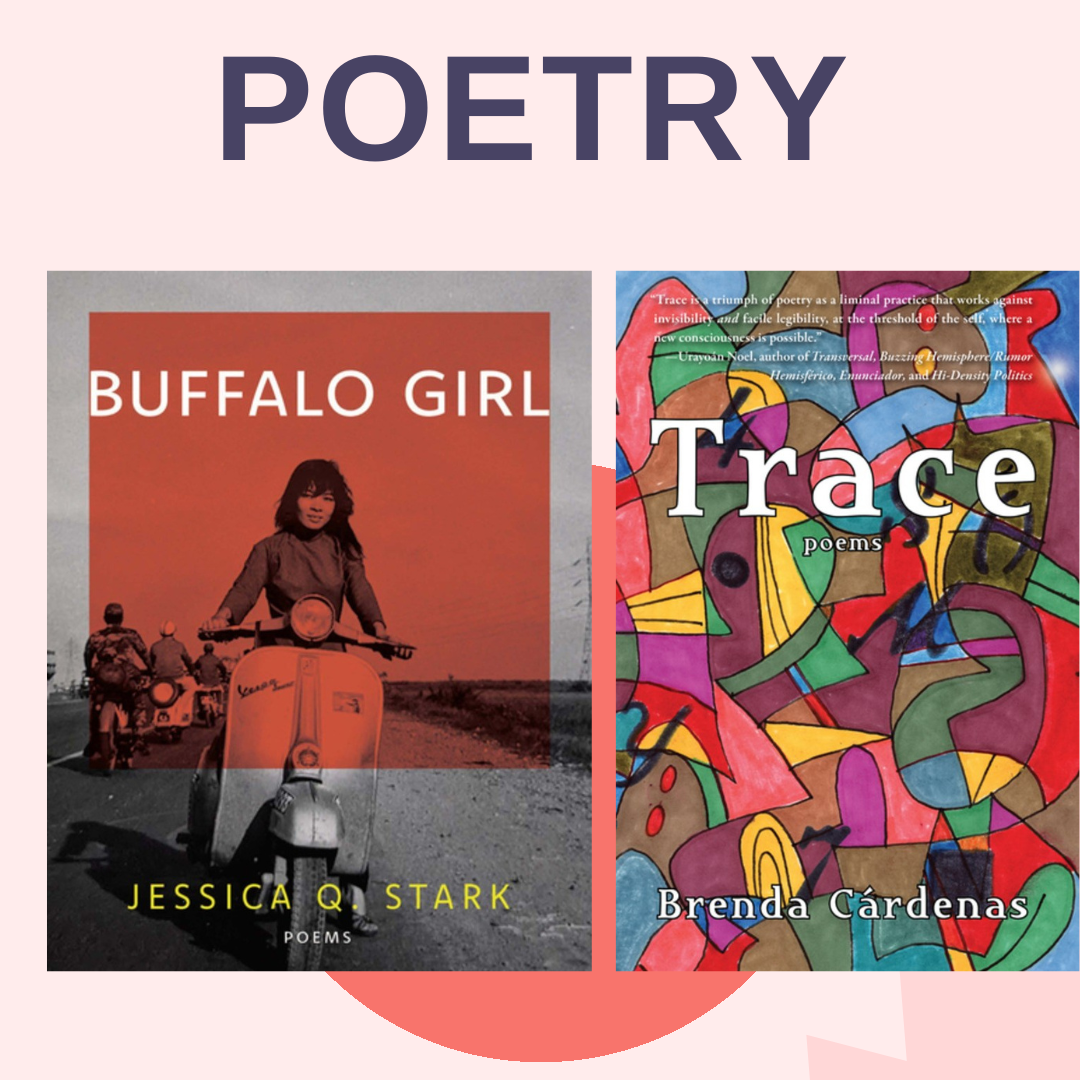 Buffalo Girl by Jessica Q. Stark
In a collection that's as visual as it is textual, Jessica Q. Stark retells the story of her mother's immigration from Vietnam to the US, using fairy-tale motifs from "Little Red Riding Hood" to reimagine the way we talk and think about victimhood and sexual violence. Interspersed with the poems are photographic collages that blend her mother's photography from Vietnam, images of the natural world, and illustrations from old editions of "Little Red Riding Hood." This is a haunting, visually stunning book that bends genre into new, exciting shapes. —Laura Sackton
Burning Like Her Own Planet by Vandana Khanna
In her third collection, Khanna skillfully reimagines the lives of Hindu goddesses in a variety of contemporary contexts. Goddesses Sita and Parvati experience first kisses and heady crushes, heartbreak and betrayal, bodily violence and sacred sisterhood. Full of wildness, transformation, and the hard work of reincarnation, these poems are about girls and women claiming their power despite living in a world trying to break them. Khanna's bold imagery is full of bodies and nature — teeth and bones, twigs and roots, rivers and mouths. In "Prayer to Recognize the Body," the speaker wonders if there is a difference "between the thick-haired / chest of an animal and you?" In "On the Eve of Being Reincarnated," the goddess-speaker's situation feels both familiar and new: "Held together by sap and spiderweb, / nettles caught on hem and hair— / I'm one good incarnation away / from disaster." Grounded in ancient Hindu texts but full of sharp feminist commentary, this is a fierce, beautiful book about womanhood and becoming. —Laura Sackton
Trace by Brenda Cárdenas
Cárdenas's latest collection is equal parts exaltation and elegy. In long, lyrical poems, she mourns environmental destruction, vanished species, and the legacies of displacement and violence that have left their marks on Latinx communities throughout the U.S. Alongside these poems of anger and sorrow, she pens gorgeous odes to landscapes and animals, food, bodies of water, plants, and other simple joys. A powerful series of ekphrastic poems responding to diverse works of art enhance the collection's expansive, multilingual feel. Cárdenas obviously delights in language, whether it's the language of color and texture, or the unique language that arises from her musical blending of Spanish and English. Even poetry skeptics will find many joyful surprises in this moving, hopeful, accessible collection. —Laura Sackton

Order on Amazon or Bookshop.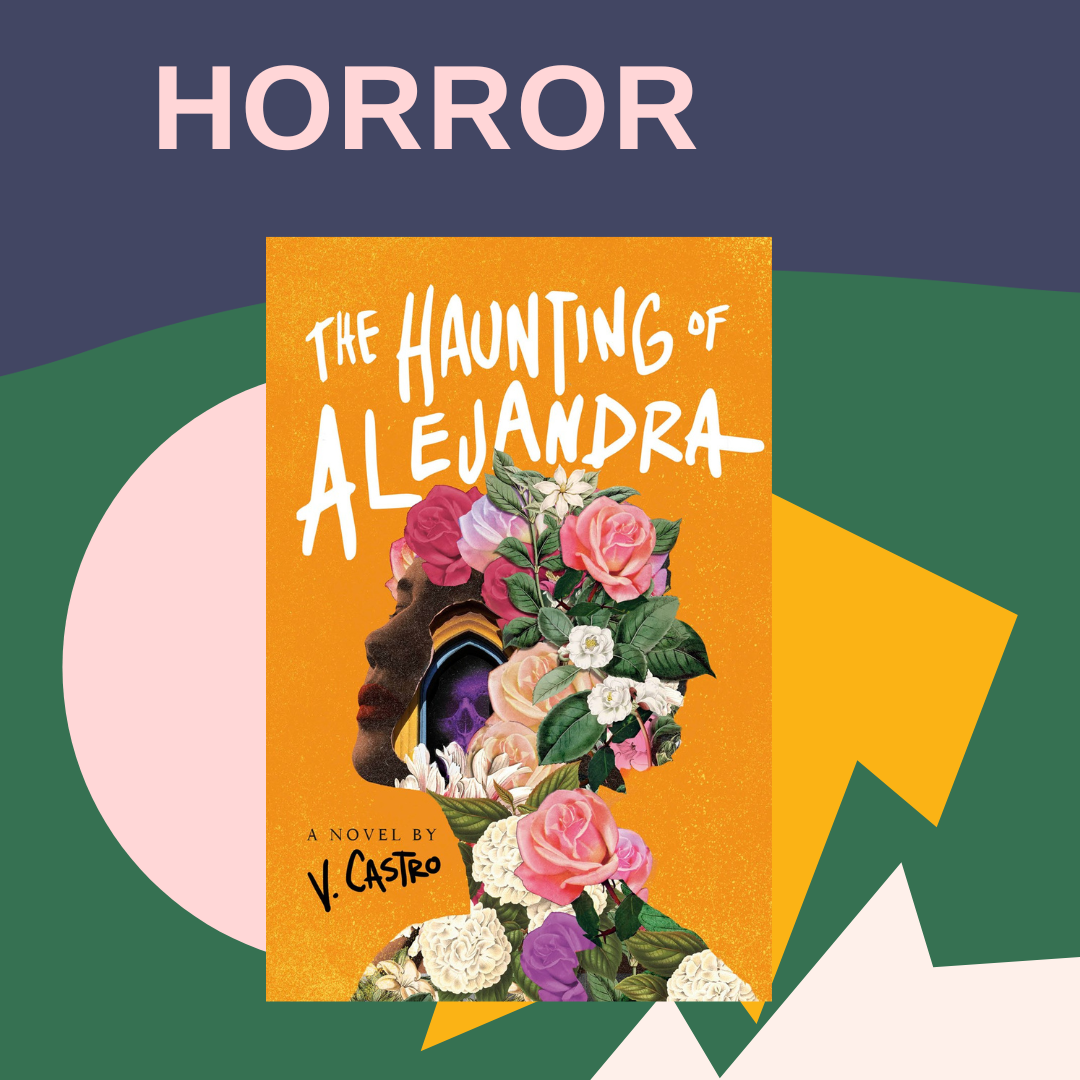 The Haunting of Alejandra by V. Castro
This beautiful and searing horror novel explores maternal depression and generational trauma through the lens of the La Llorona legend. Alejandra is the mother of three children she loves very much, yet every day she hears a voice taunting her to die by suicide and telling her how worthless she is. Her husband's patriarchal expectations of her as the stay-at-home mom and wife reinforce her self-loathing. When that voice begins manifesting as a monstrous, physical form — a form her children see as well — Alejandra seeks help from a therapist who uses Mexican folk beliefs as part of her practice. With the aid of therapy and by reconnecting with her past, Alejandra realizes she's part of a generational curse that has plagued the women in her family since the Spanish conquistador's rampage of Indigenous Mexico. While the main timeline takes place now, the narrative weaves back and forth into history through the eyes of Alejandra's female ancestors. I listened to this powerful novel on audio, as narrated by Raquel Beattie. —Margaret Kingsbury
Sisters of the Lost Nation by Nick Medina
Medina's debut horror/thriller novel entwines Indigenous folklore with the epidemic of missing and murdered Indigenous women that has been happening across the US and Canada. Medina sets the novel on the fictional Indigenous Takoda reservation in Louisiana, where a new casino has recently opened. Bullied high schooler Anna Hood works part-time at the casino and learns about Takoda myths and history in her free time. She's well aware of how frequently Indigenous women disappear: Two best friends have recently disappeared from the reservation, and an unsolved murder from a decade earlier still haunts the tribe. When Anna's younger sister Grace is the next to go missing, Anna frantically searches for clues, unsure whether her disappearance could be due to supernatural causes. She will stop at nothing to find out what happened to her sister. Told through two perspectives — Anna as she desperately searches for her sister and Grace in the days leading up to her disappearance — Medina's debut is a stunning, tense read. I can't wait to read more from him. —Margaret Kingsbury

Order on Amazon or Bookshop.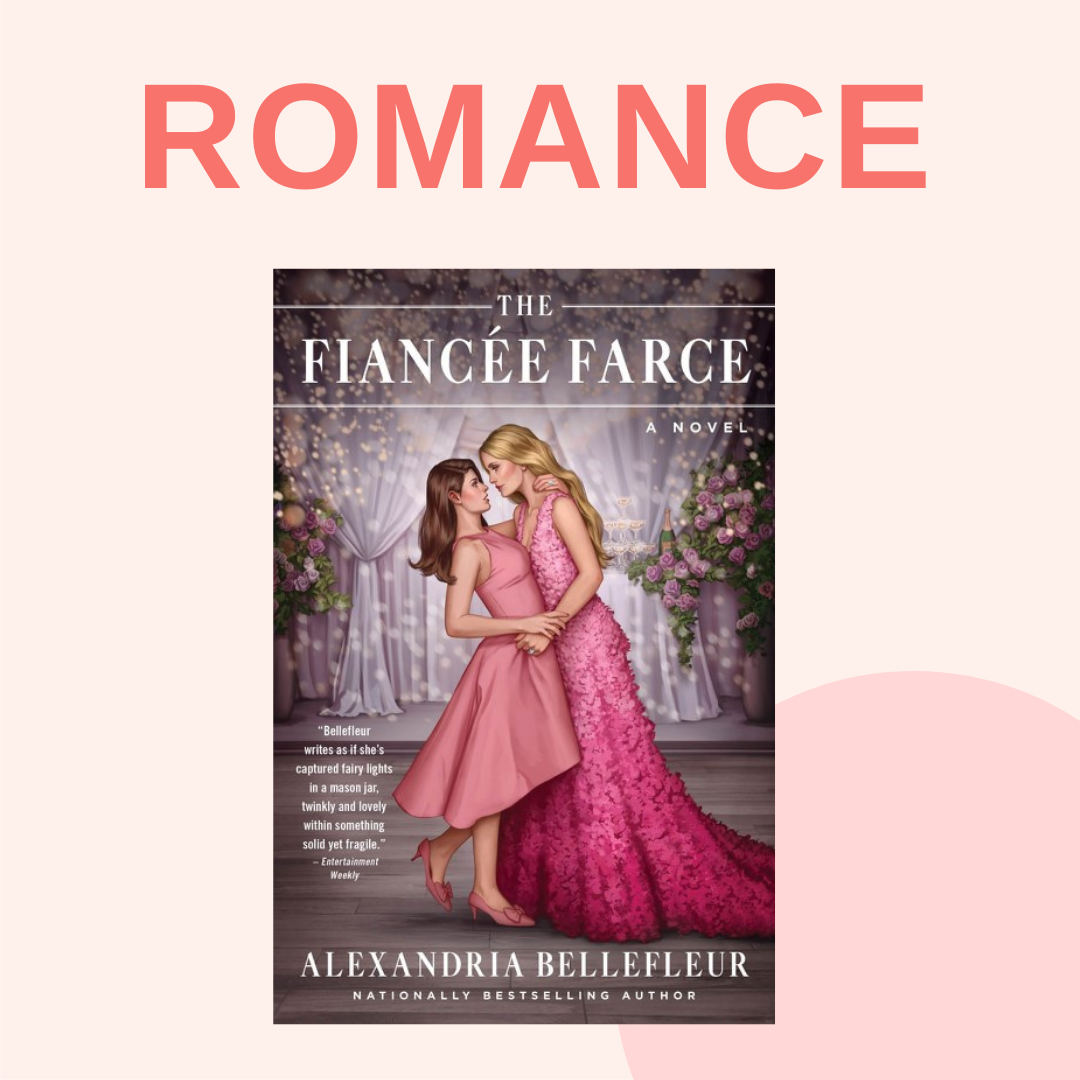 The Fiancée Farce by Alexandria Bellefleur
Tansy doesn't need a girlfriend, per se, but she is tired of the endless questions about her love life. So when her attempts to assuage her family's pestering lead to a lie about having a girlfriend, she takes inspiration from a striking book cover model. She never means to cross paths with the model, Gemma, and certainly wasn't counting on a fake engagement announcement. But Gemma needs Tansy, as she can only inherit her family publishing company once she is married, and who better to ask for a fraudulent hand in marriage than someone who, in addition to needing money to save her family bookstore, is already pretending to date you? Bellefleur powers this fake dating masterpiece with boatloads of heart, and the result is perhaps her most divine tale yet. —Rachel Strolle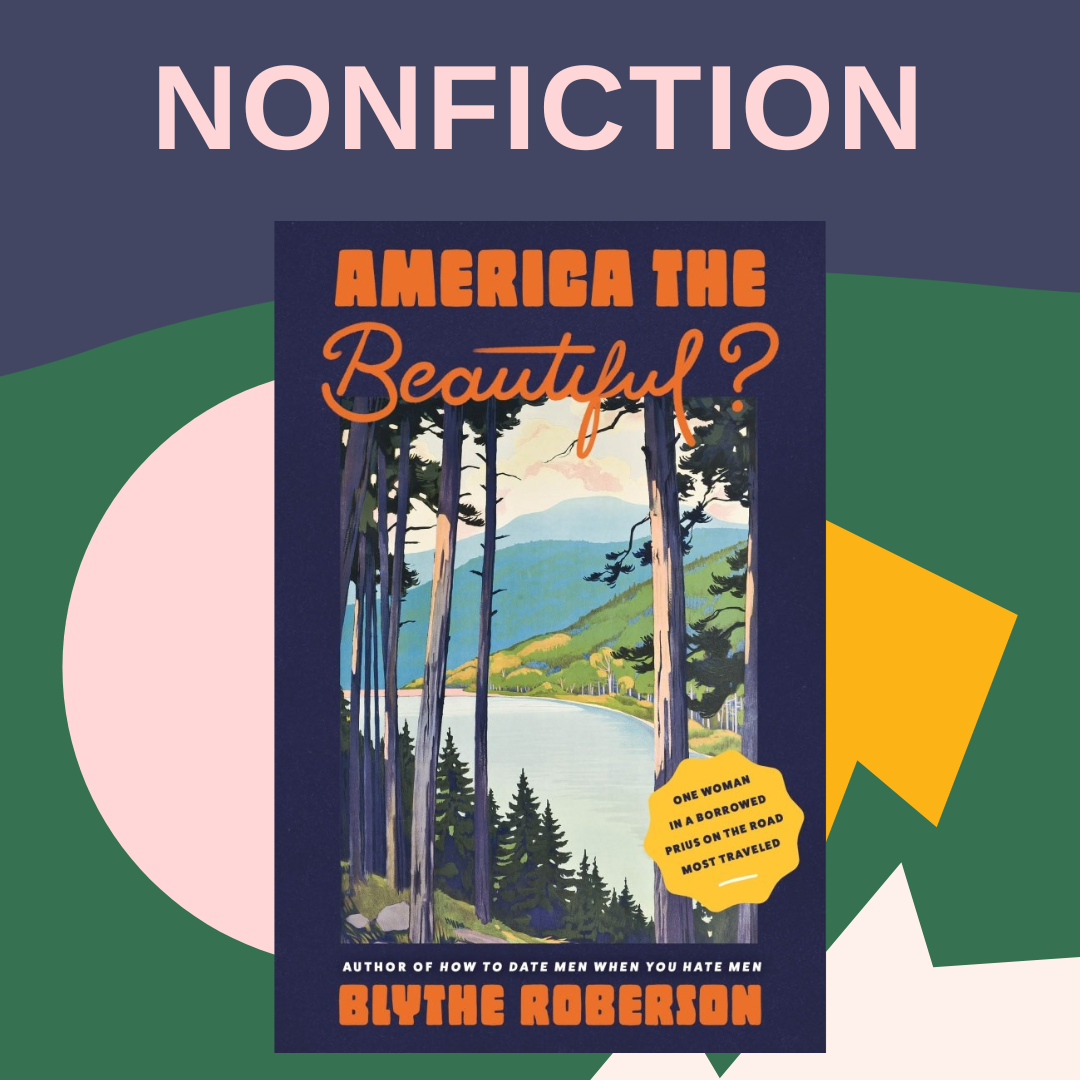 America the Beautiful?: One Woman in a Borrowed Prius on the Road Most Traveled by Blythe Roberson
Many of us would love to drop everything and take a road trip, but it's just not doable. Roberson, author of the 2019 essay collection How to Date Men When You Hate Men found a way. In this travel memoir, Roberson takes us on a road trip around the country to various national parks — namely, the ones where she hasn't yet earned a Junior Ranger badge. (As she points out, the JR program isn't just for kids, and is a great way to learn about the park and its ecosystem for all visitors.) To help cut costs, she plans to free-camp at night. Her humorous but incisive commentary on America's sociopolitical and environmental issues (she traveled in 2019) enables her to bring up a lot of different issues without being overwhelming. She also touches on the issue of Instagram influencers and their impact on tourism and the national parks, and contemplates whether she is part of the problem with her road trip and subsequent writing about it. Political and historical issues with the parks and the National Park Service are faced head on, making this a thoughtful, reflective, and highly self-aware book that's also entertaining to read. —Jaime Herndon
Life in Five Senses: How Exploring the Senses Got Me Out of My Head and Into the World by Gretchen Rubin
After an eye doctor appointment for pink eye where she also finds out she's at increased risk of a detached retina, Rubin realizes that if such a thing happened, she could lose her sight in one eye. This shocks her into taking a hard look at her life and whether she's appreciated her body and what it does. She notes that she's often in her head, writing and revising or thinking, not really paying attention to the world around her: smells, sights, textures, people. She decides to focus on the five senses — the Big Five, as she calls them — and immerse herself in each of them one at a time to learn more about her senses, while also using them to enrich and deepen relationships. She also visited one place every day for a year, noting what changed over time. What follows is an exploration of life as Rubin never really thought of before, making for a truly delightful but thought-provoking read about how much of our lives we really experience. How much are we truly living, as opposed to merely existing or surviving? This book is a gentle reminder to take note. —Jaime Herndon
Order on Amazon or Bookshop.
BuzzFeed may collect a share of sales or other compensation from the links on this page if you decide to shop from them.●