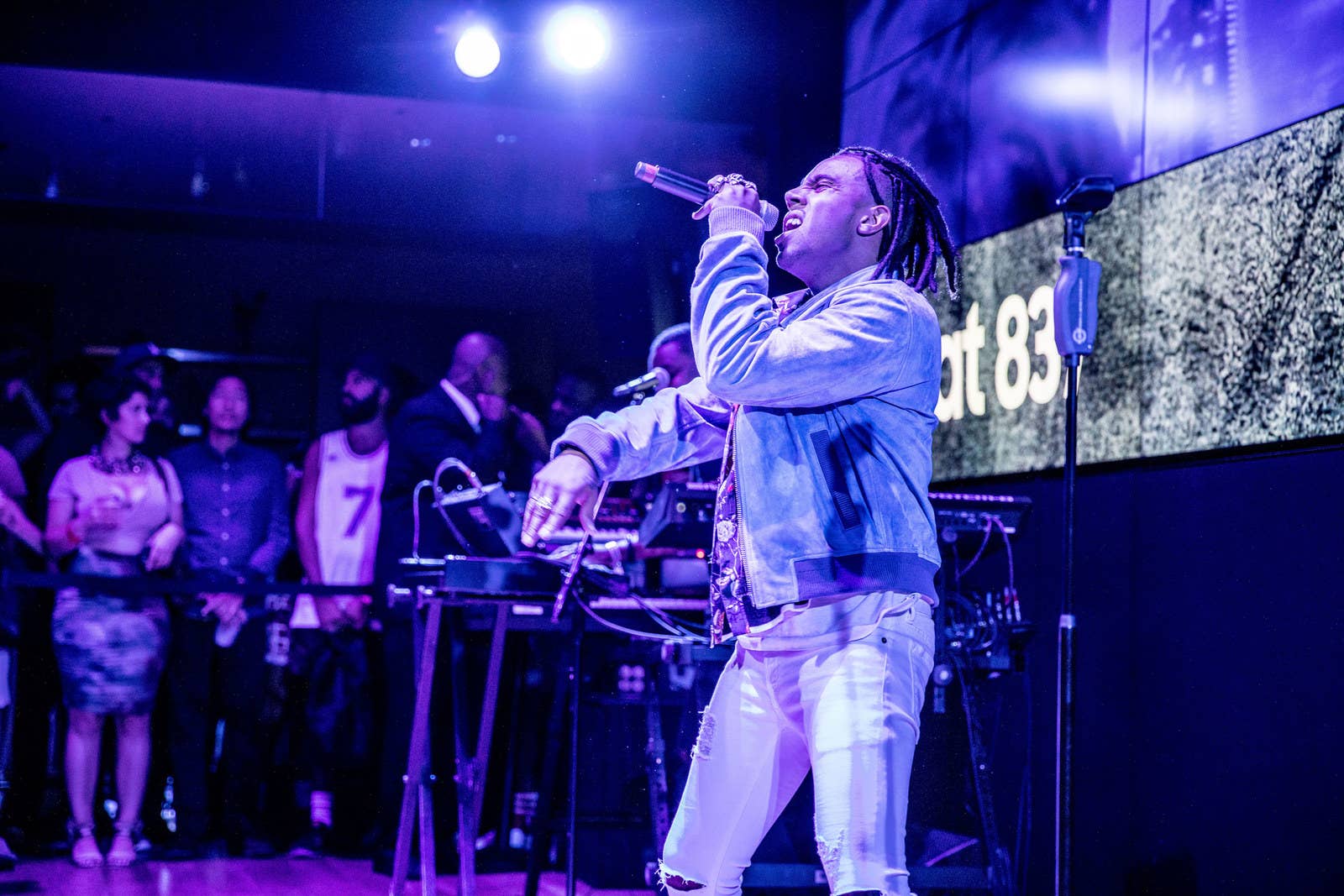 On the top floor of Samsung's 837 building in Manhattan's Chelsea neighborhood, rapper Vic Mensa sits comfortably in a green room that's set up like a family entertainment center. He's preparing to perform some of his most personal songs on his newly released album, The Autobiography. He's dressed in a pair of white distressed jeans, a Siouxsie and the Banshees tee, and a black jacket — Balmain, perhaps — that's reminiscent of a costume piece from Les Misérables. It's a Thursday night and he's maintaining a cool exterior before his show as a part of Samsung's Made for Summer live series.
The Autobiography — which is executively produced by No I.D., who also produced Jay-Z's 4:44 album — makes use of the innovative sampling the Chicago-based producer is known for, with unconventional featured artists like Saul Williams and Weezer. On the album, Mensa excels lyrically, articulating his most personal thoughts in an intensely vulnerable, accessible way on a range of intimate subjects, from relationship drama to mental health. The album can be difficult to make a setlist for, because each song builds a linear timeline of the rapper confessing his most personal thoughts, but Mensa is still very excited to perform the songs. "Seeing and feeling where I'm coming from in a tangible way I think just adds another element of realism to it," the rapper told BuzzFeed News.
"This is like my time capsule of 2017 and what my life looks, sounds, feels, smells, tastes like right now in real time."
Mensa has come a long way from his days performing at music festivals with the teenage indie band Kids These Days. Shifting his focus to a solo career in 2013 with his fresh, wavy Innanetape mixtape pushed him to the summit of Chicago's rap scene, representing the Windy City with his Savemoney collective member Chance the Rapper on the cover of XXL's 2014 Freshman Class issue. What followed was a series of highs and lows, from performing "Wolves" with Kanye West on Saturday Night Live's 40th anniversary special to finishing an entire album called Traffic only to scrap it, all while dealing with drug addiction and suicidal thoughts.
The first step of his comeback was his 2016 mixtape There's a Lot Going On, which explained the delay of his debut album while also showing off his political side with the songs "16 Shots" and "Shades of Blue," inspired by the Laquan McDonald case and the Flint water crisis respectively. Now, with his debut album The Autobiography, Mensa focuses on his inner turmoils. "I would say, like on Boy Meets World where he would make a time capsule that he buries in his backyard, this is like my time capsule of 2017 and what my life looks, sounds, feels, smells, tastes like right now in real time," the rapper explained.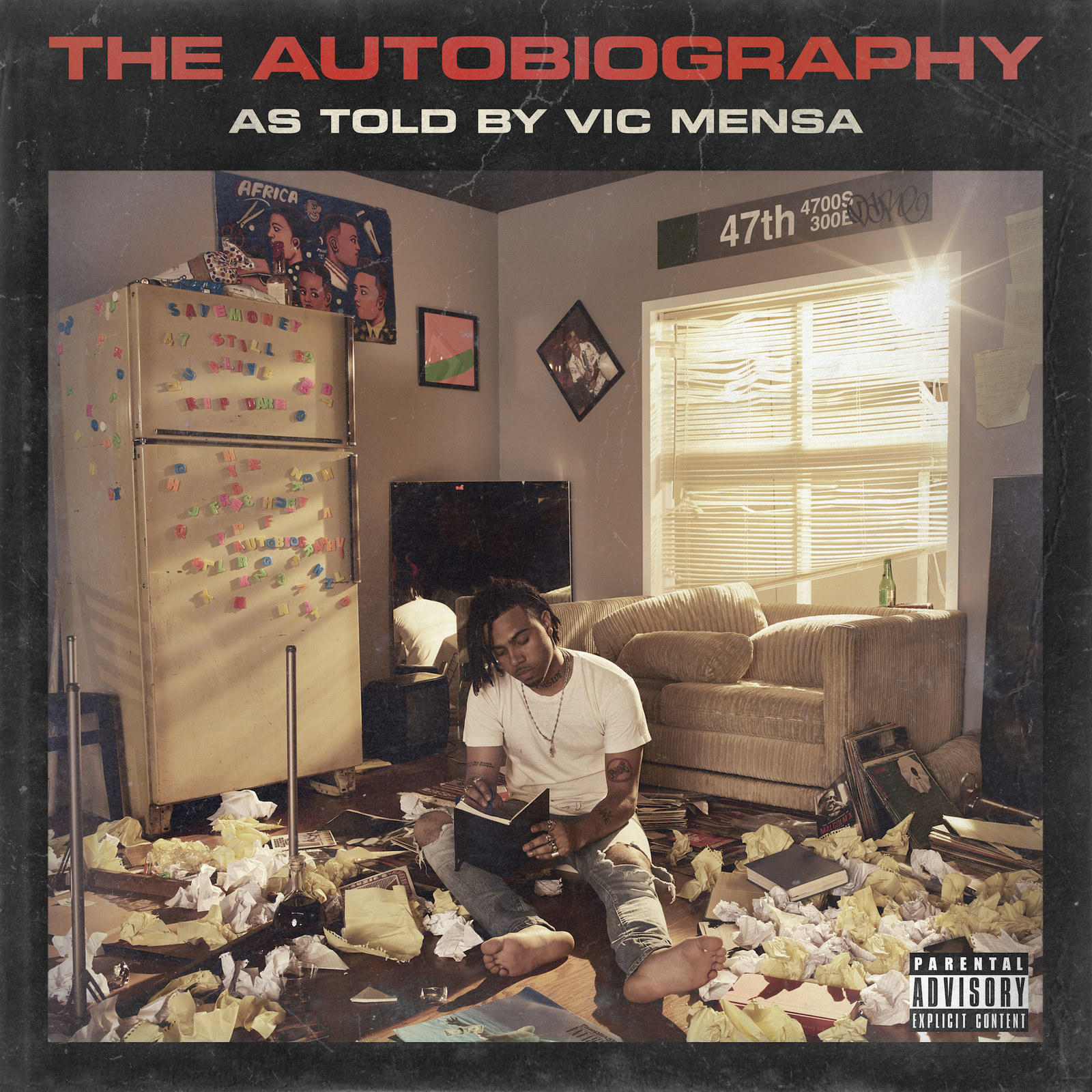 While Mensa's fans welcome the arrival of his debut album, some question the need to put out an album at all. Although it's still common for rappers to put out a string of mixtapes before their debut album, it is no longer needed to succeed in the industry. Mensa's peer Chance the Rapper has become a model for achieving success without releasing an album due to the success of his 2016 mixtape, Coloring Book. The critically acclaimed collection earned Chance multiple Grammys, including Best New Artist, and also accrued enough financial success for the artist to be able to donate $1 million to Chicago Public Schools. Mensa, however, decided on the traditional approach, citing Radiohead as an example of why albums matter and how they can still be picked apart 10 years later. "True, you can be commercially and financially successful in today's rap game just by releasing singles and mixtapes," Mensa said. "But will you be culturally impactful, and remembered in 15-20 years? That has yet to be determined, and I would say that my opinion is no."
Mensa is also making it his mission to emphasize lyricism in his music: "My real true love from an artistic standpoint is writing rap verses. That's what really, really captured me about picking up a pen." More than hooks and beats, he said, "it was these dense minute-long experiences that an artist could put you through." The Autobiography does just this, putting storytelling at the forefront. "These stories had to be told for me to move forward in my life," said Mensa. "At the end of the day I'm just glad that I was not restricted in my artistry."
"Sometimes I had to stumble and trip over my own feet to find my footing, and they let me do that."
Mensa had his pick of record labels after the XXL Freshman Class cover but was taken by Roc Nation's diversity. "[It's] just a great feeling to walk into a building that is a corporation, but is full of people you identify with," referencing the young black and brown people among others he encountered when he first visited Roc Nation's offices. Working with the label on The Autobiography, Mensa said he was never pushed to solely pursue commercial goals like radio play. There was, however, an argument over the title of the album's first track, "Say I Didn't." "Motherfuckers made me change the name of the song!" said Mensa. Just as he was putting finishing touches on the album, he was notified that as a stipulation of using the sample "Didn't I" by Darondo, he could not use the same song title. "Would've been good to fucking know four months ago when we had all the paperwork and paid you $15,000," he continued with a grimace, appearing to still be slightly peeved by the situation.
But the rapper remains appreciative of Roc Nation and the space they gave him to grow. "Sometimes I had to stumble and trip over my own feet to find my footing, and they let me do that," he said. And according to Mensa, the pairing with Roc Nation has not only been fruitful, but also a matter of fate. "I was listening to a song of mine from when I was 16 last night at the airport, and I had a line in the rap where I said something about 'Nigga word to Jay / They think the music is amazing / And we just be chilling with our people / Grooving in the basement,'" Mensa said. "I'm already talking about the mason, the bullshit Illuminati, throwing nods to Jay in my raps like eight years ago, far before I ever met Jay."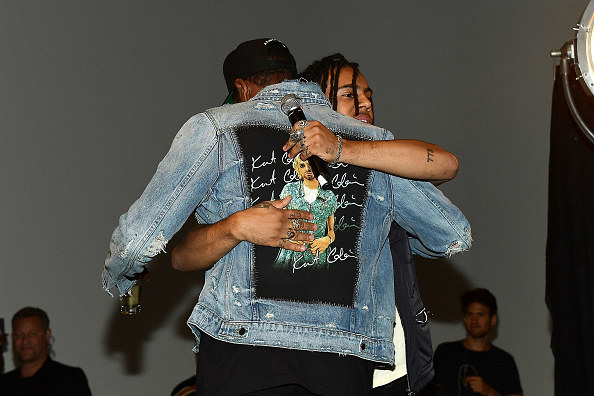 It's worth noting that Mensa, a 24-year-old Chicago native with "Southside" tatted as his necklace in gothic font, didn't sign to the same imprint as the city's most famous rapper, Kanye West. "I have had the pleasure of working closely with Kanye West and getting to know him and learn from him, and that's pretty much what my relationship with G.O.O.D. Music is," Mensa said. Rap fans suspected there may have been some tension between the two when "Wolves" first appeared on West's last album, The Life of Pablo, without including Mensa and Sia, who had helped him premiere the song on SNL the year before. According to Mensa, Frank Ocean had wanted the sole feature on West's track. "Frank didn't want other people to be on it if he was on it," Mensa said, though he respects that Ocean is passionate, if not a little touchy about his art. "I think the streets spoke then like 'We need that original version,'" he said, as enthusiasm from fans is what largely pushed West to add the original "Wolves" with Mensa and Sia onto the album.
Opening up on The Autobiography has allowed Mensa to have more personal conversations with fans than he would have been able to with his inner circle. "I take a lot more value and feel far more impacted by meeting a kid that tells me my music saved his life than reading a good, mediocre, or bad review on the internet," Mensa said. There has been an ongoing push within communities of color to be more open to seeking care for mental health, so Mensa talking about his mental health struggles is veering into new constructive grounds for him and young fans, but that isn't the only reason Mensa is so vulnerable on the album. For the rapper, it was not necessarily a conscious decision to open up, but an inevitable catharsis. Yet, at the same time, Mensa wants to be the voice of his generation. "I really do it for the culture. I think that's something that people say a lot right now, but do they really mean it though?"
"I think that rap has the power to change — I know it changed my life — and to make people like just start to love themselves and have knowledge of themselves."
In the country's heightened political climate under the Trump administration, Mensa hopes to use his platform for positive change. "I think it's a time in our society that requires action. This is a moment of action; this is not a time for lollygagging and bubblegum pop rap. That has its place in this time, but what we need as real people right now is somebody to speak for us. I think that it's important that we bring some substantial shit to the table, and I don't think it has to be purely political — my album is not very political at all," Mensa noted. "I think that rap has the power to change — I know it changed my life — and to make people like just start to love themselves and have knowledge of themselves."
This sentiment especially pertains to Chicago, where, according to Mensa, black men are restricted to two archetypes: gangbanger or community activist. In the song "Down for Some Ignorance," Mensa aims to provide more nuance to the image of young black men in Chicago. "I just wanted to show that we're all really showing different angles of the same movie, so I put somebody like Chief Keef on a record with my brother Joey Purp sampling legendary slam poet, author, and artist Saul Williams just to show that we can all as young black men have a different perspective on what is our communal plight and situation, specifically violence and death by gun violence."
Mensa's political opinions, however, extend beyond Chicago into the country as a whole. After Trump won the 2016 presidential election, Mensa told W magazine, "It's a very good thing that we have an openly racist, sexist, Islamophobic, misogynistic bigot elected as president because it forces us to look at what America really is at this point in time." When BuzzFeed News followed up with Mensa on that statement, prior to Charlottesville, he stood by it. "I would much rather deal with a wolf in the forest than a wolf in sheep's clothing… If you see me as being less than you, if you think that I'm biologically unfit to hold a conversation with you, if you think that women are biologically unfit to be tech CEOs, if you think that Mexicans are rapists, criminals, and burglars, 'and some I assume are good people,' tell me."
"If we can't be real about how we feel about each other, then how can we be real with ourselves?"
But the artist isn't a cynic. While he believes that a lot of Americans have bigoted views, he thinks that the country can still be unified. "I think we will never find common ground if you are too afraid to even speak your mind, you're too afraid to let the world know that you're a racist," he said, an earnestness in his tone. He said Americans must be more honest with ourselves about both our state of mind and the state of the union. "If we can't be real about how we feel about each other, then how can we be real with ourselves?"
To highlight his hope and further emphasize how he wants to make a difference, Mensa told a story about one of the engineers on his album, Will, a former Marine who was awarded a Purple Heart after surviving more than 20 gunshots during his time in Iraq. Will is from a part of rural Pennsylvania that's in dire straits from the opioid epidemic — the type of community where many individuals have spiraled down into the darker parts of the web, forwarding emails that promote Islamophobia, as Mensa describes it. Will told his dad in rural Pennsylvania that he was working on The Autobiography, a rap album, and his dad replied, "Yeah, I never got it...never really understood it," referring to rap music. Will replied, "Dad, I don't think he really made it for you." Mensa vehemently disagrees, because The Autobiography, he believes, is the kind of album that he wants listeners from all walks of life to be able to relate to, on some level.
"That's where Will's wrong," he said, "because I want to make a record that is so innately human that somebody that thinks they could never understand rap and they could never identify with like a black dude from the South Side of Chicago with dreadlocks and tattoos, but if they really listen to it and give it a chance and just actually listen, I want to make a record that they can identify with, because I think that we're honestly all a lot more alike than we are different."