At Aretha Franklin's homegoing service Friday, several speakers used their allotted speech time to throw in some digs at President Trump, whom the Queen of Soul was not a fan of and who disrespected the legend by describing her as someone who worked for him.
First, Rev. Al Sharpton called out Trump, saying, "on Sunday on my show, I misspelled 'Respect' and a lot of y'all, a lot of y'all corrected me. Now I want y'all to help me correct President Trump to teach him what it means."
video-player.buzzfeed.com
"And I say that because when word had went out that Ms. Franklin passed, Trump said, 'She used to work for me.' No, she used to perform for you. She worked for us," he added.
After that, Charles H. Ellis III, the pastor presiding over Franklin's funeral, took a second to give a shoutout to Rep. Maxine Waters, a frequent Trump target, saying, "We got your back!"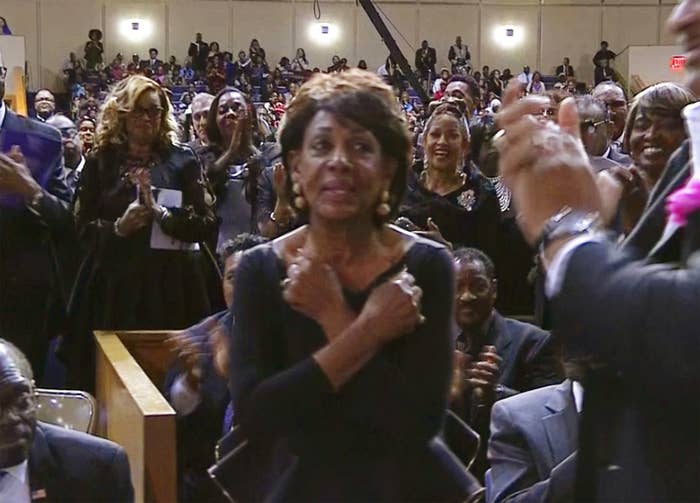 And later, William Barber II, another pastor giving a personal reflection, explained how Franklin's faith prevented her from relating to Trump.
video-player.buzzfeed.com
"Aretha's singing flowed out of an interpretation of the Bible that condensed the collective wisdom of black people's faith rooted in resistance to white supremacy," he said. "For Aretha, to have a relationship with Jesus was not to have a relationship with Trump, but, to have a relationship with Jesus was always to necessarily engage in a quarrel with the system that oppressed poor people, and black people, and the disenfranchised."
Georgetown University Professor Michael Eric Dyson had the harshest words for President Trump at the funeral, addressing him as "you lugubrious leech, you dopey doppelgänger of deceit and deviance, you lethal liar, you dim-witted dictator, you foolish fascist."
video-player.buzzfeed.com
"She ain't work for you, she worked above you, she worked beyond you," Dyson added. "Get your preposition right."
And Stevie Wonder helped close the funeral by tweaking Trump's campaign phrase to "make love great again."