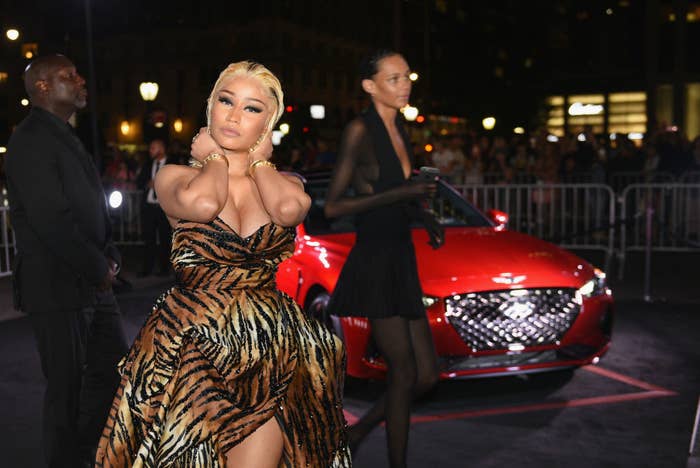 Nicki Minaj has shifted her anger from rapper Cardi B to shoe designer Steve Madden for saying that his brand had never offered Minaj a deal to be the face of one of the company's campaigns.
To recap: Minaj talked more crap about Cardi B on Queen Radio on Monday. By Monday night, Cardi B had posted 11 Instagram videos in response. In one of the Instagram videos, Cardi B said that Minaj's Diesel campaign was offered to her first.
Nicki Minaj responded to Cardi B's Instagram videos the same night to refute the claim about Diesel and make her own claim that Steve Madden had long wanted Minaj to be the face of one of the shoe brand's ad campaigns, but she'd passed.
THEN: Madden responded Tuesday morning with a tweet calling Minaj a liar.
For most of Tuesday, it looked like Minaj would simply ignore Madden's tweet.

But THEN rapper 50 Cent jumped into the drama, with an Instagram post saying Madden was the liar.
A writer who interviewed Madden for Vibe Magazine in 2015 also tweeted the link to the story, which quotes Madden as saying, "I made a mistake and I wish that I could go back in time and work with Nicki instead of Iggy" — a reference to making rapper Iggy Azalea, rather than Minaj, the face of a 2015 Steve Madden campaign.
50 Cent apparently caught wind of the Vibe article and posted the quote from Madden on his Instagram.
Minaj then returned to Twitter Tuesday night to give props to 50 Cent...
...before going in on Madden for allegedly lying about wanting to work with her. Minaj also claimed that after appearing in the 2015 Steve Madden campaign, Azalea had tweeted that she hated working with the shoe brand.
Things with Minaj calmed down though, after Azalea backed her up in a now-deleted tweet.
The "Barbie Dreams" rapper ended the night thanking her fellow rappers — Azalea and 50 — for having her back.
Late Tuesday night, Steve Madden responded to Minaj and copped to having approached her for a campaign before.
However, Minaj felt it was too little too late to try to smooth things over after tweeting a clapback toward Minaj that misrepresented the facts.
BuzzFeed News has reached out to a Steve Madden representative for comment.