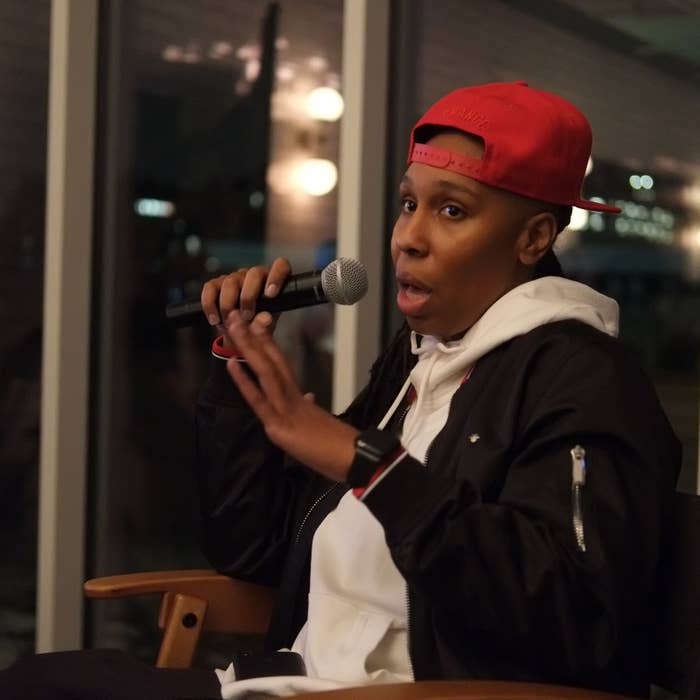 Lena Waithe — the first black woman to win the Emmy for Outstanding Writing for a Comedy Series — has a mission when it comes to the Time's Up movement sweeping Hollywood.
It's not so much about sexual harassment, she said, as it is to believe "every woman who comes forward."
"It's my job to be an ally for those women, but it's also my job to pipe up and say, 'But what about a black writer who is silenced on their own show? What about a queer person who is spoken to as if they were a second-class citizen?' That's also where Time's Up needs to say 'time's up' on that as well," she said.
Speaking to Shani Hilton, VP of news and programming at BuzzFeed News, at the company's headquarters in New York on Wednesday, Waithe said the biggest thing that first drew her to Time's Up is its legal defense fund, which has now raised more than $15 million, because "justice goes to those that can afford it."

Waithe, the creator of Showtime's newest show The Chi, is part of a chorus of powerful voices joining Hollywood's Time's Up movement, which was born out of the sea change in public support for women who have endured sexual abuse and harassment from men in power.
Waithe's importance to the movement is amplified by the fact that she is not only black but also queer, giving her a unique perspective.
"Not as many women of color feel confident or brave enough to come forward [about harassment], so the reckoning [and Time's Up] is for all of us, even those who aren't able to speak up yet," she said.
She also believes that allies of all races and genders can play a role in the movement.
"I believe in male allies, I believe in white allies, I believe in people being aware of their privilege in any shape or form, and it's a campaign almost more so than it's even a movement," Waithe said, adding that the aim is to expand the movement to other industries outside Hollywood.
She also commended Time's Up for already showing that it's not just about talk.
"And it's not all actors," Waithe said. "It's producers, it's directors, it's executives, and I think that's what's really exciting is that it's the whole machine coming."
Waithe has always considered herself an artist and an activist.
"You can't be born black and gay and female and not stand for something... being born black or gay or female in itself is not a revolutionary act, but me being out, me being feminist, me unapologetically black, that's something people give me credit for," she said.
When asked about the Time's Up "50/50 by 2020" initiative that's lobbying for entertainment companies to have gender-balanced leadership by the year 2020, Waithe said she will be pushing to ensure that 50% includes not just women, but "people of color, queer people of color, trans people, nonbinary, all that kind of thing... You can't have someone like me at the table and me not be a voice for us."
Waithe acknowledged that the year 2020 is an ambitious goal, but it has to start somewhere.
"We want to have a timeframe so that way when 2020 rolls around we can go to all these places and hold them accountable," Waithe said. Then, she added, Time's Up can go to industry players and say, "You may not be where we would like you to be, but show us the progress that you've made thus far and then we'll see how we choose to address that in public."