Kim Kardashian says President Trump "really spent the time to listen to our case" at a White House meeting Wednesday over possible clemency for Alice Johnson, a 63-year-old woman serving a life sentence for a first-time nonviolent drug offense.
In her first interview since the White House meeting, Kardashian told Mic that she is hopeful the meeting will turn out positively for her cause for clemency.
"I think that he really spent the time to listen to our case that we were making for Alice," Kardashian said. "He really understood, and I am very hopeful that this will turn out really positively."
Johnson was sentenced to life in prison in 1997 for her involvement in a drug trafficking ring based out of Memphis. She had no prior offenses and was dealing with tragedies, like her son dying, before she turned to crime. Kardashian became aware of her case through another Mic Opinion video that showed up on her Twitter timeline.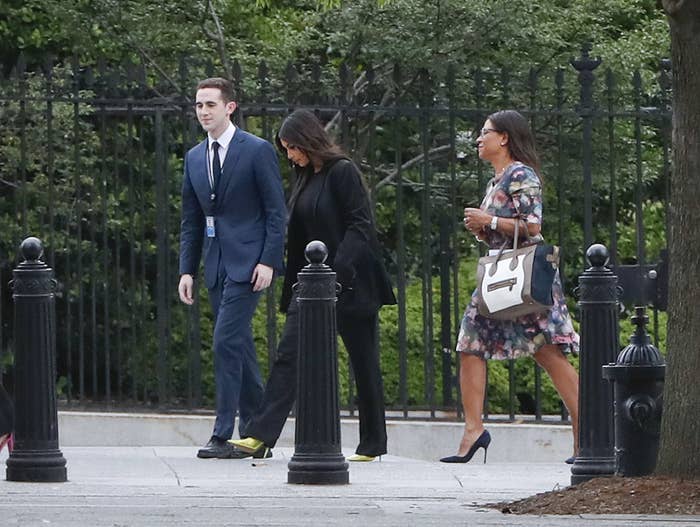 Kardashian said she decided to meet with Trump because "if it takes me to go and talk to the highest person in power, the only person that can make [Johnson's release] happen, which is President Trump, then I will definitely do that."
Since appellate judges and the US Supreme Court have rejected Johnson's appeals, she would need to be granted clemency by the president to be discharged.
Kardashian's visit to the White House, however, was heavily debated — and of course meme-ified — but the reality star said all it took was seeing Johnson's story and feeling it tug at her heart to take action. She coordinated the meeting with the president through his senior adviser and son-in-law Jared Kushner.
"The president seems to have a passion for what everything that Jared has been trying to do, and that just makes me happy that that conversation is just moving forward," she told Mic.
And while Kardashian admitted to not having much experience with the prison systems or issues, she said she feels strongly that helping Johnson could set a strong foundation for helping more nonviolent, rehabilitated prisoners reenter society.
"I don't have a personal experience with prison myself, but I believe in family, and her family was torn apart by choices that she made 21 and a half years ago," Kardashian added.