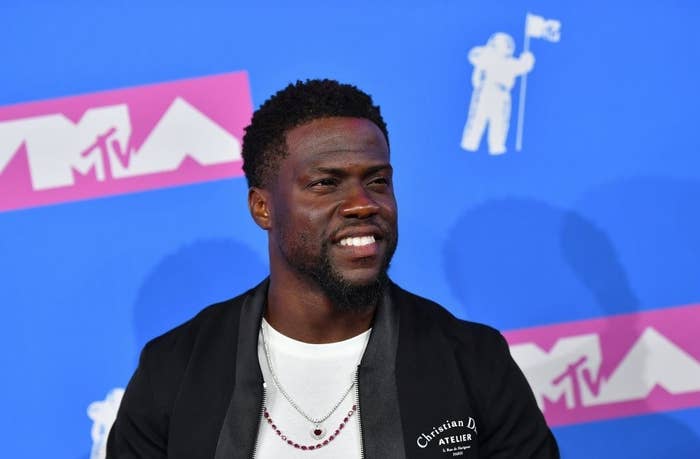 Comedian Kevin Hart announced Thursday night that he will no longer host the 2019 Oscars after refusing to apologize for posting anti-gay tweets years ago that had recently resurfaced.
"I'm sorry that I hurt people," he added Thursday night. "I am evolving and want to continue to do so. My goal is to bring people together not tear us apart. Much love & appreciation to the Academy. I hope we can meet again."
The controversy over the tweets began earlier this week following the announcement that the Night School actor would host the upcoming Academy Awards. Some of the tweets dating back years were deleted, but screenshots revealed several posts using anti-gay language and repeated use of the words "fag" and "homo."
Hart's exit means the Academy is now once again without a host with a little more than two months until the live awards telecast.
"I think they were late hiring a producer and rushed to hire a host without doing due diligence," a longstanding Academy member familiar with how the show is produced told BuzzFeed News. "The Academy doesn't learn. They desperately need to hire a very experienced senior PR person (who would have vetted this). The team there is not equipped."
Earlier Thursday, Hart responded to the controversy on Instagram, telling people to "stop searching for reasons to be angry" over the tweets.
"Stop looking for reasons to be negative...Stop searching for reasons to be angry," Hart wrote in a lengthy Instagram caption alongside a video of himself.
"You LIVE and YOU LEARN & YOU GROW & YOU MATURE," he added.
However, he stopped well short of offering an apology.
Later in the day, Hart posted another Instagram video saying that the Academy had given him an ultimatum to apologize or it would rescind the offer to host the awards. Hart said he would be choosing the latter option because he felt he'd already addressed the issue.
Prominent members of the LGBT community working in the entertainment industry, like Billy Eichner, Roxane Gay, and Pose star Indya Moore, had criticized Hart's refusal to walk back his past comments.
But they later commended Hart's decision to step down as host and apologize.
The LGBT media monitoring group GLAAD said they had reached out to ABC, the Academy, and Hart's management to discuss "his rhetoric and record, as well as opportunities for positive LGBTQ inclusion on the Oscars stage."
After he announced he was quitting, GLAAD President Sarah Kate Ellis said she hoped the comedian continues to learn from his mistakes.
"Kevin Hart shouldn't have stepped down; he should have stepped up," Ellis said. "Hart's apology to LGBTQ people is an important step forward, but he missed a real opportunity to use his platform and the Oscars stage to build unity and awareness. We would still welcome that conversation with him."
The Academy and ABC did not immediately respond to a BuzzFeed News request for comment Thursday night.
Kate Aurthur contributed to this report.