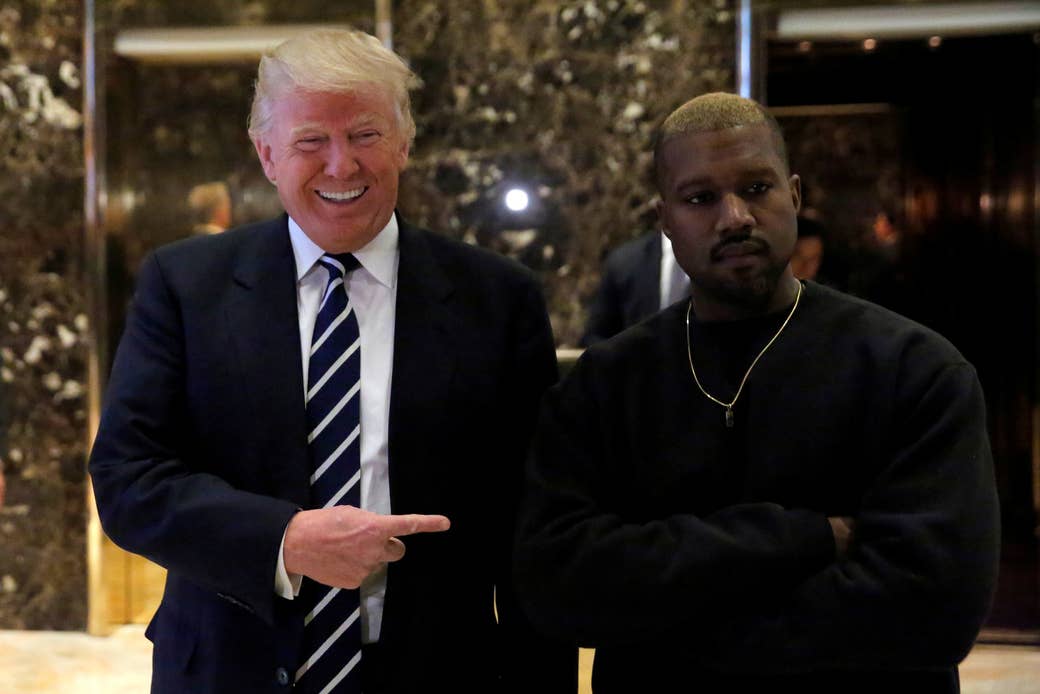 The past week has been particularly difficult for Kanye West fans. Since reactivating his Twitter account on April 13, the rapper has declared his love for Trump — "You don't have to agree with Trump but the mob can't make me not love him" — and showed enthusiasm for a prospective meeting with Trump-supporting billionaire Peter Thiel. Though West had previously taken a meeting with Trump, shortly after the election, this was the first time he appeared to actually endorse the president. People reacted by saying West had finally hit the point of no return, sharing memes of the rapper in the "sunken place," and laughing at the hypocrisy of West championing free speech and free thought while showing admiration for the man who spent a fortune to shutter Gawker. But if you've been paying attention, you'll realize that West's current behavior falls in line with what made him appealing in the first place.
Because in addition to his brutal honesty and glowing narcissism, West is someone who thinks of himself as a perpetual underdog and who still seeks validation from various elites.
West has spent the entirety of his career trying to kick the door down on spaces he has been excluded from. On his debut album back in 2004, West waxed poetic about how he was laughed at by his label for wanting to transition from producer to rapper, and made the hit song "Jesus Walks" about how difficult it'd be to get Christian rap on the radio. He often scoffed at the amount of awards he would lose even while being ranked 11th for the most Grammys won of all time.
He considered himself to be an underdog, facing off against naysayers, white supremacists, and stubborn institutions, but he was also an early advocate for certain social justice issues, talking about the effects of the drug trade on young black men, speaking out against anti-gay sentiment in the hip-hop community well before other people of his level of fame, and most infamously decrying the media coverage of black victims of Hurricane Katrina and President George W. Bush's handling of the catastrophe in 2005. While those views are well within the mainstream today, West's outspokenness was not cosigned by his peers at the time.
West's message of individuality, self-worth, and perseverance in lines like "Every motherfucker told me that I couldn't rhyme / Now I could let these dream killers kill my self-esteem / Or use my arrogance as the steam to power my dreams" from his 2004 song "Last Call" seemed to really resonate with his young audience, and put West in the position where his voice helped many young fans find theirs. By sharing his own stories he stumbled into being a role model for a generation of teens looking for a way to be their authentic selves.
West is someone who thinks of himself as a perpetual underdog and who still seeks validation from various elites.
West was generally consistent in getting positive feedback for his unsolicited opinions, but a big turning point around West's public persona was the infamous 2009 MTV Video Music Awards with Taylor Swift. More so than his repudiation of Bush, his interruption of the young country star accepting the award for Best Female Video made West a kind of a martyr for free speech. While it was objectively a rude gesture, in that moment, West vs. Swift became a tableau for the rejection of white mediocrity eclipsing black art, a message most of West's black fans were happy to see brought to light. Even immediately after, rapper Wale fronting the awards show's house band said, "You can't fault a man for speaking his mind." West was put through the wringer for challenging what art deserves recognition, famously going on The Tonight Show With Jay Leno and shedding a tear when asked what his recently deceased mother would have thought of his behavior. But the gesture won him ardent support from those critical of awards shows, establishing West as a more honest barometer of the music industry, especially given how quick he was to concede awards he won to the artist he felt was more deserving.
West had one notable critic though, in then-president Barack Obama, who called West a jackass in a leaked, behind-the-scenes CNBC interview from 2009. He would later stand by the remark in a 2012 Atlantic profile of the rapper. Though West was somewhat magnanimous in his response — "Obama has way more important stuff to worry about than my public perception," he told XXL in 2009 — it must surely have grated that he'd been denied a relationship with Obama at every turn, and that embarrassment seemed to set into motion his years-later endorsement of Trump.
After the release of his career-defining album My Beautiful Dark Twisted Fantasy, West decided to launch his own women's fashion line, and once again he felt himself unfairly excluded from the upper echelons of the fashion word. He invited every major fashion critic to see it in a packed show at Paris Fashion Week in fall 2011, to disappointing results. The Wall Street Journal wrote, "The only thing more painful than witnessing the dress was watching the model pitch down the runway in shoes so ill-fitting that her spike heels were bending at angles."
West channeled his anger into Yeezus, his abrasive 2013 album that took specific shots at the fashion industry, religious leaders, corporate America, and white supremacy again. He did a series of interviews that excoriated what he perceived to be the elitism of big fashion corporations like Nike, as well as the limits placed on him as a celebrity. He was allowed to be sponsored by brands, but was not allowed to give them any creative input in return.
West said in a 2015 interview with Zane Lowe that prior to his Adidas deal, "I'm giving examples of work that I did that was really successful and I'm getting just completely shut down. But not just by the company we talked about last time, but every single company, every single company you could imagine is just like, 'No, you are a celebrity. You are not allowed to create, you're not allowed to think, you're not allowed to have an opinion.'" However, after the Adidas deal had already proven itself to be a success, West claimed on Twitter to be $53 million in debt and tried to rally his followers into convincing Facebook CEO Mark Zuckerberg to invest $1 billion into his ideas. His platitudes of self-worth mutated, now he was a self-professed thought leader, though his thoughts felt even more erratic and inscrutable. He wasn't just a celebrity anymore, he was akin to Muhammad Ali, Malcolm X, and Nikola Tesla — figures that had little to do with music or fashion.
West had always had an ego, but had demonstrably put himself into a bubble and ceased to empower his fans. And while he was not necessarily wrong to rank himself among the most influential public figures in 2013 — in fact several publications corroborated his statement — in fighting to be perceived as a thought leader he exposed the myopia he developed a decade into fame. He used the fact that he and his wife, Kim Kardashian, had to lobby to be recognized by institutions like Vogue or the Hollywood Walk of Fame as an example of why classicism had replaced racism — as if they were new money still fighting old money for respect. He equated the fashion world not taking him seriously to Michael Jackson not being played on MTV because he was black. West ignored constructive criticism from those who cared and questioned how his plight actually affected others, clamoring for meetings with influential businesspeople and seemingly feeding himself a media diet of what he wanted to hear instead.
Just last week, when West shared pictures of his baffling new Yeezy shoe designs, the fan reactions were less than kind — and it felt like an ominous precursor to what was to come. One Twitter user named @Cripple_God, who uses a wheelchair, quote-tweeted a photo of the electric blue Yeezy slides the rapper debuted and said, "Wouldn't wear these shits if they could make me walk." The post was retweeted thousands of times.
Damon Young's recent piece on VerySmartBrothas about West refusing to read is apt because it indicates that West looks for convenience in the content he consumes. Physically isolating himself in his Hidden Hills home or in Jackson Hole, Wyoming, and seemingly separating himself from people who could question his views (though he did just have John Legend over for dinner after Legend himself made news for trying to convince West or others to detach from Trump), allows him to seek out any sort of message in media that serves as a unchallenged validation of his thoughts.
Donald Trump was a win for Kanye West because he now has access to a man who can relate to being ostracized by corporate America and those elites in power that West himself was trying to ingratiate himself to. Like Trump, West has proven to thrive off the credit he has been given, and now two Republican presidents have publicly shared how big an effect he's had on them, for better or worse. Meanwhile, Trump now has a black face with star power that just so happens to share his desperate need for validation from the most powerful people in the world.
What's next with West is hard to pin down. His music is often where he is most insightful, but if the song he posted Friday called "Lift Yourself" is any indication, he is not taking public opinion about his recent actions very seriously. A second song released Friday night, "Ye Vs The People," is a political tête-à-tête with rapper T.I., which ends at an impasse, possibly indicating that he is still under the same delusion he was in 2013, believing he was the one person in the world who could rebrand a Confederate flag or MAGA hat as symbols of black empowerment. For as much controversy as he has caused, while dropping hints about running for president in 2020, he admits to having little knowledge about conservative politics.
His recent retaliations against Obama and Jay-Z seem to indicate that West still cares about other powerful black cultural figures' opinions, though he could just be raging against the lack of attention they seem to pay to him. By all accounts, the visionary has finally lost his laser-focused vision, and some have even said he's been "redpilled." Whatever the case, what is constant is West will continue to look for respect, whether it be from the president of Universal Music or the president of the United States, and as he racks up debt — whether it be emotional or financial or both — those who lose out the most are the generation of fans who have stood by him up until now. ●