For Mary J. Blige, the best thing about her most recent film role was just how far removed it was from Mary J. Blige.
Amid a difficult period in her personal life, strained by the ugly breakup of her marriage to former manager Kendu Isaacs, Blige worked to channel her pain into a raw performance in Netflix's newest film, Mudbound. The escapism was just what she needed.
"Mudbound was the perfect vehicle because it just shows none of me, I'm gone," the Grammy-winning performer turned actress told BuzzFeed News in a recent interview. "There's no singing, there's no weaves, there's no nails, nothing— and that's what I wanted."
Mudbound, a historical drama directed by Dee Rees, centers on two Jim Crow–era Mississippi families — one black and one white — who become intertwined when they each have a family member ship off to World War II.
When Rees finished cowriting the screenplay with Virgil Williams, she knew that Blige was her first choice for Florence Jackson, the stoic matriarch of the black family of sharecroppers.
When Blige got ahold of the script she saw how dark and challenging the story was, but she was eager to put down her emotional baggage and pour herself into the role: "I am heavy, Mary J Blige is heavy, so I knew that I needed this because I was heavy at the time and I needed this to get all this heavy off of me."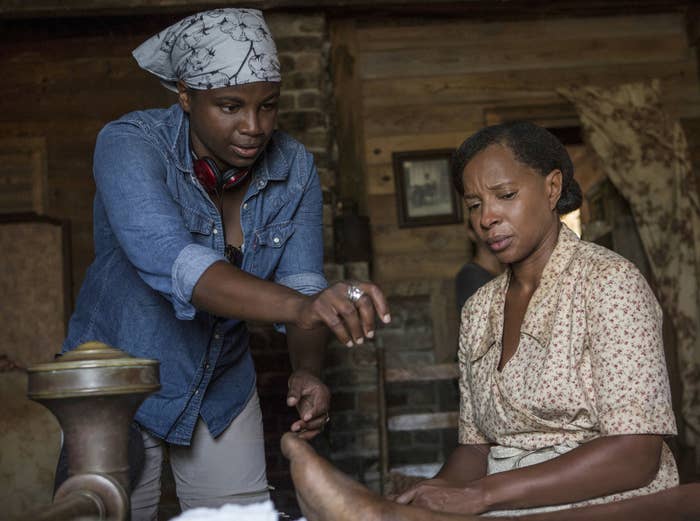 Production on Mudbound began in Louisiana right as Blige's marriage was falling apart. Such was the emotional toll that Blige would turn up in tears to acting classes with her friend and coach Tasha Smith (Empire).
Blige said Smith would comfort her by saying, "Mary, fuck that shit. Give everything to Florence. Give everything to Florence, get Mary out of here! We love Mary, but it's no more time for Mary, give everything to Florence."
What Blige ended up giving her character was, as she describes it, "Mary's ability to stand up to embarrassment and trials."
"The last five years have been really shitty so, you know, I gave Florence all of that because I was still living in that," Blige said.
Blige revealed she struggled to portray a happy marriage opposite Rob Morgan, her onscreen husband, as her personal life crumbled.
"I had to remember that I've always wanted this healthy marriage, I want it, and I've always been a team player, so I had to remember what I was in my marriage although it was in shit," she said.
She said she even found it difficult to hug another man during filming.
"But I had to find that character in order to bring Florence to life," she added. "I had to find, not even character, I had to find that in me."
For those familiar with Blige's work as the reigning Queen of Hip-Hop Soul, there's no question that Blige has a gift for channeling her pain into art. But with Mudbound, she has become one of the last major hopes to prevent another #OscarsSoWhite in an awards season dominated so far by performances from white actors.
While Blige describes the whole Mudbound experience — from the dirty set in the Louisiana fields, to the red carpet of film festivals in Sundance and Toronto — as an escape and a blessing, her newest foray into acting hasn't been any less emotionally taxing.
"I wanted to act — not because it was something glamorous. It was another way to sing without singing," she said.
Blige said she hopes this year marks a new chapter in her life. In addition to Mudbound, the singer released an album called Strength of a Woman that dives deep into her divorce. She also just announced plans to produce a show for Fox called 8 Count inspired by the life of celebrity choreographer Laurieann Gibson.
If anything, her recent trials have given her perspective on her many successes.
"Every time you do something great, something terrible happens, so you still in life, like life to still happening to you," Blige said. "So that's what keeps it all exciting and that's what keeps you appreciating the Grammy nominations again."