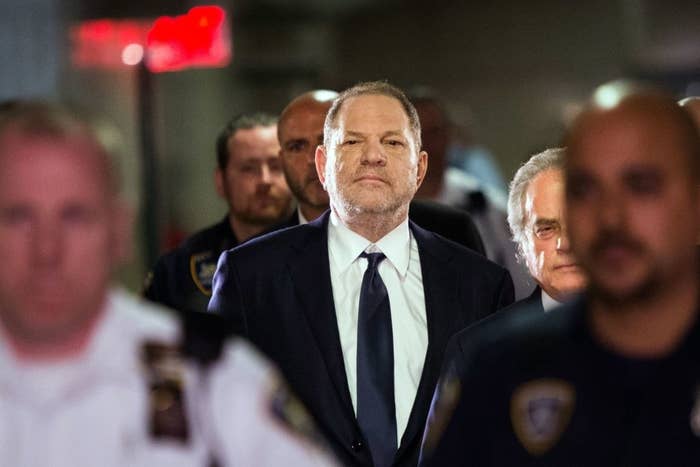 Harvey Weinstein's legal team is refuting a recent interview published by Spectator USA in which he reportedly admitted to offering acting roles in exchange for sex and said that the practice is rampant in Hollywood to this day.
Promising Spectator columnist Taki Theodoracopulos "a world exclusive," Weinstein maintained his innocence against allegations by dozens of women, including A-list actors, that he sexually assaulted and harassed them during his time as a movie mogul running Miramax.
His main defense has been that none of his sexual encounters with women were nonconsensual, which he reportedly alluded to in addressing Theodoracopulos.

"You were born rich and privileged and you were handsome. I was born poor, ugly, Jewish, and had to fight all my life to get somewhere. You got lotsa girls; no girl looked at me until I made it big in Hollywood," Weinstein was quoted as saying. "Yes, I did offer them acting jobs in exchange for sex, but so did and still does everyone. But I never, ever forced myself on a single woman."
However, Weinstein's attorney, Benjamin Brafman, insisted in a statement to BuzzFeed News that his client was misquoted.
"I was present for the conversation; it was not an interview, but a social meeting between old friends," Brafman said. "Harvey and Taki did not discuss the case, nor would I allow him to. We talked about old Hollywood and the contrast to European culture, and I think Taki sees Harvey in that older light. Mr. Weinstein never said anything about trading movie roles for sexual favors. You have my word that Harvey did not say that."
The statement included a statement from Theodoracopulos, who said he "may have misrepresented Harvey Weinstein's conversation with me in New York last month."
"It was my mistake," he added. "We were discussing Hollywood and I may have misunderstood certain things about the methods of that place."
The column, however, had not been amended as of Thursday afternoon.
Weinstein was indicted this year on charges of first- and third-degree rape and a first-degree criminal sexual act regarding two alleged acts with two women, including actor Lucia Evans, who has publicly accused the disgraced movie mogul of forcing her to perform oral sex on him in his Manhattan office in 2004.
The second alleged incident happened on March 18, 2013, at a hotel in midtown Manhattan. Weinstein is charged with keeping a woman, who has not publicly come forward, "physically against her will" in a room and raping her.
Weinstein's reported comments come nearly two months after Brafman hinted at his team's legal strategy by drawing a line between what's considered criminal behavior versus what people think is objectionable and abhorrent.
Speaking to reporters in May after Weinstein turned himself in to New York police to face the criminal charges, Brafman said his client "did not invent the casting couch in Hollywood," referring to the practice of someone in power demanding sex in exchange for a gig.
"And to the extent that there is bad behavior in that industry, that is not what this is about," he added. "Bad behavior is not on trial in this case. It's only if you intentionally committed a criminal act, and Mr. Weinstein vigorously denies that."