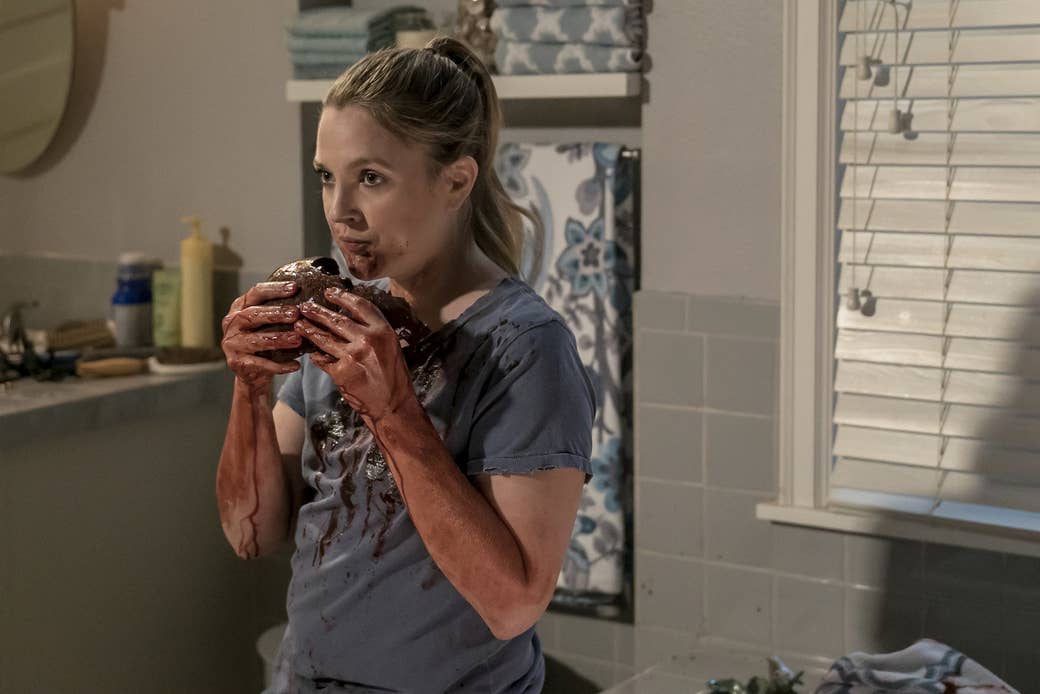 Viewers have been devouring Netflix's Santa Clarita Diet since its Feb. 3 launch the same way Drew Barrymore's character Sheila eagerly inhales a finger, post-zombie transformation.
And the debut season, which had only 10 half-hour episodes, came to an abrupt, shocking end: After being arrested and revealing to the jail psychologist that his wife is a zombie, Joel (Timothy Olyphant) is institutionalized, while Sheila, as Barrymore described it, is "chained up, baby" back at home in the basement. "I didn't know where it was going [either]," Barrymore told BuzzFeed News of the finale during a Netflix press event in New York.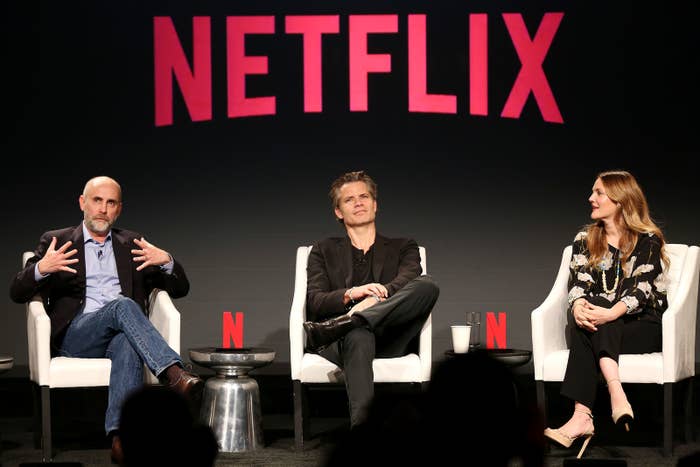 Getting the ending right to the premiere season of Santa Clarita Diet was very important to Barrymore, and she had a lot of feelings about it going in that she wasn't shy about sharing with creator Victor Fresco. The finale, Barrymore said, "was the only episode where I was like, constantly bothering Victor and showing up like Tracy Flick from Election with my papers."
"I like ambiguity when it feels satisfying," Barrymore said. "I fucking hate ambiguity when I'm like, Dot, dot, what? Dot, dot, fucking fall off, what?" To her, Santa Clarita Diet's finale falls into the former category. She enjoyed that the ending takes Sheila back to square one: She's till trying to sell the listing she and Joel have been showing the whole season, even though both are physically restrained indefinitely. "She's talking about the first house they're talking about when they're burying Nathan Fillion," Barrymore said. "It's like all the same dialogue, it is the house, so there's just something about a life goes on and that daily sort of wonderful monotony, like, isn't monotonous for them anymore."
Barrymore and Fresco said that Sheila didn't plan for this outcome, with Joel safe in the mental institution. But a lot of planning did go into Barrymore conveying where Sheila's mind is at in the finale's last scene. "I really wanted to have a certain facial expression for her going out, so if you were to ever look at the way she looks at the moment you come into the show, they're very different faces attitudinally, sort of of bone structurally, like internal dialogue-y, having lived that experience," Barrymore said of Sheila's final eyebrow raise. "That was what I was trying to do at the end."
Fresco said that ultimately, Sheila is optimistic about her family's future, which aligns with her taking the call to show the listing once again, even when she and Joel are physically restrained. "It's a delicious optimism," said Barrymore.
And for the actor, the final line of the show — "Hopefully next week one of us will be free" — "was so wonderfully on the nose." Barrymore explained: "Like, we were the least free we've been in the whole show after getting to, like, live bliss, go crazy, like we're anything but free, will we actually be free literally of an institution and a chained-up situation? So that word I always wanted to kind of like marble in my mouth as like a little ding."
Netflix has yet to confirm a Santa Clarita Diet Season 2, but Season 1 is currently streaming and the cast and creator hope it will withstand Netflix's never-ending crop of new series. "I'm so curious, like in two months from now it's like, 'What was that show you were on?'" Olyphant joked. "It's certainly not a status quo show, so hopefully it will be a little memorable for that," Fresco said.