After a woman filed a civil lawsuit last month accusing Paul Haggis of rape, three more women have come forward with their own allegations of sexual misconduct against the director of Crash.
The director is denying all the women's allegations, suggesting they may be motivated by financial reasons or that they are seeking retribution against him for speaking out against Scientology.
In her December civil suit, entertainment publicist Haleigh Breest claimed that Haggis lured her to his New York apartment after a film premiere in 2013 and became "sexually aggressive." She alleges he said, "You're scared of me, aren't you?" before forcing her to perform oral sex on him and then raping her.
Haggis denied Breest's claims, and countersued over what he said was "extortion."
On Friday, three other women told the Associated Press that Haggis was sexually aggressive toward them, with one of the women saying he raped her.
The three women chose to remain anonymous, but have claims that go from 2015 all the way back to 1996. Be it at a meeting about a television show or after a film event, the women said Haggis found a way to be alone with them, then tried to forcibly kiss them, and either raped them, as another publicist alleges, or intensely harassed them once they'd escaped.
The second publicist to accuse Haggis of rape says he set up a late-night meeting with her to go over photos for a 1996 TV show he was producing. As she resisted his advances, she alleges he said, "Do you really want to continue working?" She describes going numb after that, alleging that Haggis forced her to perform oral sex and then raped her on the floor of the office they were in.
The other two women allege Haggis forcibly kissed them before they were able to escape as he chased them out the building. In one 2015 alleged incident, the director then repeatedly called and texted one of the women for 24 hours before she blocked him.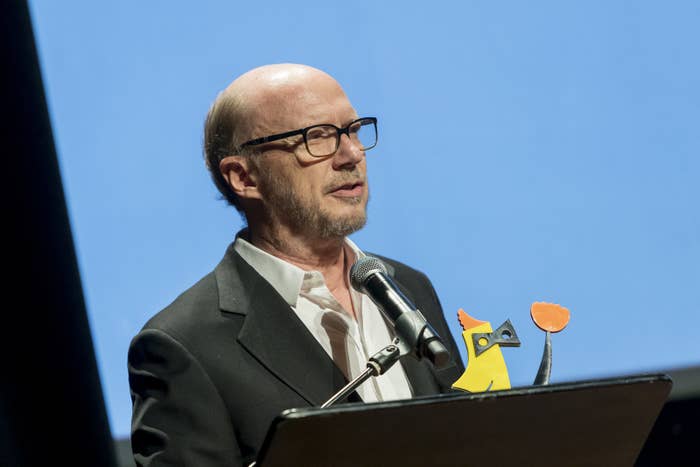 Haggis's lawyer Christine Lepera told BuzzFeed News that he "denies these anonymous claims in whole."
Lepera said that "no one has reached out to anyone on Mr. Haggis' team other than the press to report this."

"Mr. Haggis also questions whether Scientology has any role here, which he notes has been attacking him for years with false accusations," she said.
Haggis famously denounced Scientology in 2011 and appeared in the documentary Going Clear, which portrays the group as a cult.

All the women interviewed by the AP denied Scientology played a role in their coming forward.
Haggis also accused Breest and her lawyer of demanding $9 million to avoid legal action.

In response, Breest's lawyer Jonathan Abady told the AP, "We view Mr. Haggis' claims against Haleigh Breest as ludicrous, and a further act of aggression."

"In an act of remarkable hubris, Mr. Haggis has the temerity to claim that he, not her, was the victim," Abady said. "It is a preposterous and transparent PR stunt that will not succeed. Ms. Breest will not be intimidated or deterred from seeking justice."