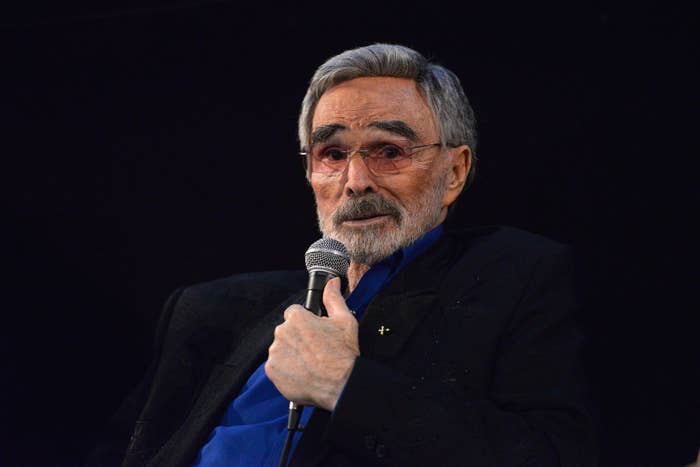 Famed actor and 1970s sex symbol Burt Reynolds died at a hospital in Jupiter, Florida, Thursday morning, according to his manager. He was 82.
No cause of death was immediately released. But in a statement, the actor's family said that while he had been dealing with health issues, "this was totally unexpected."
"My uncle was not just a movie icon; he was a generous, passionate and sensitive man, who was dedicated to his family, friends, fans and acting students," Nancy Lee Hess said in the statement.
She also noted how the actor known for performing many of his own stunts was also respected for his toughness.
"Anyone who breaks their tail bone on a river and finishes the movie is tough. And that's who he was," she said.
Few names are more synonymous with the 1970s than Reynolds, yet few actors have been able to stay relevant, or relaunch their careers, for as long a time as he did. In his 2015 memoir But Enough About Me, Reynolds wrote, "I know I'm old, but I feel young. And there's one thing they can never take away: Nobody had more fun than I did."
While Reynolds had done some television acting in the late 1950s, he booked his first film role in 1961's Angel Baby, which led to him to joining the cast of the pivotal television series Gunsmoke.

During the rest of the 1960s, Reynolds would book lead roles in box office busts, though the one role he famously turned down in 1970 was James Bond. Reynolds finally found his breakout role in the unexpected hit 1972 film Deliverance. It helped that he promoted that film with a now-iconic nude centerfold in the April 1972 issue of Cosmopolitan.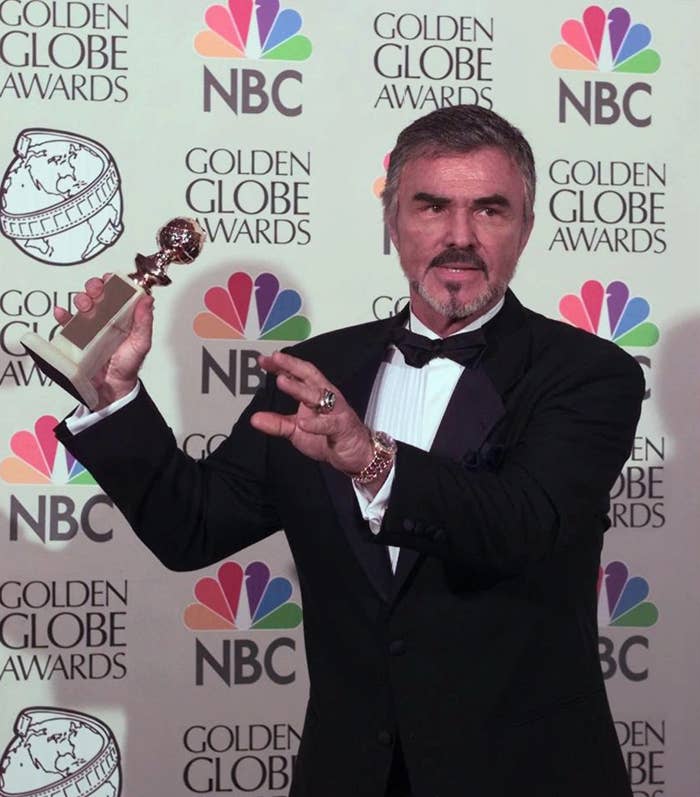 Reynolds hit a hot streak in 1970s and '80s with lead roles in films like White Lightning, Gator (White Lightning's sequel and his directorial debut), The Longest Yard, Smokey and the Bandit, The Cannonball Run, and All Dogs Go to Heaven.
While the actor was briefly married to Judy Carne in the mid-1960s, Reynolds had long-lasting romantic relationships with singer Dinah Shore and his Smokey and the Bandit costar Sally Field before marrying his second wife in 1988, actor Loni Anderson, with whom he had a son, Quinton. Their divorce in the '90s set off a decades-long battle over Reynolds' fulfillment of their financial settlement.
Field said in a statement to the Hollywood Reporter that she will always remember her costar.
"My years with Burt never leave my mind," she said. "He will be in my history and my heart for as long as I live."

Reynolds' film career cooled down in the 1990s (although he still won an Emmy upon returning to TV with the early '90s sitcom Evening Shade), but saw a resurgence in 1997 with a pivotal role in Paul Thomas Anderson's breakout film Boogie Nights. While Reynolds had a contentious relationship with Anderson and refused a role in his follow-up film Magnolia, the role of Jack Horner in Boogie Nights garnered the veteran actor his first and only Oscar nomination plus a Golden Globe win for Best Supporting Actor.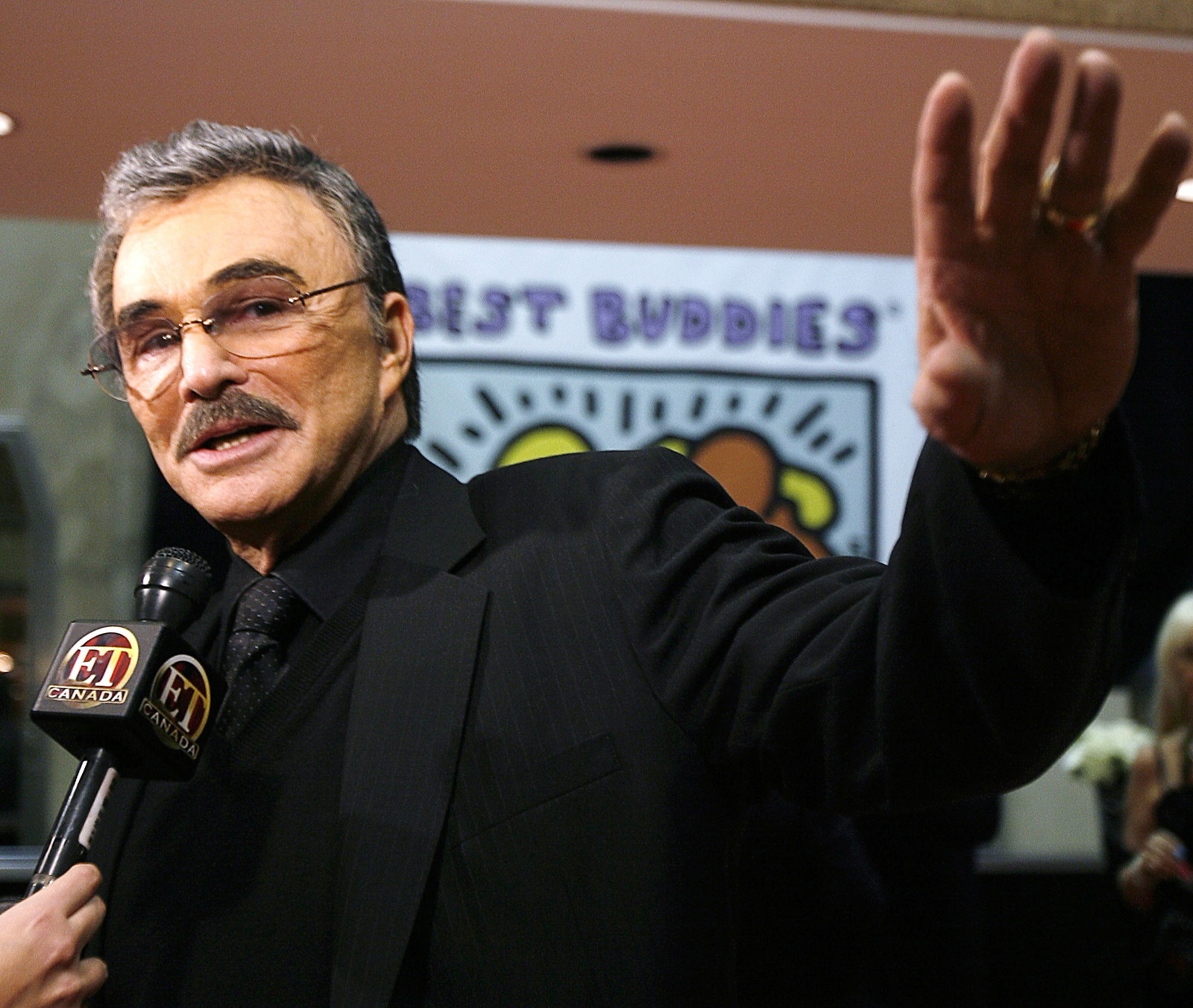 Reynolds was born in Lansing, Michigan, in 1936 to Burton and Fern Reynolds. His father was away serving in the US Army, so his early childhood was spent with his mother and her family in Lake City. After moving to Florida as an adolescent, Reynolds became a star football player at Palm Beach High School and eventually took an athletic scholarship to play football at Florida State University.
An injury in his sophomore year forced Reynolds to give up his football dreams, but he decided to finish school at Palm Beach Junior College, where he was tapped by an English professor to give acting a try.
Reynolds ended up winning a regional student theater award that came with a scholarship to the Hyde Park Playhouse in New York. There, he met future Oscar winner Joanne Woodward, who helped him find an agent and begin booking theater roles on tour and on Broadway in the 1950s.
Later in life, Reynolds was selective with his roles, but he never stopped working, appearing in films like the remake of The Longest Yard and 2017's The Last Movie Star. He was even set to appear in Quentin Tarantino's upcoming film Once Upon a Time in Hollywood with Leonardo DiCaprio and Brad Pitt.
Mark Wahlberg tweeted a tribute Reynolds' Boogie Nights costar, saying, "Rest in peace to a legend and a friend."
And Reynolds' The Best Little Whorehouse in Texas costar Dolly Parton shared a photo of them in the film on Twitter, saying, "I will always love you."
Reynolds is survived by his son, Quentin.

CORRECTION
Joanne Woodward's name was misspelled in a previous version of this post.