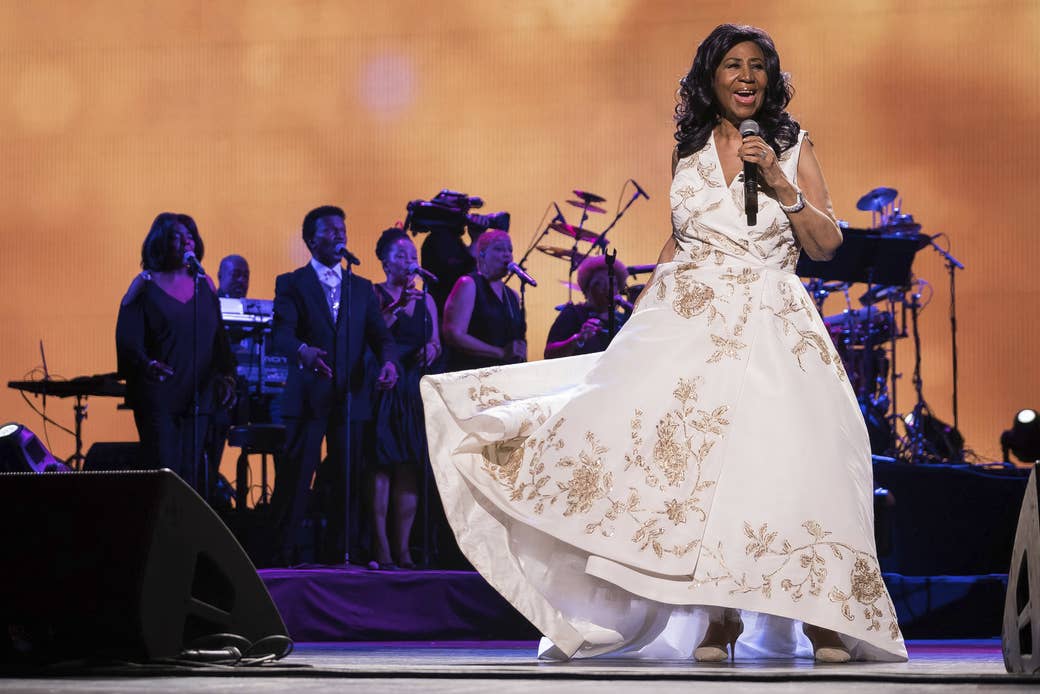 Aretha Franklin, the undisputed Queen of Soul and a music legend who enjoyed a career longer than many of her successors, died Thursday. She was 76.
Her publicist, Gwendolyn Quinn, confirmed her death to BuzzFeed News in a statement, saying she died at her home in Detroit at 9:50 a.m. local time. The cause of death was advanced pancreatic cancer of the neuroendocrine type.
"In one of the darkest moments of our lives, we are not able to find the appropriate words to express the pain in our heart," her family said in a statement. "We have lost the matriarch and rock of our family."
The family also said they had been "deeply touched" by the outpouring of love and support they had received in recent days, after word first emerged the singer had fallen ill. "We have felt your love for Aretha and it brings us comfort to know that her legacy will live on," they said.
No other vocalist has reached the heights Franklin did during her monumental career. She was the most charted female singer in Billboard history, the first woman to be inducted into the Rock and Roll Hall of Fame, the winner of 18 Grammy Awards, and the "greatest singer of all time," according to Rolling Stone.
"Aretha is still the best singer in the world, bar none," the record producer Clive Davis said in 2003. "She finds meanings in lyrics that the composers didn't even know they had. She chills you, heats you, affects your soul. It's exhilarating."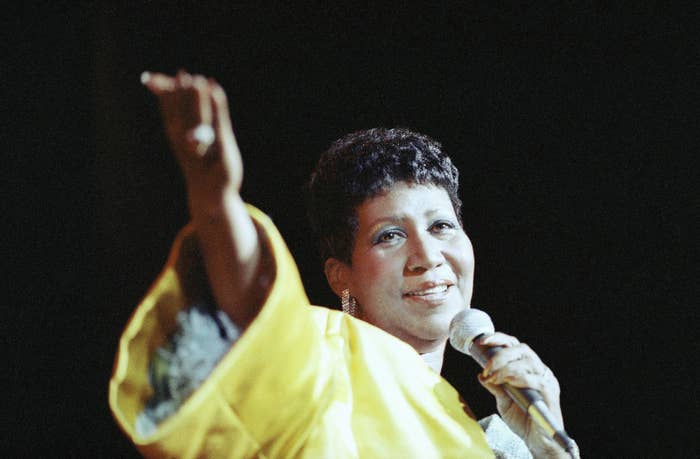 Franklin was born in Memphis on March 25, 1942, to gospel singer Barbara Siggers Franklin and acclaimed Rev. Clarence LaVaughn "C.L." Franklin. By the time Franklin was 6 years old in 1948, her parents had separated; her father kept her in Detroit (where the Franklins had moved right before she turned 4 so he could take over New Bethel Baptist Church), and her mother relocated to Buffalo, New York. Her mother still visited her and her siblings often, but she died in 1952 when Franklin was 10 years old. It was around this time music became a central part of Franklin's life, with gospel icons like Mahalia Jackson helping to raise her. She learned piano by ear and watched her father's emotionally charged sermons gain him so much acclaim that civil rights movement figures like Martin Luther King Jr. and Sam Cooke were knocking on his door as they toured the Deep South.

"It certainly was not what I was used to or accustomed to in Detroit," Franklin later said. "There were times that we were asked to go to the back of the restaurant, say, or we couldn't use the bathrooms."
When Franklin was a teenager, she hit the road with her father on a gospel caravan tour and signed to J.V.B. Records. She released two gospel singles and headed on tour with performers like Cooke, whose transition to secular music inspired her to do the same.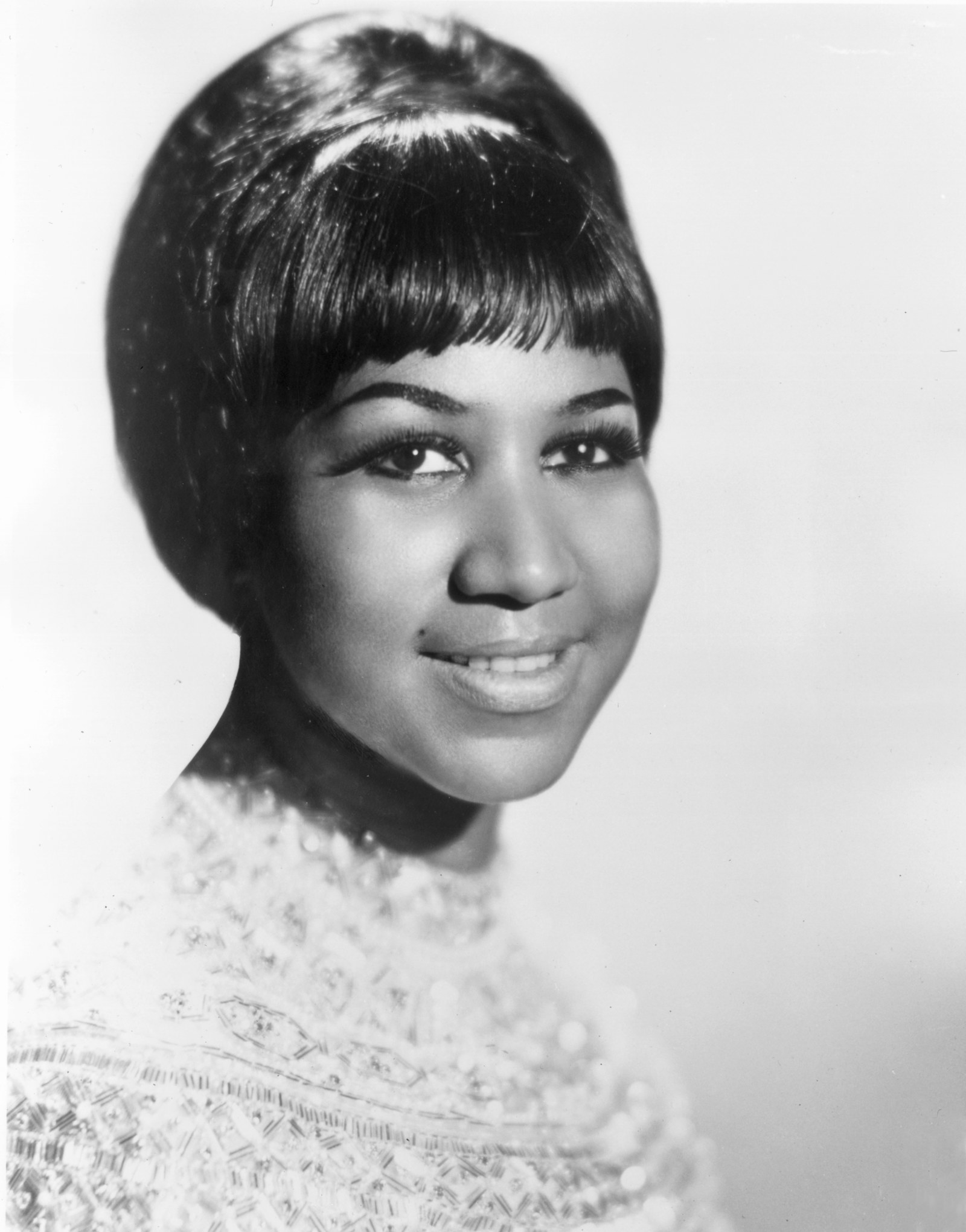 Franklin signed to Columbia Records in 1960 and released her first R&B single, "Today I Sing the Blues," a song that made it to the top 10 on the R&B charts. Franklin's first secular album was released in 1961, and she had a Top 40 hit by the end of the year. She released two albums to moderate success in 1962, but then transitioned from jazz and standards to more pop-leaning records. She expanded her reach to the easy listening charts and profited financially from touring, but as it would later be proven, Columbia Records had not tapped into her full potential.
Franklin and her then-husband and manager Ted White took her talents to Atlantic Records in January 1967, after six years at Columbia. She went down to Muscle Shoals, Alabama, to record her first top 10 hit, "I Never Loved a Man (The Way I Love You)," with the famed Muscle Shoals Rhythm Section. She began to hit a stride that peaked with the recording of Otis Redding's "Respect," her signature song and first No. 1, as well as recordings of "Baby I Love You" and "(You Make Me Feel Like a) Natural Woman."
"In later times, ['Respect'] was picked up as a battle cry by the civil rights movement," Franklin told NPR in 1999. "But when I recorded it, it was pretty much a male–female kind of thing. And more in a general sense, from person-to-person: I'm going to give you respect and I'd like to have that respect back or I expect respect to be given back."
In 1968, a partnership with producer Jerry Wexler culminated in hits like "Chain of Fools" and "Think," as well as two Grammys that included a win in the new category of Best Female R&B Vocal Performance.
Asked in 1968 if she expected to continue performing hits like "Respect" and "Think" in future decades, she replied, "No, I shouldn't think so. Music changes, and I'm gonna change right along with it." Of course, the songs would remain beloved by later generations and would remain as mainstays of her repertoire.
She had earned the title "Queen of Soul" and a Southern Christian Leadership Conference award from Martin Luther King Jr., and became a symbol of black — especially black female — empowerment. "Daddy had been preaching black pride for decades," she said, "and we as a people had rediscovered how beautiful black truly was and were echoing, 'Say it loud, I'm black and I'm proud.'" When King died later that year, Franklin performed at his funeral.
In 1969, Franklin divorced White, who was abusive, and started the '70s off with successful singles like "Spanish Harlem" and "Rock Steady." The death of her mentor Mahalia Jackson brought Franklin back to gospel in 1972 with the album Amazing Grace, which sold 2 million copies and became the most successful gospel album ever at the time. She also won the Grammy for Best Female R&B Vocal Performance for eight consecutive years, the last being in 1974. Though Franklin was able to work with producers like Quincy Jones and Curtis Mayfield, and even expanded her repertoire to rock covers, her career hit a wall in the mid-'70s disco era; the only project of hers that took off at the time was the soundtrack to the film Sparkle. Some highlights of Franklin's life during the late '70s included performing at President Jimmy Carter's inauguration in 1977, marrying actor Glynn Turman in 1978, and leaving Atlantic Records in 1979.

Joining Clive Davis's Arista Records and appearing in the hit film The Blues Brothers helped Franklin jump-start her career again and help pay off a massive IRS bill. She steadily climbed her way back up the charts by 1982, with her album Jump to It, but two years later was dealing with her father's death and a divorce from Turman.
In 1985, Aretha Franklin finally returned in full force with Who's Zoomin' Who?, an album that included her last No. 1 hit, "Freeway of Love." The album went platinum and became her highest-selling one to date. She also developed a younger sound, collaborating with innovators at the time like the Eurythmics and George Michael (on her follow-up album, Aretha).
In 1987, Franklin was inducted into the Rock and Roll Hall of Fame and released her third gospel album, One Lord, One Faith, One Baptism, which she recorded in her late father's New Bethel church and which won her a Grammy for Best Soul Gospel Performance.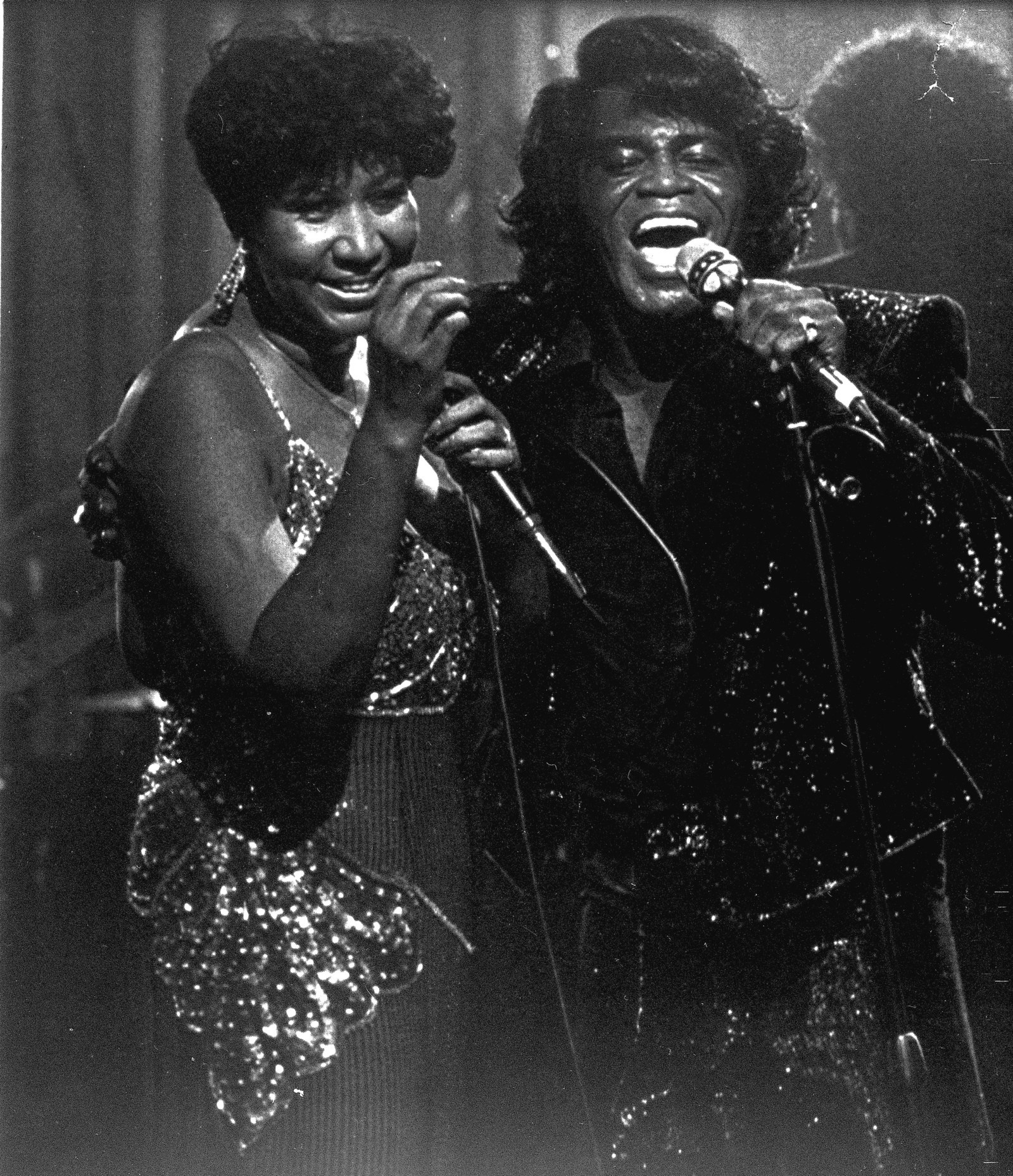 Franklin performed at President Clinton's inauguration in 1993 and earned a Grammy Lifetime Achievement Award and a Kennedy Center Honor in 1994, but she was far from retired. She returned to the charts with her album A Rose Is Still a Rose, the title track produced by Lauryn Hill, and even filled in for Luciano Pavarotti, who was too ill to attend the Grammys, singing a stirring rendition of "Nessun Dorma."
By the new millennium, Franklin had reached legendary status, and after fulfilling her contract with Arista Records — mainly by releasing the 2003 album So Damn Happy — Franklin slowed down a bit. Still, acclamations kept on coming, with a Presidential Medal of Freedom Award in 2005, a "Star-Spangled Banner" performance at Super Bowl XL in 2006, her 18th Grammy in 2008, and the honor of performing at the 2009 inauguration of the nation's first black president, Barack Obama — quite the event to bear witness to after growing up in the thick of the civil rights movement.
After releasing an album on her own label, Aretha's Records, in 2011, Franklin came back to Clive Davis and signed to RCA Records in 2014. That same year, she released Aretha Franklin Sings the Great Diva Classics to cement her role as the supreme diva and remind artists the Queen of Soul was still on her throne.
In a tribute to Carole King at the 2015 Kennedy Center Honors ceremony, Franklin performed one of the songs King had penned that helped further her career: "(You Make Me Feel Like a) Natural Woman." Her fiery rendition — striking the piano, dramatically shedding her fur coat — prompted President Obama to openly wipe away tears. Franklin declared it one of the "three or four greatest nights" of her life.
Asked later what made the performance so moving, Franklin could only reply, "It was just me and the people, that's all I can tell you. It was just, as they say, one moment in time."
In 2017, Franklin revealed to a Detroit radio station her plans to retire after the release of her album collaboration with Stevie Wonder: "I feel very, very enriched and satisfied with respect to where my career came from and where it is now," she said. "I'll be pretty much satisfied, but I'm not going to go anywhere and just sit down and do nothing. That wouldn't be good either."
Franklin's unmatched voice and musicality weren't the only elements that contributed to her success. Just a handful of artists will ever be able to reach the heights she did, knowing how to continually adapt — through time, through genre, through struggle. Franklin will always command and deserve respect, and will surely always be front and center on any list of the greatest singers of all time.
"You can hear Aretha's influence across the landscape of American music, no matter the genre," Obama told the New Yorker in 2016. "If I'm stranded on a desert island, and have 10 records to take, I know she's in the collection. For she'll remind me of my humanity — what's essential in all of us. And she just sounds so damn good."
Aretha Franklin is survived by her four sons: Clarence Franklin, Edward Franklin, Ted White Jr., and Kecalf Cunningham.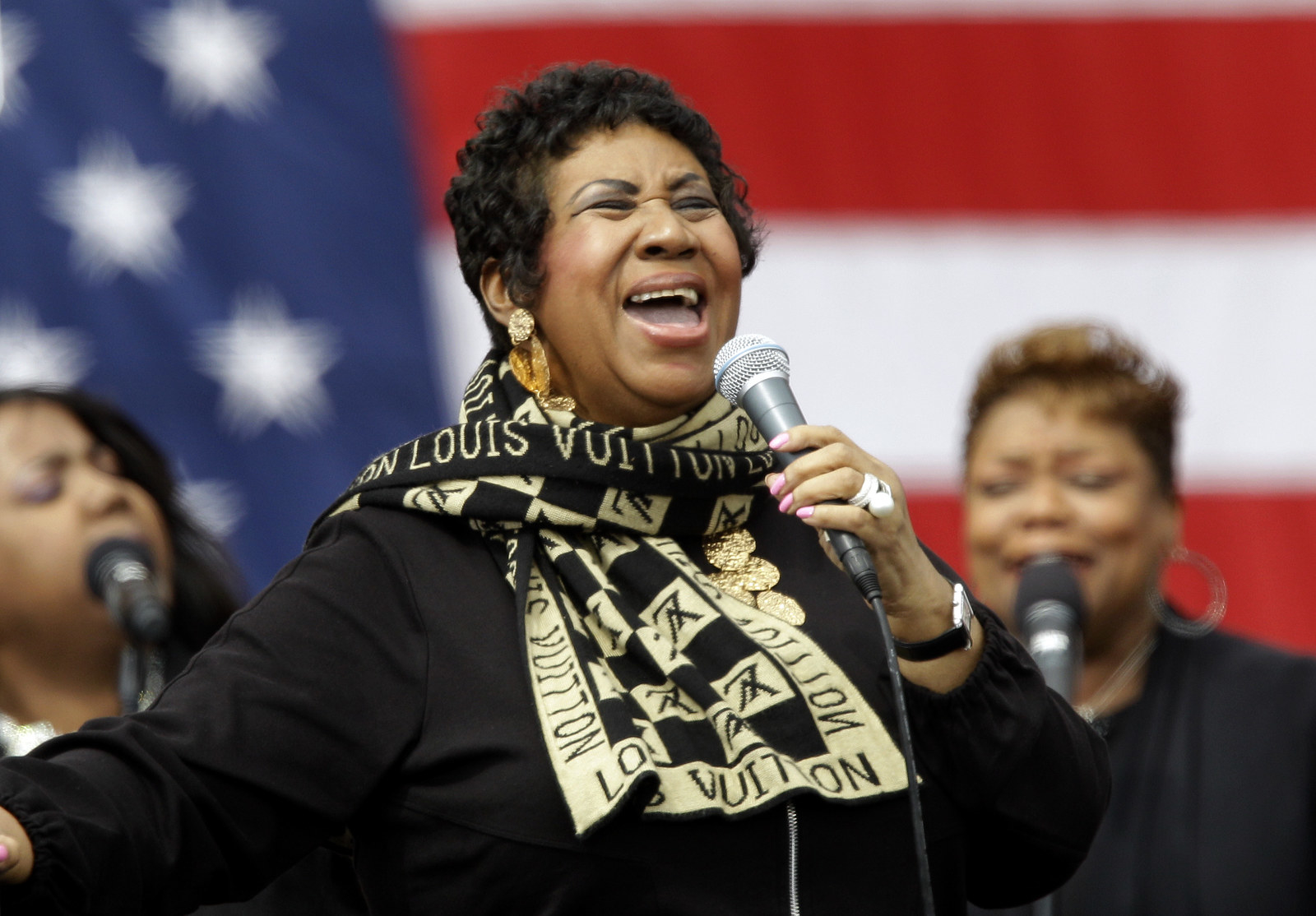 CORRECTION
An earlier version of this post misidentified Eric Clapton as being a member of the Muscle Shoals Rhythm Section. That reference has been removed.