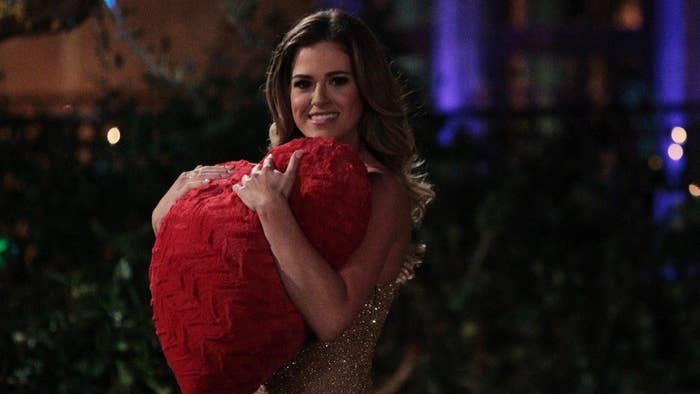 Becky Steenhoek, a segment producer for JoJo Fletcher's season of The Bachelorette, has filed a lawsuit against Warner Bros. Entertainment and several Bachelor franchise producers alleging she was sexually harassed during her time on set.
The parties named in the court document obtained by BuzzFeed News are Warner Bros. Entertainment, The Bachelor creator Mike Fleiss's production company NZK Productions, and producers Elan Gale, Peter Scalettar, Jacqueline Naz Perez, Caitlin Stapleton, and Bennett Graebner.

Steenhoek is suing for damages related to sexual harassment and a hostile work environment, sex discrimination, retaliation, failure to prevent harassment, intentional infliction of emotional distress, and wrongful termination.

Steenhoek says in the lawsuit that the producers named would ask her invasive questions like "Is your vagina shaved?"; "How often do you masturbate?"; and "Do you enjoy giving hand jobs?" She further alleges in the lawsuit that the line of questioning was meant to embarrass her because of her sexual inexperience and conservative views about sex.
When Steenhoek finally confronted Stapleton, her supervisor, about the uncomfortable questions, Stapleton allegedly said that the executive producers were three middle-aged men and that is what men talk about. "This is the way of the industry and world we work in," he allegedly said.

After her conversation with Stapleton, which took place on April 9, 2016, Steenhoek said she was not invited to production meetings and was pushed to do menial tasks until she was finally fired on April 17, 2016 by producer Bennett Graebner for, as the complaint alleges, not being enough of a "bitch."

In an interview with the Los Angeles Times on Monday, Steenhoek said she was told she was hired because of her morals, but ended up being fired over them.

Since her dismissal, Steenhoek has moved back to Texas.
"I think [sexual harassment is] an industry-wide problem — these executives are untouchable," she said. "If you report it, you get retaliated against, you get fired because then you're not a team player. If you don't report it, then it was essentially me not being me. I would have had to sacrifice my values and my morals for something I didn't think was right, and I'm not gonna do that."

In response, Warner Bros. Entertainment said the allegations made by Steenhoek had been investigated and its "findings did not support" her claims.
"We take all allegations of workplace harassment very seriously," Warner Bros. said in a statement. "These allegations were brought to our attention and were thoroughly investigated earlier this year. Our findings did not support the plaintiff's characterization of the events claimed to have taken place, which is why we are disappointed by the filing of this lawsuit."