Hours before Terry Crews testified about his personal experience with sexual assault to the US Senate on Tuesday, rapper 50 Cent mocked the actor's story in a now deleted Instagram.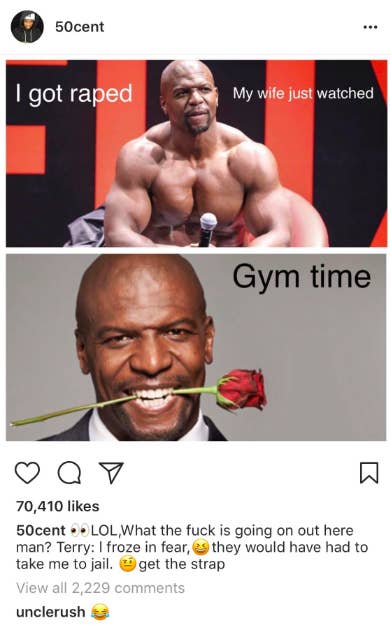 50 Cent's post did not go over well online. Russell Simmons, who Crews said asked him to take back his assault accusation against WME agent Adam Venit, commented on the rapper's post with "😂."
Rather than take the controversial post down on Tuesday, 50 Cent initially posted two more posts on Instagram mocking Crews, and then deleted all three controversial posts, and posted a video of Crews' reaction to his jeering.
The rapper also put up an Instagram Wednesday morning of him sleeping with a caption that joked he's recovering from having his "sense of humor removed," and that his publicist told him, "if you see any journalist play DEAD."
BuzzFeed News has reached out to Simmons for comment.