This is Karamba Diaby, Germany's first African-born MP, who represents the eastern city of Halle for the Social Democratic Party.
Diaby, who was born in Senegal and came to East Germany in 1985 as a student, was elected to the Bundestag in 2013. Diaby also sits on the parliamentary committee for human rights and humanitarian aid.
Earlier this week, the German far-right National Democratic Party (NPD) uploaded a photo of him with a post that read: "German representative of the people, according to the SPD. Who betrayed us? The Social Democrats."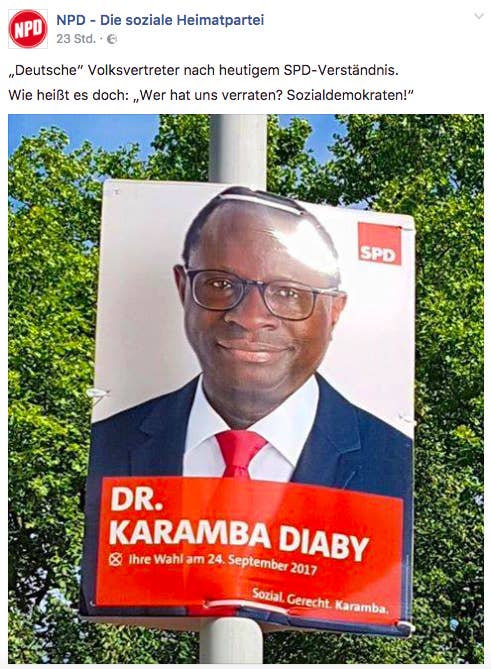 Under the NPD post, hundreds of Facebook users left racist comments and questioned Diaby's right to represent German constituents in the parliament. When Diaby received a message from a member of his staff, he decided to respond to the NPD post.
Diaby took to Facebook and posted a message. "All racists: I AM NOT YOUR NEGRO," it began.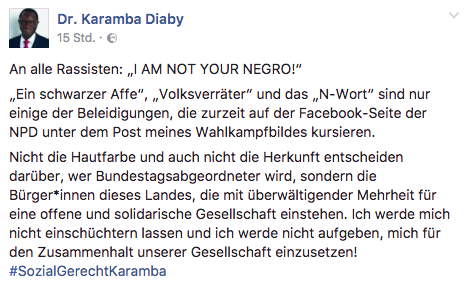 In an interview with BuzzFeed News Deutschland, Diaby recalled how the NPD had also campaigned against him in local elections in 2014. He said he receives letters full of racist slurs and threats at least once or twice a day. Every time he drives to an event, he said, he wonders whether the members of the far right will also be there. But he said he doesn't want to be intimidated. "You must show them that they are not the majority," Diaby said.

By Thursday, Diaby's post had resonated widely on Facebook, where more than 30,000 reacted to it — and many had come to his defense.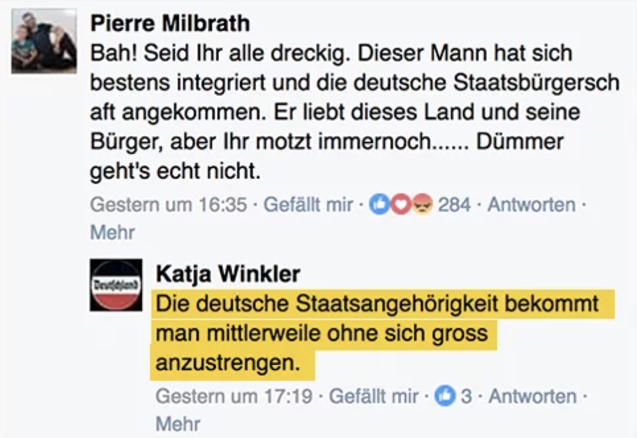 Pierre Milbrath: You guys are filth. This man has integrated perfectly and holds German citizenship. He loves this country and its citizens but you're still complaining. It doesn't get any dumber than that!

Katja Winkler: At this point you can get German citizenship without doing much for it.

Niklas Werner: And luckily for you, you can't lose it even if you haven't mastered German orthography.
One Facebook user complained that "bimbos" have already taken over German football and asked if people have noticed this. "You are are a stupid racist human being," another user responded.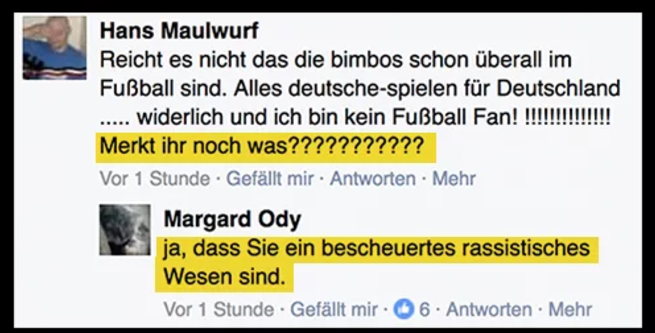 On Wednesday, Diaby filed criminal charges against Facebook users who posted racist slurs under the NPD post. Diaby told Deutsche Welle that he wanted to press criminal charges even though NPD had deleted some of the comments — the original post, however, is still online. "It's important to me because we can't just allow it to slide," he said. "We have to take it seriously and stand up to it."
This post was translated from German.