A Facebook group in Germany wants to establish a "Pro-Putin" party whose ultimate goal would be to free Germany from NATO, reorient the country toward Russia, and, eventually, have it become part of the Russian Federation.
The online group, which started in 2015, has nearly 25,000 fans on Facebook and has been promoting events that are critical of Chancellor Angela Merkel, former US president Barack Obama, the Transatlantic Trade and Investment Partnership, the national parliament, and Germany's military operations.
In an interview with BuzzFeed News, the cofounders of the group said they're waiting to hit 50,000 fans online. "Then we may think of the launch of the party," said Rene Reimann, one of the founders, in a phone interview.
Reimann, who runs a baby products website and an event agency for children, uses the Facebook pages of his business to share articles that originate from Russian state-owned Sputnik News and RT Deutsch. Alexander Martin, admin of the pro-Putin party page, manages two other sites called "nachgerichtet.is" and "Der Nachrichtenjäger" — both intended to spread what could be described with "alternative facts." Martin himself frequently shares stories about Germany's far-right Alternative für Deutschland (AfD) party. But both Reimann and Martin say they reject the entire political class in Germany — they aren't really right, they aren't really left, they simply are anti.
"The group started because we don't suffer from historical amnesia," said Reimann, about their idea to start the pro-Russia Facebook group. "It goes back toward the Cold War. German tanks were positioned in the Baltic region. And we already had 17 million dead Russians."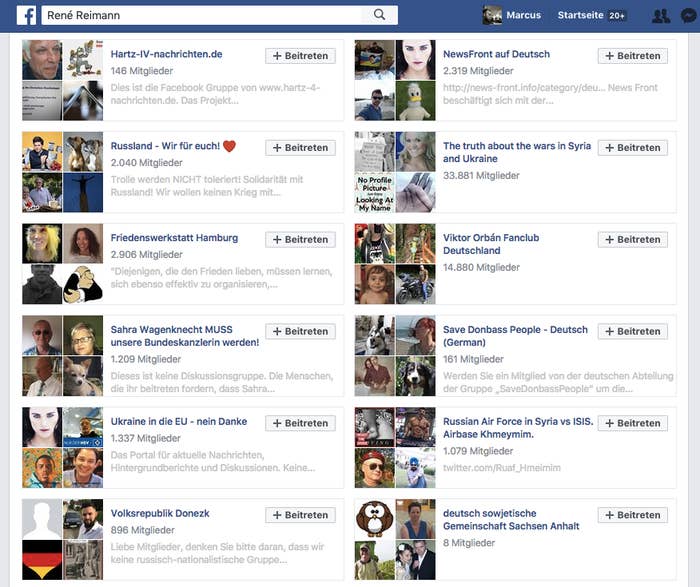 Reimann said that he admires Russian President Vladimir Putin and the path Russia is taking under his leadership. "That's why Germany also has to be oriented more toward Russia," he said. In fact, the group came up with a list of goals for the party to achieve that. Here are some of them in their own words:

Abolish one-euro jobs and start a six-euro jobs program instead (The one-euro-jobs are part of the German government program to bring unemployed people back to work gradually, first with low wages and public welfare, and make them ready for regular jobs)

Abolish German welfare reform, known as Hartz IV

Ban GMOs and factory farming

Asylum for Edward Snowden

Maximum overdraft interest of 8 percent

Work on Sundays, but for no more than 4 hours

And, of course, the greatest possible rapprochement with Russia: "With the plea for forgiveness for the preceding German foreign policy" and, for example, with the accession of Germany to the Eurasian Union
The pro-Putin group's first petition, "Citizen referendum for the accession of Germany to the Russian Federation," went online in November 2015 — it received more than 5,000 signatories. The second petition, "Nonaggression pact with Russia," gained more than 25,000 supporters. Last year, the group launched a third petition, "German citizens and companies ask Russia for a territory for the foundation of a free state," which was signed by 3,500 supporters.

The group said it does not receive any financial backing from the Russian government, or anyone in Russia. "If we had financial support, you would see it," Reimann said. "If we did, we would have a website. And a team. We're still only starting out. We want to raise awareness. And we don't have to do a lot for that. Merkel unwillingly helps us all the time."
Reimann said the Facebook group is actually pro-Russia, and he doesn't want people to think of them as a personality cult. In hindsight, he said, it may have been a smarter idea to call the party "pro-Russia" instead of "pro-Putin."
"We just did it because there's this kind of Putin flow at the moment," he added.
This post was translated from German.