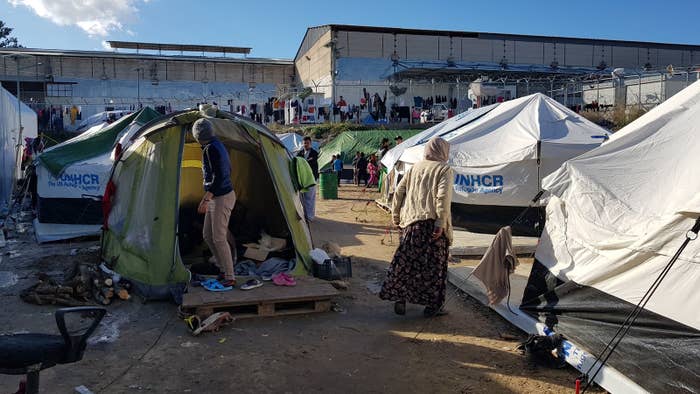 CHIOS, Greece — Refugees with mental health illnesses are being overprescribed psychotropic drugs with little or no oversight, leading to widespread abuse and the growth of a black market, according to NGO workers and volunteers at a camp in Greece.
Refugees and doctors at the Vial refugee camp on the Greek island of Chios told BuzzFeed News that the drug of choice to treat rampant depression, anxiety, and PTSD among the camp's residents was Lyrica, a pharmaceutical used primarily for nervous disorders, including pain and epilepsy. They spoke of an environment in which the drug was handed out at will, without prescriptions or supervision, and revealed the existence of a thriving black market.
Vial, which is run by the Greek government and military, is currently home to 2,000 refugees — from Syria, Iraq, Yemen, and Ethiopia — many of whom live crowded a dozen people to a tent, in muddy conditions. Many have fled war and abuse to reach Greece. In March, a man set himself on fire.
Natalia Argyrou is a psychologist for Doctors of the World, an NGO that runs health care at Vial for the UN refugee agency, which supports the Greek government in running the camp. Argyrou said that suicides had increased since borders were closed in March 2016, when a deal between Turkey and the EU that would see the refugees return to Turkey came into effect. The Greek government's Foreign Correspondents Office did not respond to several requests for details details on the number of suicides at the camp.
Doctors say Lyrica should only be prescribed for several weeks at a time, under a doctor's care, in order to avoid the likelihood of dependence and misuse. The European Medicines Agency says withdrawal symptoms from the drug can give the "impression of physical dependence, while the the State Medical Chamber of Baden-Wuerttemberg says those symptoms can include tremors, insomnia, severe anxiety, sweating, palpitations and seizures. To handle a possible addiction, it is "an urgent need to identify addicted refugees and give them psychological and psychiatric support," says Roula Michati of Women and Health Alliance International.
Doctors also say the drug should be accompanied by psychotherapy if it is used to treat anxiety disorders.
But that's not possible in Vial, according to volunteers and NGO employees at the camp. Doctors of the World has just one psychiatrist and one psychologist working there.
Argyrou told BuzzFeed News that she preferred to avoid talk therapy with the refugees anyway. "We avoid opening the trauma, because people are here today, tomorrow they are on the move. We can't have any continuity to what we're doing," she said. "This is not ideal."
So Argyrou offers breathing exercises to help treat the panic attacks, anxiety disorders and other mental illnesses that plague the refugees who have come here. And she doles out Lyrica. Argyrou says she is aware of the black market in Vial. "That's why we tried to reduce the distribution," she said.
Roula Michati, who worked in refugee camps in Greece, including Vial, from September 2016 to July 2017, said she had also heard of the black market, with 300-milligram pills going for $5 each.
A psychologist who worked on the Greek islands for an NGO until this summer (who asked to remain anonymous to speak freely about a previous employer) said she had seen prescriptions from a local hospital in Chios, where doctors prescribed up to three, 300-milligram tablets a day. Lyrica is approved for a maximum dose of 600 milligrams a day.
One man working as a translator for an NGO at the camp said that, at times, drug prescriptions were issued on a weekly instead of daily basis, which would also increase the chances of abuse.
The UN refugee agency, United Nations High Commissioner for Refugees, said it was unaware of any problems with Lyrica.
"We have no information about the abuse of prescription drugs," Boris Cheshirkov, a communications officer at UNHCR, told BuzzFeed News before directing further questions to the Greek government. The Greek health ministry did not respond to repeated requests for comment.
Greek asylum law says the authorities running the camp must ensure access to medical and psychosocial care. Under EU regulations, refugee applicants must "receive the necessary health care."
Refugees describe a more dire situation.
"This is a medicine for the nerves," said M., who fled Syria with her daughter and has been living in Vial for months. "The people here are desperate, they are suffering, and that [Lyrica] is something that makes them feel comfortable and happy. So they can stay here. They must take this medicine, so they can be patient here."
"Some people get the pill from the doctor, some from anybody here," said T., a former psychology student from Syria who arrived in Vial in the spring of 2017. But the wait for an appointment with the doctor can be long. "Life here is hard. Some people take the pill. One, then two, three, four." T. continues to count on his fingers, all the way up to 10 — "This is bad." He said the medicine helped them relax and switch off for a bit. "They do not take them as medicine," he said. "They take it like drugs."