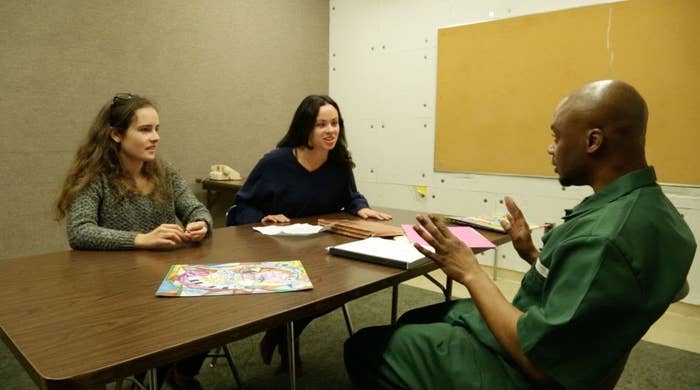 Valentino Dixon spent 27 years imprisoned for a crime he didn't commit, even though the real killer had confessed numerous times, on camera, as soon as two days after the murder. He kept on confessing throughout Dixon's incarceration.
Despite that bewildering fact, Dixon's case received little national attention, and his appeals were routinely denied for years. His path to freedom began with a remarkably unlikely event: His case was picked up by Golf Digest, a magazine not usually associated with the crime beat, or investigative journalism.
That Dixon may have died behind bars for a crime he did not commit, if not for the almost accidental intervention of a glossy golfing magazine, highlights how many innocent people languish in cells across the country with their stories untold. But the incredible tale of Dixon's exoneration doesn't end there: His innocence was established with the help of a group of undergraduate students, themselves under the direction of two professors — the authors of this article — who were childhood friends with a unique connection. One was himself jailed for almost 18 years for murders he did not commit; the other played a role in securing his friend's exoneration.
It's a long story, and we'll get to it. But it's worth thinking about just how unlikely the story of Dixon's freedom is, because there are so many more like him, waiting for a lucky moment that may never come.
In Dixon's case, that moment was a 2012 Golf Digest article that was never originally intended to focus on his case, and certainly not the possibility of his innocence. Instead, it was about Dixon's hundreds of drawings of golf courses, some of which he submitted to the magazine for its "Golf Saved My Life" feature.
Golf Digest reporter Max Adler understood the deep irony of a convicted black man from inner-city Buffalo, who had never set foot on a golf course, expressing how he only felt truly free while drawing golf courses. But in reporting about Dixon the artist, Adler became convinced he was almost certainly innocent of murder.
Adler's excellent article — and subsequent follow-ups by Golf Digest and a short documentary by the Golf Channel — focused on golf, art, and a likely wrongful conviction.
But while golf got the ball rolling, so to speak, the decisive push to clear Dixon of the murder charges came from an equally unlikely source — a group of Georgetown undergraduate students, who enrolled in our Prison Reform Project course this past spring. We designed the class to be a unique opportunity for students to learn from our own personal experience of correcting a wrongful conviction, and to work on real-life, active, unresolved, and difficult cases.
We asked our students to create documentary film projects rather than papers or reports. We later learned that the film production company Strong Island Films — codirected by another high school classmate of ours, Cindy Dorfmann — would cover our class for a six-episode documentary series called Making an Exoneree.
Three of the students who took the course, Julie Fragonas, Isobella Goonetillake, and Naoya Johnson, helped free Dixon, whose case was one of four likely wrongful conviction cases reinvestigated by our students. He is the first to be released, and hopefully not the last.
Dixon's case was certainly the most advanced, mostly because he already had an attorney representing him and pursuing his innocence. But the case had stalled. One barrier to such efforts is the challenge of proving there is new evidence that needs to be considered — difficult in this case, since the real killer's confessions had been well-known for decades.
The three students working on Dixon's case kept pushing, traveling to visit Dixon in prison, tracking down witnesses, and interviewing the key figures in his original trial. Several interviews revealed the blatant incompetence and callousness of his original trial attorney, who didn't seem troubled at all by the conviction.
But the bombshell moment occurred when the original prosecutor, unprompted, revealed that after Dixon had been arrested, the investigators had conducted gun residue testing on his hands and clothes, and the test came back negative.
This was a blatant violation of the landmark Supreme Court case Brady v. Maryland, which ruled prosecutors are obligated to provide defense attorneys with any material evidence helpful to the defense. Yet in this case, no one knew about the test until the Georgetown students captured the prosecutor talking about it on camera.
In short, these remarkable students broke new investigative ground and contributed to Dixon's lawyers' final and ultimately successful motion to overturn his conviction based on new evidence.
Truthfully, although we had expected our students to work hard and to make progress with the four cases, we couldn't have imagined that one of our potential exonerees would be released just a few months after the semester ended.
We know firsthand how difficult it is to overturn a wrongful conviction. One of us was wrongfully jailed for more than a decade.
On the first day of our senior year of high school, Marty's parents were brutally murdered. Marty was arrested and ultimately convicted of double murder and sentenced to 50 years to life. Marc believed in his friend's innocence from the start, even writing about it in our high school newspaper, the Purple Parrot. After the conviction our lives diverged drastically, and, as we like to joke bittersweetly, Marc went to Yale and Marty went to jail.
About a decade into Marty's prison time, however, we reconnected, and Marc — by then a tenured Georgetown professor — assisted Marty's legal team, writing an amicus brief as part of the final appeal. Marc had even decided to go to law school to try to help get Marty out of prison.
In December 2007, Marty was exonerated and subsequently went to college and law school and passed the New York bar exam. We have been in close contact ever since, and our friendship has never been deeper than it is today.
That friendship now extends to our students, and we all now share a bond with the innocent man whom we helped to free on Wednesday. Valentino Dixon is a wonderful, gifted, and compelling person who will succeed in his future artistic and business endeavors, who will contribute tremendously to society, and who will remain our friend for life.
But we are also reminded of the unfinished business that remains. We believe the subjects of our three other cases – Kenneth Bond, Timothy Wright, and John Moss III — remain wrongfully incarcerated. And while our project has drawn much-needed attention to their cases — and we either have or are close to forming legal teams to fight for their exonerations — we still have a long way to go.
Today we rejoice in Valentino's freedom. But tomorrow we will continue fighting for Kenneth, Tim, John, and the countless other people who have been wrongfully convicted and remain in prison.
Marc M. Howard is a professor of government and law at Georgetown University, where he directs the Prisons and Justice Initiative. Martin H. Tankleff is an exoneree and an adjunct professor of government at Georgetown University.