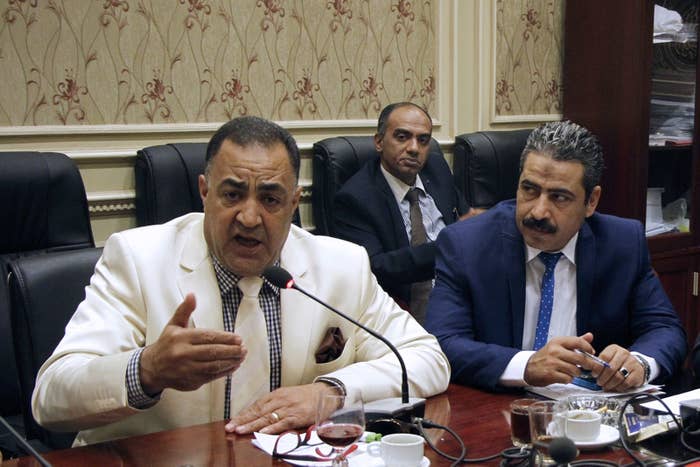 CAIRO — The women in Egypt's Parliament have united to call for the removal of a colleague who said universities should perform "virginity tests" on female students.
lhami Agena also said parents should be informed of the results as a way to prevent informal marriages, known as "gawaz orfy," between students.
Female MPs were outraged at Agena's comments, made in an interview last week. "How could an MP make a statement against the constitution, which he swore an oath to protect," MP Mai Mahmoud told BuzzFeed News. "The Egyptian Constitution makes no distinction between men and women. So when an MP said that he wants to subject girls to virginity tests this is not only a distinction but discrimination."
Mahmoud and the 89 other female MPs led a drive to convince 300 out of Egypt's 588 lawmakers to sign onto an official complaint against Agena on Wednesday. By the end of the day, the speaker of the Parliament agreed to refer Agena to the ethics committee, which has the ability to strip him of his seat in parliament.
Agena did not respond to request for comment from BuzzFeed News.

Outside the halls of Parliament, the outcries against Agena were just as loud. "We will not allow this insult to pass," Mona Amer, the head of the state-sanctioned National Council for Women, told BuzzFeed News. "This isn't the first time that he's insulted women," she said, pointing to Agena's support for female genital mutilation and criticism of the women of parliament for their "immodest" dress.
The National Council for Women on Monday filed a lawsuit against Agena with the prosecutor general and sent a memo to the office of President Abdel Fattah el-Sisi calling for the parliamentarian's removal from office and a criminal investigation against him.
Agena's comments also didn't go well within academia. "I filed an official complaint to the general prosecutor against the MP for what he said which is a huge insult to our students and a mar to the reputation of parliament," Dr. Gaber Nassar, the president of Cairo University, wrote on his Facebook page. Other university presidents also filed complaints, Ashraf Hatem, the head of Egypt's Supreme Council of Universities, told BuzzFeed News.
Ashraf al-Sheehy, Egypt's minister of higher education, said during a meeting: "The only comment I have is that this is improper and unacceptable." He added: "No one under any circumstances, or what his intention, is allowed to insult our daughters."