Resignation Of Egypt's Cabinet Means All The Blame Could Soon Lie With Sisi
The prime minister had tried to resign three times before.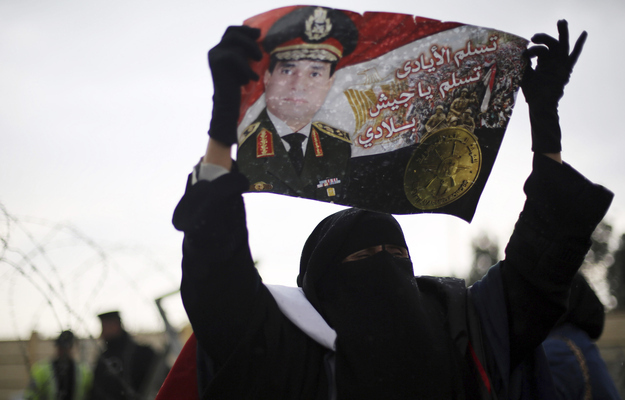 CAIRO, Egypt — Last month, Radya Kassem and her family thought they would celebrate when Field Marshal Abdel-Fattah al-Sisi becomes president, but now they are not as sure.
The rolling blackouts in their Cairo neighborhood have become a daily ritual, and the price of basic foodstuffs continues to climb. She's angry, she said, with whomever is responsible.
"We thought the government would make these things better but they haven't. Now the government is resigning. Now I want to see the army, I want to see Sisi, take responsibility and make things better," she said. "Enough is enough, we want results."
The announcement on Monday by Egyptian Prime Minister Hazem el-Beblawi that he and his entire cabinet were resigning surprised many in Egypt. Most thought their interim government would at least last through the next two or three months, until elections are held (a date has not yet been set). Beblawi was sworn in as interim prime minister on July 16, two weeks after Egypt's military ousted the Muslim Brotherhood from office. In the months since, his government has been a constant target of criticism by a public that has seen brutal force and imprisonment used against those who criticize the military.
In his resignation announcement, Beblawi said the country was "on the road map to democracy" but added that "reform cannot take place through government alone," an apparent jab at his critics.
Egyptian officials and analysts told BuzzFeed that Beblawi had attempted to resign on at least three previous occasions, and that the failures of Egypt's current interim government were an indication of events to come.
"The problems in Egypt at the moment are not just blackouts and gas shortages. The economy is a mess — the prices are high, there is inflation and rising unemployment. A lot of Egyptian people blame the whole government for money problems they are facing," said Sameh Rashid, a researcher at the Al-Ahram Center for Political and Strategic Studies. "If I were Sisi, or anyone else preparing to run for president, I would prefer Beblawi to continue at least until the elections … so that he could continue to be blamed for all the failures in Egypt. Now, the blame will be directed toward someone else, and that person could be Sisi, although he has not even officially announced his candidacy yet."
An aide in Beblawi's office told BuzzFeed that what drove the prime minister to offer his resignation was anger over being left out of the process to draw up a new presidential law.
"They neglected and insulted Beblawi," she said, adding that after months of taking the blame for various failings in Egypt he was furious at being left out of the decision making process on Egypt's new elections laws.
Ziad el Aleemy, a former member of parliament and political activist, said Egyptians would judge whomever failed to solve the country's problems.
"Beblawi is the one who should be blamed, and if he didn't want to be blamed for the failures in Egypt he should have informed us who to blame — in case he wasn't really the one making the decisions," said Aleemy, in a veiled reference to the notion that the military, led by Sisi, is currently calling most of the shots in Egypt.
Egypt is widely expected to hold presidential elections in late April. While Sisi has not yet announced his candidacy, several ministers close to him have confirmed that he intends to run and that polls predict him winning by a landslide.