An Egyptian Man Tried To Protect His Fiancé From Harassment — And The Police Beat Him Up
The video has gone viral in Egypt.
Video of Egyptian military police officers holding and beating a man on the Cairo subway has spread rapidly on Facebook and Twitter, prompting memories of the country's repressive past.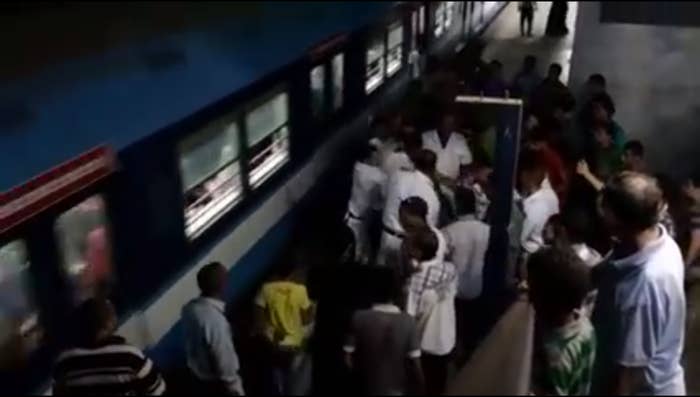 According to eyewitnesses, the incident began when a young man left his fiancé to wait for him at the Dar El-Salam train station's underground platform. When he returned, he reportedly found a group of men harassing her.
The police conscript — the term for Egypt's police officers within the military — posted in the station did nothing when the unidentified young man complained, leading the young man to shout at the posted officer. Things took a turn when the officer's cohorts appeared on the scene and began beating the young man.
When the conscripts' ranking officer showed up to ask what was happening, the young man reportedly told his version of the story and added that he wanted to report the soldiers. The higher-ranking officer allegedly refused to file any report.
When the young man refused to leave, the ranking officer slapped him, leading to the beating seen in this video, first posted on Tuesday.
Once posted, the video quickly spread, drawing condemnation from Egyptians. "Members of the police attack a guy in the underground station, long live Egypt," data analyst Hala Helmy tweeted.
Egyptian comedian Mohamed Bakous noted that "nobody tried to move or help the guy! People were just watching."
"Welcome back to the beautiful times of stability," one user sarcastically tweeted.
The incident drew enough attention that Ahmed Mousa, a television talk show host and supporter of the Egyptian government, featured it on his show.
Maj. Gen. Magdi Abdel Ghaffar, Minister of the Interior, reportedly called for an investigation into the incident, saying that the ministry would not accept the excessive use of force against civilians.