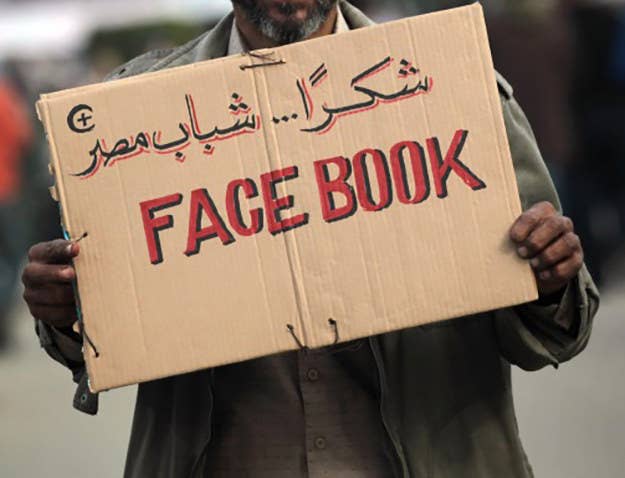 CAIRO, Egypt — Police in Egypt searched thousands of apartments and asked people about their Facebook accounts, multiple residents in downtown Cairo told BuzzFeed News. The search and interrogation of social media accounts comes just days ahead of Jan. 25, which marks fifth anniversary of the popular uprising in Egypt.
Asma and Dima, two university girls who live in a rented flat in downtown Cairo, said they were shocked when security forces knocked on their door on Monday, then entered their apartment, asking them if they had participated in the Jan. 25th revolution or not. Then, they were asked about their Facebook accounts.
"The craziest question was when the police officer asked me to open my mobile and show him my Facebook account," Asma said. "We were lucky because the original owner of the flat was a military general, so we called him and passed the phone to the police officer who left immediately," Dima said.
As Egypt approaches the anniversary of the popular uprising, Egyptian police appear to be taking extra measures to control any kinds of events planned for Jan. 25.
"This is normal," said one police officer in Cairo who spoke to BuzzFeed News but asked to stay anonymous because he wasn't allowed to speak to media. "As you can see the state is facing terrorism and downtown is a very important area, so we need to be sure that it is totally secured." The policeman said that social media platforms have become one of the tools criminals use these days, which is the reason they were asked to check Facebook accounts of anyone they find suspicious. "There are some Facebook pages calling for killing officers and burning buildings and destroying the country," he added.
Ramy Raoof, a digital security expert based in Cairo, said the police were randomly checking Facebook to get a sense of the mood on the streets ahead of the anniversary of the revolution. "To monitor a specific account, it takes money and effort, which they can't do for a huge group," Raoof said. "That's why they are going around checking people's phones."
Nader, a 22-year old actor, said that that the door to his apartment, which is near Tahrir Square, was broken and the place was ransacked. According to Nader, his doorman told him the police came and asked if there were any young people renting flats there, and then headed to his flat and opened it.
Nader went to the police station to file a report but he wasn't allowed to do so. "An old man there whispered in my ear 'Listen to me, my son, go now and don't put yourself in troubles you can't face,'" he said.
These unwarranted raids and checking of cellphones for Facebook accounts by security forces in the last two days have led to criticism and sarcastic comments on social media.
Hossam Bahgat, prominent journalist who was recently detained, interrogated and later released, wrote:
"Combing through all apartments in downtown Cairo. Five thousand up till now and still they are searching for no one who is accused of plotting nothing. This month will be registered in medical textbooks as the first case of panic attack that hits an entire government and its officials."

Solafa Magdy, a TV reporter, warned people in the downtown area saying:
"Random arrests and house raids continue in downtown Cairo. That means avoid cafes and don't keep equipment home or photos on your mobiles. Be careful."
Ahmed Kamal describe the situation in down town :"There is almost a curfew in downtown Cairo, Major streets have been partly shut with only one car lane left open."
Khaled Telema, a TV presenter, brought discussed the incidents on his show, and asked if the interior minister would have any comments.

"What the police did is considered crime," Nasser Amin, a human rights lawyer based in Cairo said. "According to the Egyptian constitution, police doesn't have the right to check your home or mobile or laptop without permission from the DA which they don't have, simply they are destroying the law while keep saying we are protecting it."