Egypt Jails 26 Army Officers Accused Of Plotting A Coup To Overthrow Sisi
This is the first time army officers have been charged with conspiring to overthrow Egyptian President Abdel Fattah el-Sisi since he came to power two years ago.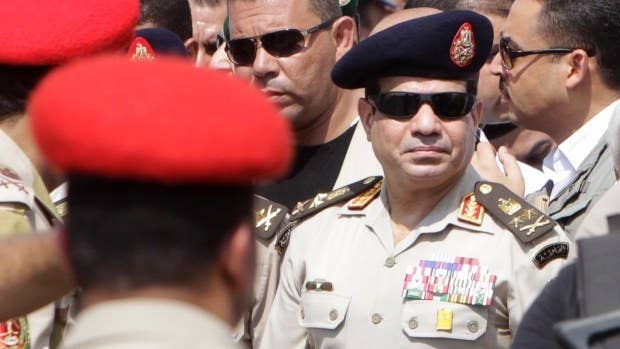 A military court in Egypt sentenced 26 officers in the Egyptian army to prison after they were indicted for attempting to topple President Abdel Fattah el-Sisi.
The officers were arrested in late May on charges of plotting a military coup and helping in the formation of Muslim Brotherhood cells within the Egyptian army. The court also sentenced two members of the Muslim Brotherhood in absentia, which included a leader of the Freedom and Justice Party and a member of the Guidance Bureau in the group. The sentences varied between 10 to 25 years.
BuzzFeed News spoke to a relative of one of the officers who was sentenced, who spoke on condition of anonymity because he feared retaliation from the security forces.
"Two months ago a group of officers disappeared and no one knew their whereabouts for two weeks," the relative said. "We later found out they were accused of attempting a coup."
The relative said no one was allowed to see the arrested officers, but he said the lawyers told them some of the arrested officers had been subjected to harsh interrogation.
Majority of the Egyptian media did not cover the news at the time. There were verbal instructions given out to media to not cover the subject. But a Muslim Brotherhood TV station Al Sharq broadcasted the news in an episode entitled "The army carries out a coup within the Egyptian army."
Later, a website called Misr-alaan, which is known to be affiliated with the Muslim brotherhood, published the names of the officers along with their military ranks.
BuzzFeed News reached out to one of the lawyers who is defending the officers, but he refused to speak in detail about the case and said that the military judiciary allows one appeal, which they plan to use. The lawyer said that "this is thorny issue that is best left out of the media," for the sake of his defendants' security.
According to BBC Arabic, four of the convicted officers were retired colonels in the army. On Sunday, a website close to the Egyptian government cited an unnamed military source who denied the BBC report on the sentencing of military officers.
This is the first attempt of a coup aimed at toppling Abdel Fattah el-Sisi, who came to power after ousting Mohamed Morsi of the Muslim Brotherhood two years ago.