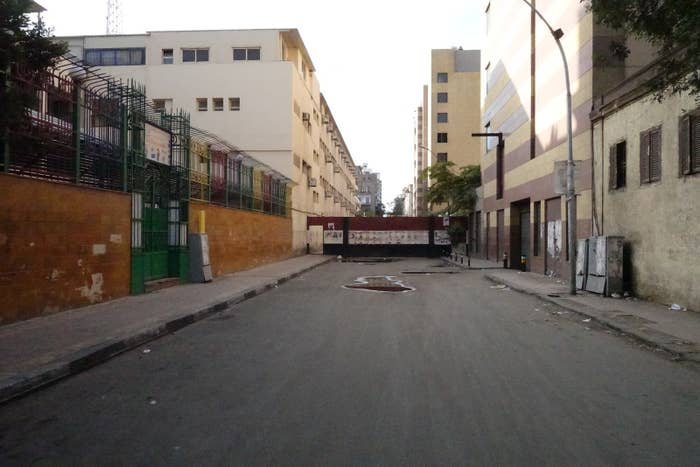 CAIRO — The Egyptian capital turned into a ghost town on Monday, five years after the popular Jan. 25 uprising that saw hundreds of thousands of protesters gathered in the main city square and, after relentless protests, unseated Hosni Mubarak after 30 years of power.

Monday's unusual quiet in the heart of Cairo — including the normally bustling Tahrir Square, the center of the uprising — was a sign that the message the country's Interior Ministry sent to the public warning them against going out on the streets had worked.
Just the week before Jan. 25, Egyptian police started raiding homes and randomly checking people's Facebook accounts on the streets. Pro-regime television stations had for the previous two weeks been presenting messages aimed at intimidating the public from gathering and protesting in public spaces.
"Calling for marches in the revolution anniversary is a silly joke," Tamer Amin, a popular TV presenter, said on his Jan. 5 show. "I am warning the liars and their allies: The country is stable now, and we won't allow anyone to stop the progress train."
Many of the businesses in central Cairo were closed on Monday.
Zyad Elelaimy, one of the leaders of the protests from five years ago, said the regime's attitude toward the anniversary of the revolution shows it is in a state of confusion and panic. "They are trying to create a fake battle by pretending that they are facing revolutionary protesters, and they have to prevent them from demonstrating," he told BuzzFeed News.

Two days before the anniversary, the Egyptian government made clear that it would do whatever it took to prevent demonstrations on Monday. "We will shoot anyone who tries to attack police stations or jails," Gen. Medhat Al-Menshawy, assistant to the Egyptian interior minister, said to the Egyptian media. "The law allows us to use live bullets, and to be clear, we will not allow what happened years ago to be repeated again."
The government had declared Monday a public holiday — Jan. 25 is also celebrated as National Police Day in Egypt — but Monday was the first time in five years the streets were empty to such a degree on the holiday.
Many Egyptians took to social media to discuss how eerily quiet the city had become.
May Elsabbagh expressed shock about the empty streets:
Some people pointed to the fact that Tahrir Square was open only for supporters of the regime. A group of 30–40 people were chanting the name of Egyptian President Abdel Fattah el-Sisi.

This photo, posted by Dalia Ezzat, seemed to capture what a difference five years had made — a square filled by thousands of people that forced a powerful president to step down was now empty, with little sign of what had actually taken place there five years ago: