ISIS-Affiliated Group Claims Attack On First Naval Target Off Egypt's Coast
The ISIS-affiliated group Sinai Peninsula posted photos online Thursday showing an Egyptian navy vessel on fire.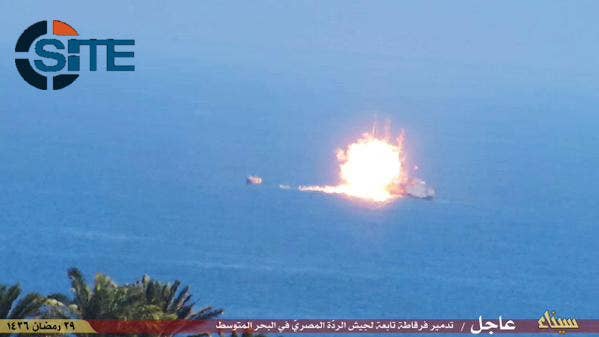 A militant group affiliated with ISIS claimed its first naval attack Thursday on an Egyptian military vessel patrolling the coast near Israel and the Gaza Strip.
Photographs posted online Thursday by the Sinai Province militant group show the patrol boat in flames with smoke rising from the ship. The group claimed it fired a rocket at the ship to cause the damage, but BuzzFeed News was unable to independently verify their assertion.
In a Facebook post, Egypt's military spokesman Brig. Gen. Mohammed Samir wrote that the ship caught fire after a gunfight with "terrorist elements." He said there were no fatalities among the vessel's crew.
"At exactly 9:30 on the morning of July 16 during a routine daily patrol of maritime forces responsible for securing the coastline near the city of Rafah our boats noticed a suspicious movement by terrorist elements on the coast," read the military statement. "Our maritime forces pursued the suspects and there was an exchange of fire which resulted in one of the military boats catching fire."
The statement added that support units were sent to the area, and that the "terrorist elements involved" were being pursued.
The military's statement runs counter to the message that the Sinai Province group posted to Twitter announcing the attack, saying that it had carried the mission out with "a guided rocket." The attack "led to its complete destruction and the elimination of all who were in it, and unto Allah is all praise and gratitude," the message posted to Twitter read, according to a translation from the SITE monitoring website.
Egypt's military has been fighting a growing Islamist insurgency in the Sinai Peninsula, a strategic swath of land that connects Egypt with the Gaza Strip, Israel and Jordan. Sinai Province, one of the most active militant groups in the peninsula, pledged loyalty to ISIS last year, and has since conducted increasingly brazen attacks against Egyptian military forces.
Sinai Province killed at least 17 soldiers in a July 1 attack in the Sinai peninsula. Last week ISIS also claimed responsibility for a bombing on Cairo's Italian consulate that killed one person.