Relief And Fear In A Divided Crimea
Some welcome the Russian military. Others are scared.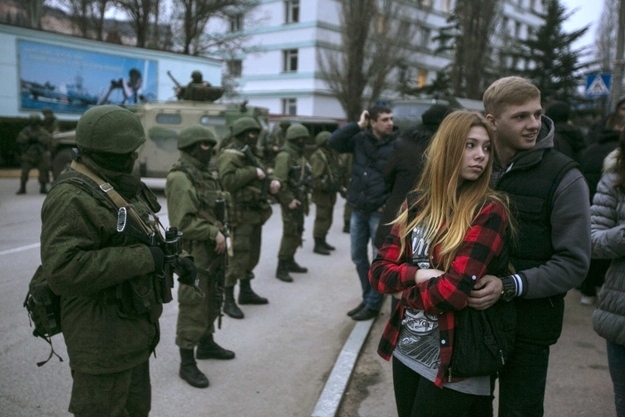 SIMFEROPOL, Ukraine – Local people met Russia's open military intervention into Crimea today with a mixture of relief, fear and confusion that reflected the wider contradictions splitting Ukraine.
In the Crimean capital Simferopol, where a newly established pro-Moscow government appealed to Vladimir Putin for security and financial guarantees, citizens expressed their gratitude to the Russian president.
"Putin is great. He's our lifesaver," said a middle-aged entrepreneur who gave his name only as Oleg. He and his wife, Anna, were sipping takeout coffees and strolling through the city center, which had been closed to traffic since unknown gunmen seized government buildings on Thursday and hoisted Russian flags. The regional parliament chose a new government later that day.
Oleg blamed the 2004 Orange Revolution, which swept pro-U.S. President Viktor Yushchenko into office, for all the misfortune that has since befallen Ukraine. Yushchenko polarized the country by naming western Ukrainian fighters, who had fought against the Soviet Union during World War II, as national heroes, Oleg said.
The interim government in Kiev -- which took power a week ago after President Viktor Yanukovych abandoned his office in light of anti-government protesters – was headed in a similar direction as Yushchenko, Anna said.
"We don't want to live under a neo-fascist government that came to power illegally," she said.
That sentiment is widespread in Crimea, which prides itself on its historic links to Russia — and especially the fierce battles that took place here between the Red Army and Nazi invaders seven decades ago. Crimea only became an administrative unit of Ukraine in 1954.
The Muslim Tatar minority in Crimea, on the other hand, views the Soviet era with scorn. Dictator Joseph Stalin deported the Crimean Tatars to Central Asia during World War II because he didn't trust them. They weren't allowed to return home until the dying days of the Soviet Union 25 years ago and have since become loyal citizens of independent Ukraine.
"It's not safe for you to be here," an employee at the Crimean Tatar community's headquarters told BuzzFeed. "Putin has declared war on us."
Crimea's new government is offering posts and financial aid to the Tatars in an attempt to ease ethnic tensions. The Crimean Tatars, who make up 14 percent of the peninsula's population, support Ukraine's integration into the European Union. Yanukovych's abrupt refusal to sign an association agreement with the EU was the spark that set off the protests on Kiev's Maidan square in November.
For the small but dedicated group of Crimeans who organized their own anti-government demonstrations in conservative Simferopol, the Russian intervention has come as a shock.
"I thought I was working for freedom and human rights, but now I have the feeling that in reality I was working for Putin," said Serhiy Kovalsky, 27, one of the organizers of Simferopol's "Euromaidan" protests.
Just a week ago, opposition leaders woke up to discover that Yanukovych had fled Kiev after more than 80 people were killed in clashes with security forces. That victory, however costly, now seems short-lived with Russia in de facto control of Crimea.
"It's clear that local or regional issues aren't at play here. This is a geopolitical game on the highest level," said Kovalsky, who has Ukrainian parents and a Russian wife.
The tangled relations between Ukraine and Russia have inevitably led to questions of identity. With a significant part of western Ukraine and a new generation choosing a future in the EU, people in Russian-speaking areas like Crimea felt they had to choose — and many picked the familiarity of Russia.
Even the identity of the masked, heavily-armed men in unmarked combat uniforms who began popping up at strategic locations Friday hasn't been resolved.
Nobody here doubts that they are Russian soldiers who use the bases of Russia's Black Sea Fleet, which is stationed in Crimea, as jumping-off points. Yet the new Crimean government still maintains the fiction that the men guarding their buildings are volunteer militiamen.
The real Crimean self-defense forces are beyond middle-aged and wear gym pants and camouflage jackets. One group stood guard across the street from the Crimean interior ministry next to an army field kitchen.
One of the men, who only identified himself as Leonid, said he was looking forward to the March 30 referendum on widening Crimea's autonomy called by the new Crimean government.
Leonid voiced a common opinion that he didn't care one way or the other if Crimea stayed within Ukraine or joined Russia; the main thing was that the peninsula would take control of its own budget and leadership – without interference from Kiev.
And what would he do if Yanukovych — whom both the Kremlin and the Crimean government still recognize as Ukraine's legitimate president — came back from his Russian exile?
"If he returned, we'd take our money back and send him into retirement," Leonid said. "He's a political corpse."