Is Crimea Ukraine's Next Ticking Time Bomb?
"There is the danger of an escalation if there's external interference by Russia."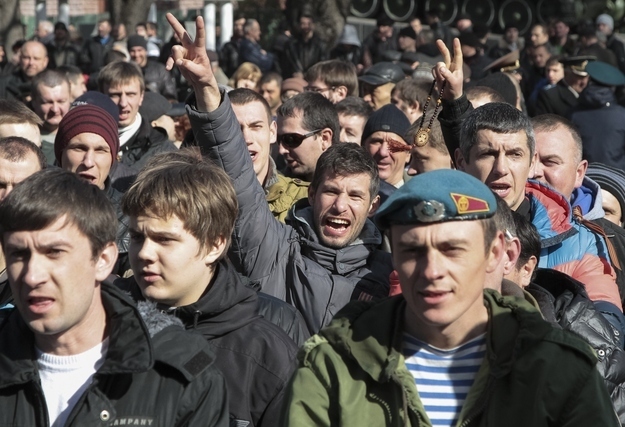 SIMFEROPOL, Ukraine – Refat Chubarov, a soft-spoken, bearded intellectual, is sitting on a ticking time bomb that Ukraine's new government still hasn't figured out how to defuse. Chubarov, the leader of the Tatar ethnic minority on the Crimean peninsula, is demanding that regional authorities step down and call new elections within 10 days — or else face a mass protest.
Crimea, an autonomous region of Ukraine with close historic ties to Russia, has not recognized the provisional government in Kiev, and rumors persist that ousted President Viktor Yanukovych is hiding on the peninsula. While local people, mostly ethnic Russians, reject Yanukovych's kleptocratic rule, many also see the power vacuum as an opportunity to rejoin Russia.
Chubarov, 56, is the head of the Mejlis, the Crimean Tatars' unofficial parliament, which has no political power. He is determined to prevent a split from Ukraine, as Crimean Tatars have bad memories of Kremlin rule. Soviet dictator Joseph Stalin deported the Crimean Tatars to Central Asia during World War II, and they were only allowed to return home as Ukraine achieved independence from the Soviet Union in 1991.
In the sleepy Crimean capital Simferopol, tension is building between supporters and foes of the central government in Kiev.
"Tatars are ready to die for their homeland — and that's Crimea," Chubarov said in an interview on Monday. "We don't want a change in Crimea's status. Tatars will defend their land, Ukraine."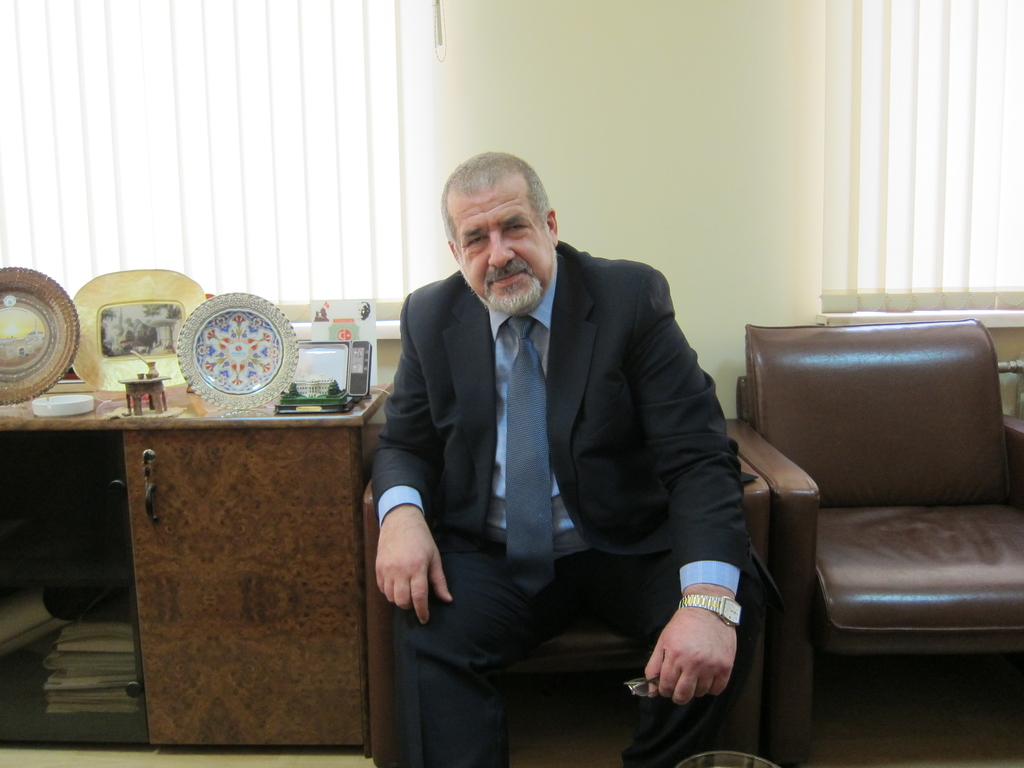 Crimea, a strategic peninsula that juts into the Black Sea, was conquered by
Russia in the 18th century and still is home to a Russian naval base. The majority of its population identifies more strongly with Russia and fears Ukrainian nationalists dictating their way of life.
Yanukovych's government collapsed over the weekend following a violent crackdown on anti-government protesters in central Kiev. The provisional government made up of former opposition leaders is struggling to preserve the unity of the nation of 46 million.
Regional leaders, including Crimean Prime Minister Anatoly Mogilev, still haven't grasped the changes sweeping the country, Chubarov said.
"Much will depend on what happens in Kiev. I think that in the next week, there will be a new executive branch here," he said.
On Sunday, Chubarov spoke at a rally in Simferopol to commemorate the 96th anniversary of the killing of Noman Celebicihan, a Crimean Tatar hero. Chubarov demanded legislative changes to give his community a fairer representation in the regional assembly. Currently Crimean Tatars hold five seats out of 100, although they claim to make up 14 percent of Crimea's population.
Then the regional government must step down and call new elections, Chubarov said.
At the rally on Sunday, several thousand demonstrators tried to pull down a statue of Vladimir Lenin. Statues of the Russian revolutionary, vestiges of Soviet rule, have been toppled across Ukraine after protesters in Kiev set an example by tearing down a Lenin monument in December.
Chubarov, a historian, appealed for calm, calling on city authorities to remove the statue "in a civilized way" and banish it to a museum. Yet if the demands voiced at the demonstration aren't met within 10 days, Chubarov warned, as many as 70,000 pro-Kiev protesters would assemble in central Simferopol.
"There's no domestic reason for conflict," said Chubarov. "But there is the danger of an escalation if there's external interference by Russia."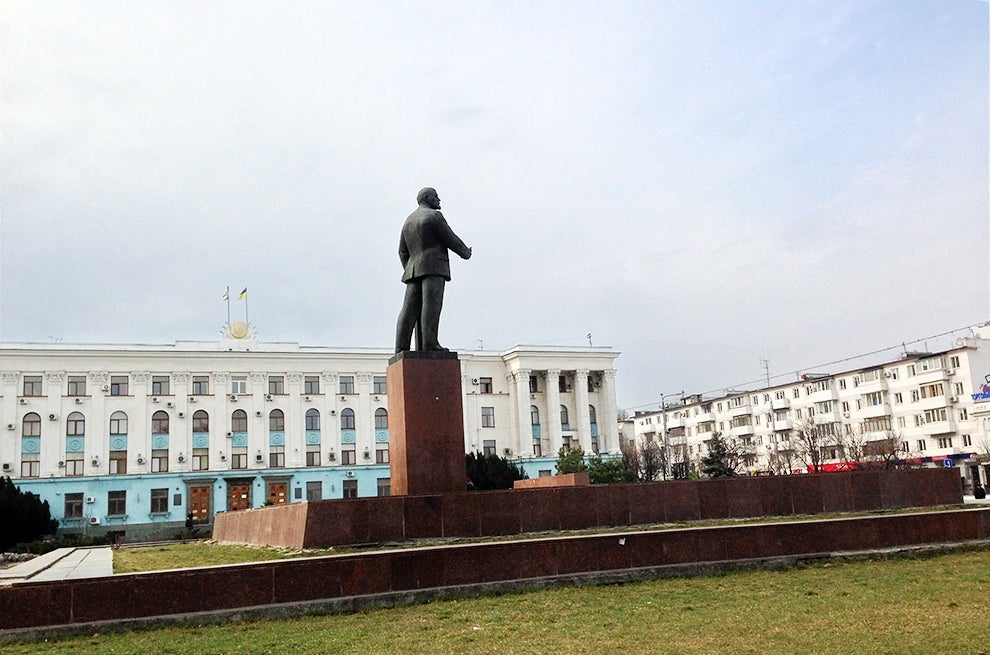 The Lenin statue in Simferopol
The Kremlin has met the interim government in Kiev with hostility and recalled its ambassador. On Monday, the Foreign Ministry in Moscow issued a statement expressing "deep concern" over developments in Ukraine. The ministry said the new authorities were moving to suppress the rights of Russians living in Ukraine "by way of dictatorial and at times terroristic methods." It accused the U.S. and European Union of seeking geopolitical gain amid the turmoil in Ukraine.
Nationalists in the Duma, Russia's lower house of parliament, on Monday introduced a bill to speed up the naturalization process for people in Ukraine who consider themselves to be Russian — a move that one day could justify a military intervention to protect Russian lives, as it did in Russia's five-day war with Georgia in 2008.
Across the peninsula, pro-Moscow Crimeans on Sunday celebrated the Defender of the Fatherland Day, a Russian public holiday.
Among those who turned out in Simferopol were members of the Russian Unity party, which represents the interests of ethnic Russians living in Ukraine. According to its leader, Sergei Aksyonov, more than 2,000 volunteers signed up for self-defense units to prevent the provisional government in Kiev from trying to stamp its authority on Crimea.
Aksyonov phoned Chubarov on Sunday to avoid any clashes between their supporters at the dueling rallies. The Russian Unity party is committed to the territorial integrity of Ukraine and is only looking to defend the rights of Russians living there, Aksyonov said in an interview.
"There's no question about breaking off, about some kind of split," he said.
The formation of self-defense units in Crimea is simply a reaction to the bands of revolutionaries who have taken control in Kiev, Aksyonov said.
"We must always count on ourselves," he said. "We're not counting on Russia."
A telephone hotline has been set up to recruit more volunteers.