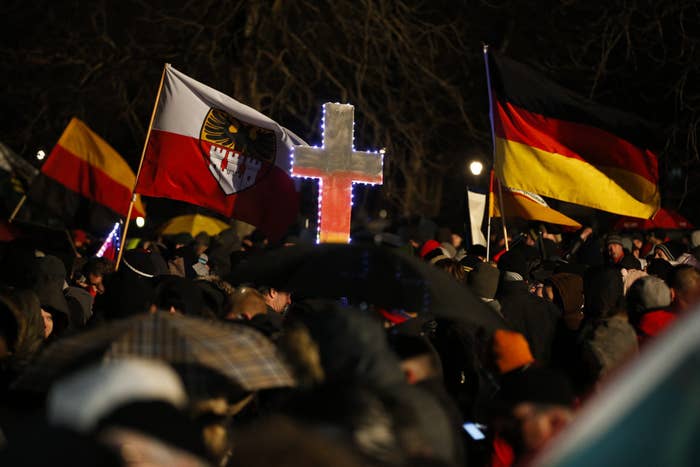 DRESDEN, Germany — The thousands who tramped to a soggy field in a Dresden park Monday night weren't just defying the rain and cold, but the words of Chancellor Angela Merkel. In a televised address on New Year's Eve, Merkel warned citizens not to attend any more protests organized by PEGIDA, a shadowy group claiming to defend Western civilization against "Islamization." That night, 18,000 protesters, mostly young men, showed up at the 11th PEGIDA rally, even more than at the group's last demonstration, before Christmas.
Holding German flags and signs with slogans like "More money for our children than for asylum swindlers," the crowd listened to speeches read by speakers out of an open-sided trailer. When PEGIDA organizer Kathrin Oertel mentioned Merkel and unfavorable media coverage of the protests, she was met with boos and chants of "lying press, lying press!" Alcohol, dogs, and glass bottles were strictly forbidden — but not viewpoints that in polite society would be considered politically incorrect, if not outright xenophobic. Quite the contrary.
"When you hear that something is 'anti-foreigner,' you start to believe it may actually make sense," said Julien Wiesemann, 23, an education student who was attending his ninth PEGIDA rally. "Calling us Nazis trivializes Nazis," said his friend Matthias Scholz, 24, who is studying to be a religion teacher. "The media don't report objectively." Both young men sported beards and wool caps, looking like anything but skinheads.
Germany's political establishment is at a loss about how to deal with PEGIDA, which seemingly arose out of nowhere in Dresden in October. The acronym, which stands for Patriotische Europäer Gegen die Islamierung des Abendlandes, or Patriotic Europeans Against the Islamization of the West, has spawned spin-off rallies in other German cities. After the attack on French satirical paper Charlie Hebdo that killed at least 12 people on Wednesday, PEGIDA is taking a "told you so" attitude as it assails Germany's elite for being out of touch with reality. In a poll conducted in December, 49% of respondents said they have full or partial understanding of the PEGIDA demonstrations.
Germany, which has followed a pacifist foreign policy because of its Nazi past and only reluctantly accepted immigration in recent years, is largely buffered from the conflicts gnawing at Europe's borders in the Middle East and North Africa. In the past year, however, 200,000 refugees sought refuge in Germany, many from Syria. The growth of Salafism, a form of radical Islam, among Muslims in Germany has further caused tensions. In October, thousands of supporters of a group called HoGeSa, or Hooligans Against Salafis, clashed with police at a demonstration in Cologne, which like many Western German cities has a sizable Turkish community.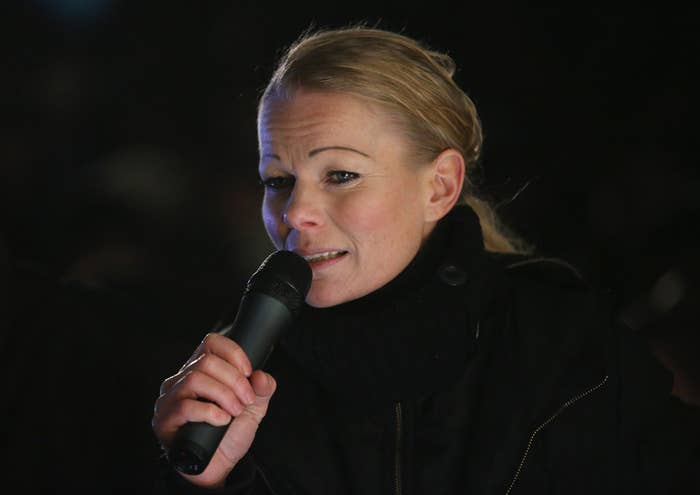 In an interview at a hotel bar in Dresden's historic center, Oertel, the PEGIDA organizer, said that she and a dozen friends felt they had had enough after the Kurdish rebel group PKK and their German supporters held a rally in central Dresden in early October. "We don't want them to carry out their quarrels on our streets," she said. "This isn't any of our business." PEGIDA was born, and the first rally took place on Oct. 20. At each subsequent rally, the numbers of participants grew as word spread via Facebook. Many demonstrators shouted "We are the people," adopting the slogan that was chanted in Dresden and other East German cities at the pro-democracy protests that helped bring down the Berlin Wall and reunite Germany 25 years ago.
Oertel, 36, a business consultant and mother of three, said that the "Islamification" of her home state of Saxony, where less than 3% of the population are foreigners, may not seem like a problem. "The Muslims are making it a problem," said Oertel, who has long blonde hair and was dressed all in black. She said it started in her children's school, where Muslim girls wear headscarves and don't take part in swimming lessons. "I don't have anything against Christians or Buddhists or Jews," Oertel, an atheist, said. "They don't bother me and don't demand I observe certain rules so as not to offend them."
Oertel said all the organizers had voted for mainstream political parties in the past, such as Merkel's Christian Democrats or the Free Democrats, a pro-business party. Now she supports the Alternative für Deutschland (AfD), or Alternative for Germany, an upstart right-wing party that in 2014 entered three regional legislatures, including Saxony's.
"PEGIDA is an expression of the people. And I'm not ready to say, like Mrs. Merkel, that they're all filled with hate," said Frauke Petry, the head of the AfD caucus in the Saxon parliament. On Wednesday, she had her first meeting with the PEGIDA organizers behind closed doors.
Petry said her party overlaps in many areas with PEGIDA, which has published a 19-point position paper that says Germany must continue to take in refugees and other persecuted people but also demands a constitutional requirement for foreigners to integrate, "zero tolerance" for asylum seekers convicted of crimes, and "the preservation and protection of our Christian-Judaic Western culture."
Petry deplored Germany's political climate, in which PEGIDA and the AfD are usually branded far-right. "The German discourse is sometimes so schizophrenic and paranoid when it comes to the supposed 'right-wing threat,'" said Petry, 39, a petite woman who holds a doctorate in chemistry. She says many people tell her privately they feel like they're back in communist East Germany because they can't speak their minds.
"We need a broad discussion about modern immigration legislation," said Petry, adding that the authorities' failure to deport rejected asylum seekers has led to abuse of the system. Germany needs an immigration policy like the U.S. or Canada, she said.
In-Am Sayad Mahmood, who came to Germany from Iraq as a political refugee in 1996 and now counsels migrants, agrees that the country's system of granting asylum is a mess. Her own family's asylum case took three years, and she has seen instances where applicants live in legal limbo for years. The 58-year-old, wearing a headscarf over her silver hair, was awarded a presidential Order of Merit in 2014 for her work on interfaith dialogue in Dresden's Ecumenical Information Center.
"I don't feel threatened, and nobody in my 18 years living in Germany has given me the impression that I'm a threat to them," Mahmood said when asked about PEGIDA's rise. "This is an invented fear. There is no danger of 'Islamization.'"
"Violence isn't only physical. There are also inflammatory words, verbal violence," she said.
Physical violence was avoided at the last PEGIDA protest when police stopped a small group of demonstrators from heading into the city center, where a counter-rally was taking place. During the course of the day Wednesday, as news of the Charlie Hebdo attack shocked the world, PEGIDA's Facebook page jumped by 6,000 likes, to more than 119,000. The next PEGIDA demonstration is planned for Jan. 12. Participants are being asked to wear a black ribbon in memory of the victims of the Paris massacre.