At Night In Crimea, Residents Await A Move From Russia
"They're occupying us," said Ruslan Temirkayayev, as an unmarked military truck trundled by. "We don't need weapons. We'll use our fists to defend ourselves."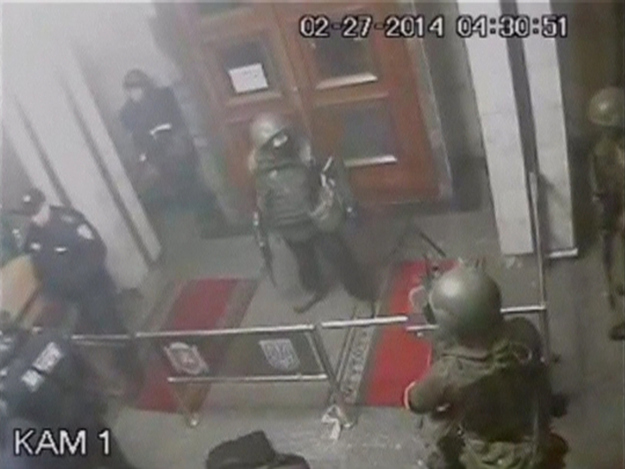 SIMFEROPOL, Ukraine — The lights are out but everybody's home. After a long day that saw heavily armed men — by all appearances Russian soldiers — seize control of Crimea's two airports, residents of the capital of the southern Ukrainian region went to bed with anxiety over what tomorrow will bring.
Lined with crumbling landmarks from an age when the town was an outpost of the Russian Empire, the streets of Simferopol were empty Friday night following a tumultuous week during which Ukrainian President Viktor Yanukovych fled to Russia and the new provisional government in Kiev lost its grip on the largely pro-Russian Crimean peninsula.
Only a few spots in town were still bustling with activity as midnight approached and passed.
In front of the ATR TV station, a couple hundred men, some of them carrying wooden stakes, were gathering in the parking lot to protect the broadcaster. ATR is the voice of Crimea's ethnic Tatar minority, which because of its repression by Soviet dictator Joseph Stalin, is loyal to Ukraine as an independent country.
The Crimean Tatars are a well-organized community and turned out in the thousands this week to show their opposition to Crimea's separation from Ukraine and a possible annexation by Russia.
"They're occupying us," said Ruslan Temirkayayev, 37, as an unmarked military truck trundled by. "We don't need weapons. We'll use our fists to defend ourselves."
Earlier on Friday, President Obama expressed concern over reports of Russia's activity, saying, "There will be costs for any military intervention in Ukraine."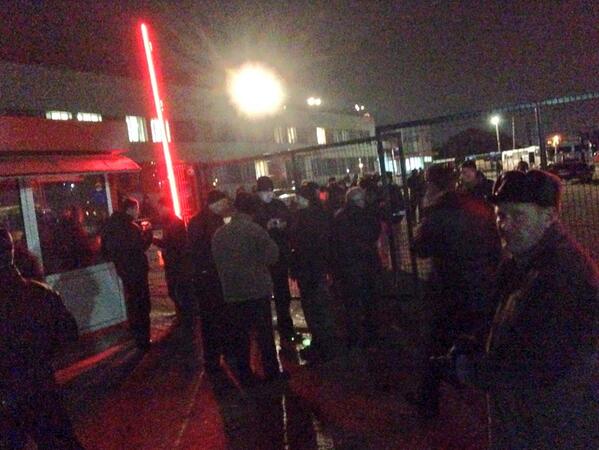 In the early hours of Thursday morning, unknown men seized the two main government buildings in Simferopol. On Friday morning, the city woke up to discover that uniformed soldiers cradling machine guns were patrolling the airport. When news broke during the day that Crimea's state television company had been seized, Tatars spontaneously started gathering to protect ATR.
The TV station has its own satellite link, enabling it to broadcast to the world independent of the state television company.
Across town, two dozen young men manning the barricade in front of the local base of the Berkut special forces, had nothing but contempt for media that had glorified the Kiev protest movement and demonized the police.
A sign on a bed sheet that was suspended over sandbags and wooden pallets read: "Lying media are leading us to war." The word "media" was covered with stickers of the U.S. and European Union flags. Occasionally, passing cars honked in support.
"Berkut are heroes for Crimea," said Alexander, 32, who didn't give his full name because he's the local representative of a Kiev company that supported the protests. "We don't want to be in a country with a fascist, illegitimate government."
As for the Russian soldiers who were apparently securing key communications infrastructure around Crimea, he had only praise.
"They're not invaders. They came to help and take things under control," said Alexander, a graduate of a military academy in Russia. "They're our brothers."
Nariman Nuftulayev, 44, couldn't have disagreed more. He was standing guard outside the Mejlis, the Tatar community's representative body.
Nuftulayev is the head of the local Tatar council in Gvardeiskoye, a town just north of Simferopol and home to an airfield that belongs to Russia's Black Sea Fleet, based on the southwestern tip of Crimea. On Friday, a dozen Ilyushin transport planes roared over his home, he said. Normally there's one per month.
Vandals bespattered the Mejlis building with eggs and paint on Monday night. Now a dozen unarmed Tatars were standing in front of the building, and another 30 to 40 men were inside, Nuftulayev said. Tatars were guarding their local councils, mosques and cemeteries across Crimea.
He was aware that a provocation might come at any moment.
"The match is ready," Nuftulayev said. "It just needs to be struck."