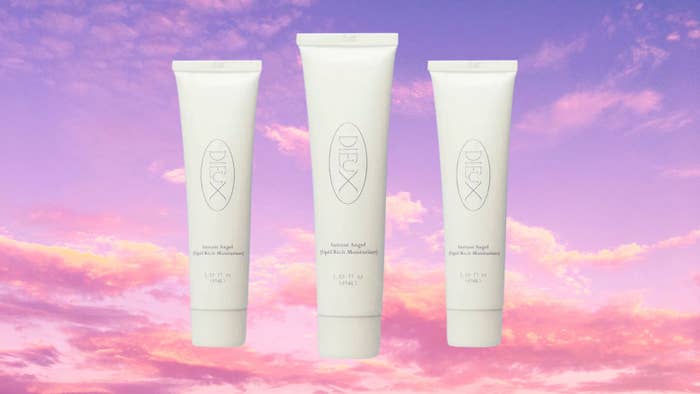 BuzzFeed may collect a share of sales or other compensation from the links on this page if you decide to shop from them. All products were independently selected by our editors, and the prices were accurate and items in stock at the time of publication.
Finding the right facial moisturizer for your skin type can be a bit like Goldilocks trying to find the comfiest bed. Trial and error is really the only way to determine what kind of ingredients, textures and finishes are best for you. Despite a lifelong obsession with skin care, moisturizers have always been tricky for me. I have aging, acne-prone skin that is finicky, sensitive and reactive, which keeps thick creams and certain aggressive active ingredients out of the running. But when I heard that cult-fave beauty brand Dieux released a moisturizer last year, I knew I needed to get my hands on it.
After several months of use, I regret to inform you that Dieux's Instant Angel moisturizer is everything it's purported to be. It's nourishing, soothing, and, miraculously, doesn't clog my pores. The best part? The longer I use it, the better my skin gets. It's about double the price of my usual moisturizer, but with these kinds of results, it's worth every penny.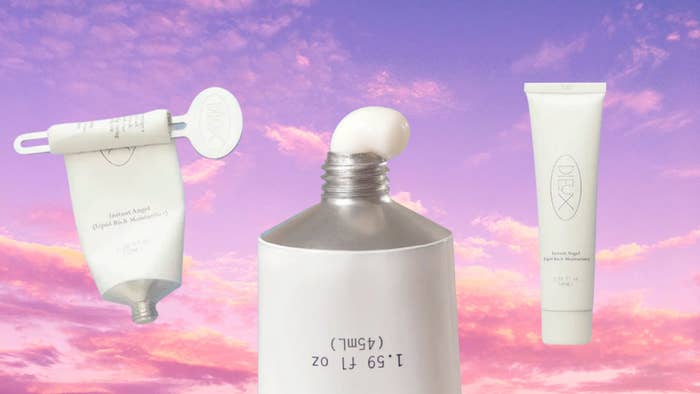 The first thing that caught my attention about this moisturizer was the texture. It feels rich and creamy, which initially stressed me out. But it sinks into the skin beautifully, leaving my complexion soft, glowy and hydrated, never oily. Despite my propensity for breakouts, it didn't cause any issues. And thanks to its decadent texture, a little goes a long way, making the financial investment less painful. Since my initial purchase in early 2022, I've noticed my skin gradually get smoother and less fussy. The real test came with the arrival of autumn; as the weather changed I waited for my skin to dry up, flake off and breakout. Much to my surprise, it maintained its healthy, soft and supple vibe.
The power of Dieux's Instant Angel moisturizer lies in its thoughtfully curated and thoroughly tested ingredient list. On its website, the brand carefully explains the function of each and every ingredient and how they all work together to create a high-quality product. A gentle blend of phytosterols, free fatty acids, meadowestolide, ceramides, glycerin, squalane and more do all the heavy lifting so you don't have to.
This moisturizer's main mission is to work as a heavy duty barrier protector. It drenches the skin with a blend of nourishing active ingredients that support and repair skin at the same time. Within weeks of incorporating it into my routine, I was getting kind comments on my skin. It's also a great base for sunscreen and makeup. I haven't experienced any pilling or otherwise annoying side-effects of using such a nourishing moisturizer with my makeup routine. It's fragrance-free, which is imperative for those with sensitive skin or people who use retinol, and a silky finish that doesn't feel heavy or leave a residue like many other rich creams.
Another thing I love about Dieux is that its products are developed with more recyclable materials than many of its competitors. Instant Angel is packaged in a recyclable aluminum tube that is more easily recycled than plastic or glass, and comes with a metal squeeze key that helps you get every last drop of product. Best of all, you can now you can get Instant Angel in a larger size so you get even more bang for your buck. The brand also just launched refill canisters for its popular Auracle eye gel that are made of 100% recycled and recyclable aluminum.
All of Dieux's products are standouts, including its wildly popular Deliverance serum, but Instant Angel is as good as it gets for me. It's the perfect winter moisturizer, so treat yourself to a little bit of luxury and get glowy winter skin. Check out some reviews from Dieux's website below and pick one up for yourself.
Promising reviews:
"Best moisturizer. My skin has never been healthier. I've tried many moisturizers and none have restored my barrier like this. My skin stays moisturized all day instead of drying back out right away. I'm hooked." — Megan S.

"Love it. I was apprehensive about buying due to the price/size but the product has really been a great mix of rich and light that doesn't clog my pores the way other moisturizers have. I have very dry skin so it was great to find this alternative that feels lovely while keeping my skin looking good. I also appreciate that the company helps you get as much of the product as possible out of the tube." — Caitlin C.

"Dream come true. I'm on my second tube and this formula is excellent. I've never been so obsessed over a moisturizer. I have combo-sensitive skin and use this at night…wake up with the most soothed, supple, glowy skin. This performs better than any high-end moisturizer I've ever tried and it's a lot cheaper, considering high end is around $68. I can't imagine someone regretting this purchase!" — Christina D.

"Saved my skin! After starting retinol, I thought my skin would always have dry patches, and I was willing to live with that. Thankfully, I found Instant Angel and realized I hadn't been moisturizing and protecting my skin barrier correctly. My skin has improved so much and I don't think I can go back to other moisturizers now." — Elizabeth P.