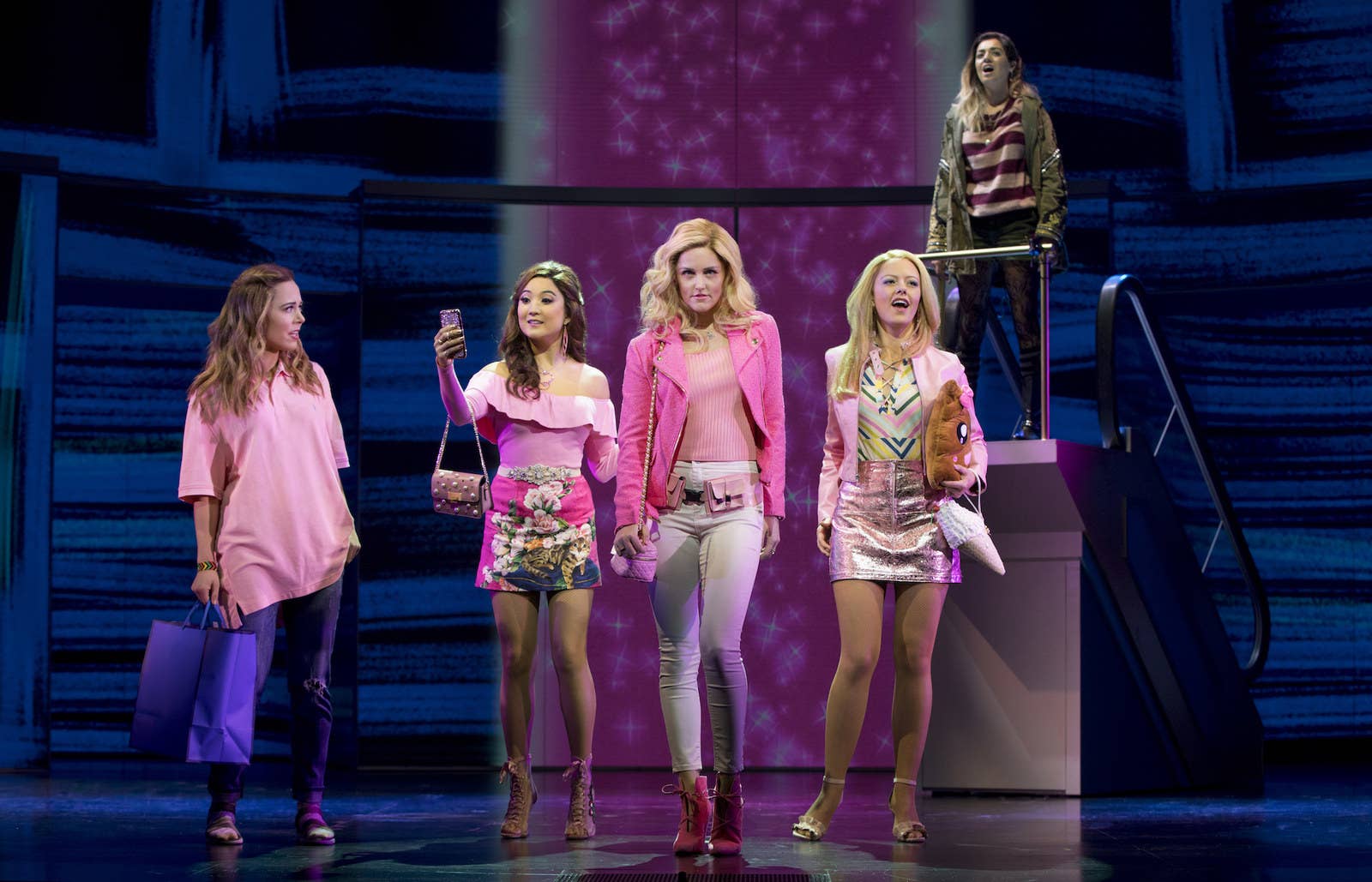 If you wait long enough, all of the beloved teen movies from your childhood will end up on the stage. Bring It On hit Broadway in 2012 while Heathers enjoyed a critically acclaimed run off-Broadway in 2014, and Clueless and Jawbreaker have been in development for years. Now Mean Girls is poised for its Broadway debut: The new musical — with a book by Tina Fey, music by Jeff Richmond, and lyrics by Nell Benjamin — is having its pre-Broadway tryout at the National Theatre in Washington, DC, before it opens at the August Wilson Theatre in April 2018.
There will certainly be changes made before Mean Girls transfers to the Great White Way, but the current production bodes well for the Broadway run: This show is already in pretty good shape. The movie — with its larger-than-life characters and bubblegum pink aesthetic — was crying to be musicalized, and the show does a great job of capturing the quirks and quotables that made Fey's film an enduring early 2000s classic. The Mean Girls musical may not yet have the standalone power of Legally Blonde, but with some finessing, it could get there. Here's a look at what's already working and what could use some fine-tuning before the Broadway run.
The Fetch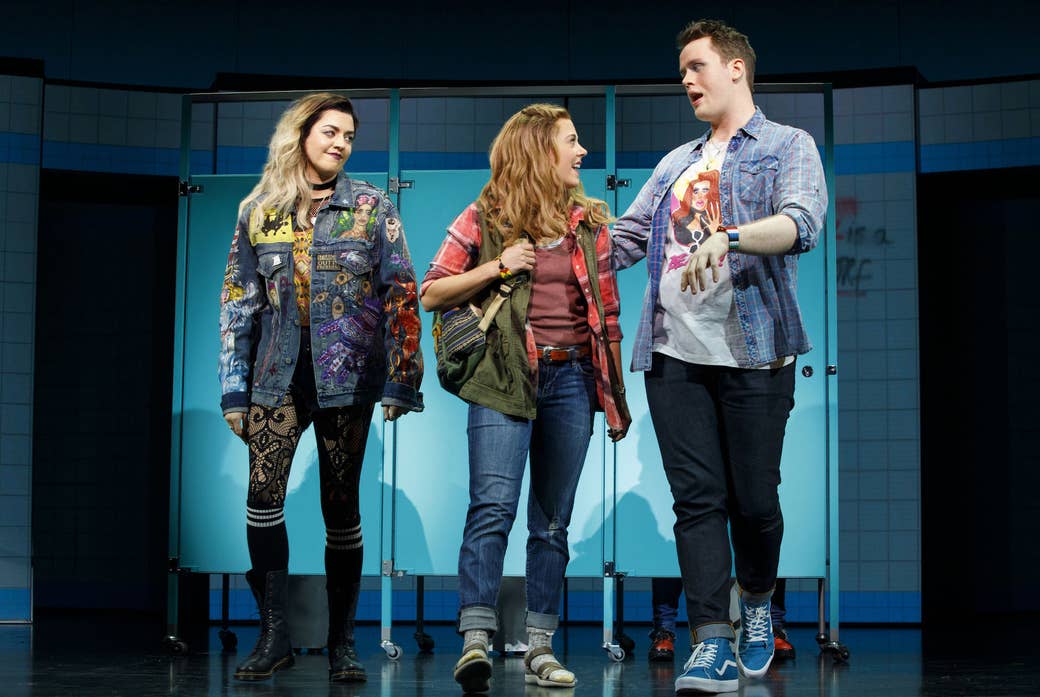 If you love Mean Girls, you'll love the musical.
Anyone concerned that the Mean Girls musical wouldn't feel like the movie can rest easy — this is a deeply faithful adaptation. That makes sense given that Fey wrote both, but it's still a relief to diehard fans. As in the movie, Cady Heron (Erika Henningsen) transfers to North Shore High School after years of being homeschooled in Kenya. She meets outcasts Janis (Barrett Wilbert Weed) and Damian (Grey Henson), who encourage her to spy on the mega-popular mean girls who take her under their wing. These are the Plastics: neurotic Gretchen Wieners (Ashley Park), simple Karen Smith (Kate Rockwell), and ruthless Queen Bee Regina George (Taylor Louderman).
For those who have seen the movie — or, you know, any teen movie — there are few surprises in this musical adaptation. But that's OK! Part of what you're looking for in a musical like Mean Girls is that comforting sense of familiarity, which is why Fey was wise to make sure her book hews closely to the original script. There are new jokes and some minor plot adjustments, but for the most part this is the Mean Girls you already know and love. And yes, nearly all of the most iconic lines (most of them Damian's) have been preserved so that you, too, can cheer at "she doesn't even go here" and "you go, Glenn Coco."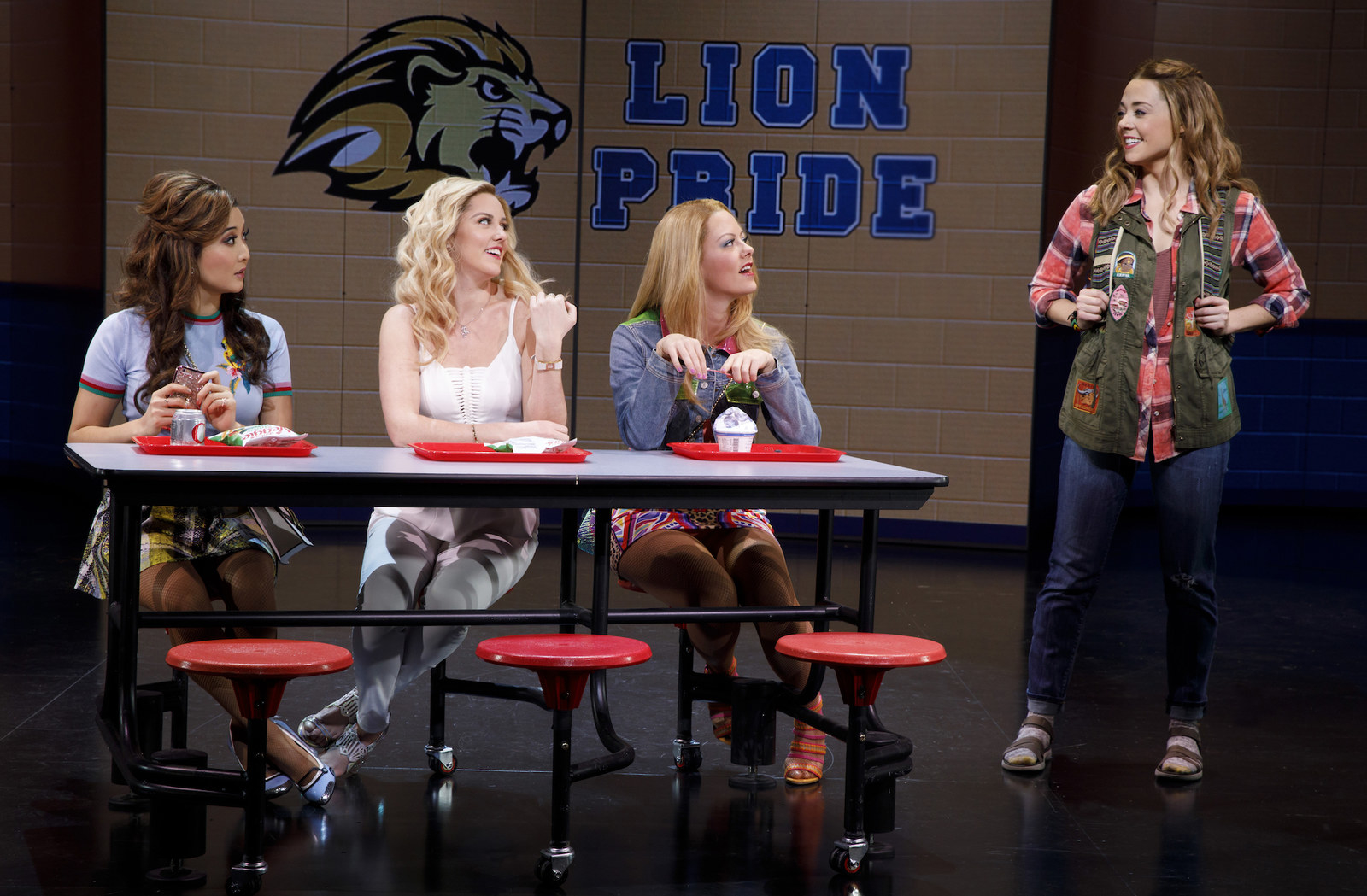 The Plastics are pitch-perfect.
One of the challenges of adapting a popular movie for the stage is that audiences come into the show with impossible expectations — for them, the characters are inextricably tied to the actors who originally played them. That presents a unique challenge for the actors taking on these roles: They have to take some inspiration from the movie characters to avoid alienating fans while also making enough of their own choices to stand out. Luckily the musical's Plastics — Louderman, Park, and Rockwell — expertly walk that line. Their performances are familiar without being mere copycats of the original.
Park, who proved herself to be the most exciting person onstage in the recent revivals of Sunday in the Park With George and The King and I, imbues her Gretchen Wieners with her own blend of high-strung weirdness and barely repressed self-awareness. And while Rockwell doesn't get to show as much range as Karen — outside of Karen's impressive range of stupidity — she gives the character a sweetness that makes her more likable than in the film. But it's Louderman who steals the show, as Regina is wont to do, with a performance that captures the depths of Regina's evil and the vulnerability that made her that way. In one of the show's best numbers, "Watch the World Burn," she rises Elphaba-like from the stage. Being wicked never looked so good.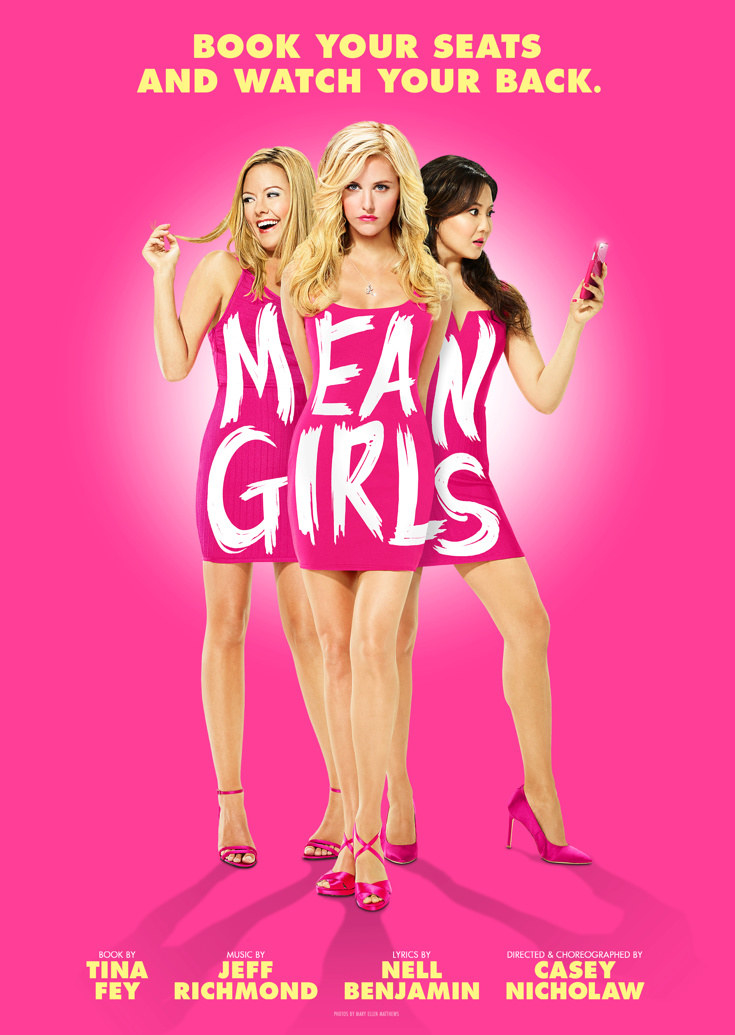 Janis and Damian are still standouts.
But what about the non-Plastics, the art freaks who take Cady in before she moves on to a cooler crowd? The Mean Girls musical wisely keeps Janis and Damian front and center by letting them lead a sort of wraparound story in which they reflect on the school year that upended the social hierarchy (and led to Regina George getting hit by a bus). Making these two the narrators reflects the fact that they've always been Mean Girls' most relatable characters — and the only two characters you'd actually want to hang out with.
And because this is a musical, they both really get their chance to shine. Janis's "big lesbian crush on you" speech becomes the glorious anthem "I'd Rather Be Me," while Damian gets to celebrate his penchant for theatricality with the first big showstopper, "Where Do You Belong?" In the movie, it always felt like Damian could do more than just croon "Beautiful," and Henson is adept at harnessing that star quality to great effect. The "too much" persona that makes him an outcast in high school makes Damian the perfect fit for a Broadway musical. As Janis, Weed — who earned her high school movie musical stripes as Veronica in the incredible Heathers — is endlessly compelling, embodying the paradox of an effortlessly cool loser.
Mean Girls has been updated for 2017.
Realistically, the Burn Book would not exist in this day and age: That's what social media is for. The Mean Girls musical has it both ways, retaining the original Burn Book — how could you not — while also adjusting to a more modern era. That means the Plastics' disastrous Christmas number at the talent show becomes a viral moment. The musical also has some smart things to say about the dangers not only of online bullying but also of online adulation: Part of what inspires Cady's mean girl transformation is the way she takes all her Twitter faves and Instagram likes to heart.
On a larger scale, this Mean Girls feels a little more socially conscious in a way that reflects our evolving culture. While many will lament the absence of the Unfriendly Black Hotties, it's nice to see that this North Shore High School is more diverse overall. And it's significant that one of the Plastics is played by an Asian-American actor. It would be a stretch to call the Mean Girls musical woke — more on that below — but there's at least a sense that Fey heard the criticisms of some of the more dated aspects of the movie and made adjustments. How refreshing that Cady was raised in a specific African country and not just "Africa" as a general concept. These things matter!
The Not-So-Fetch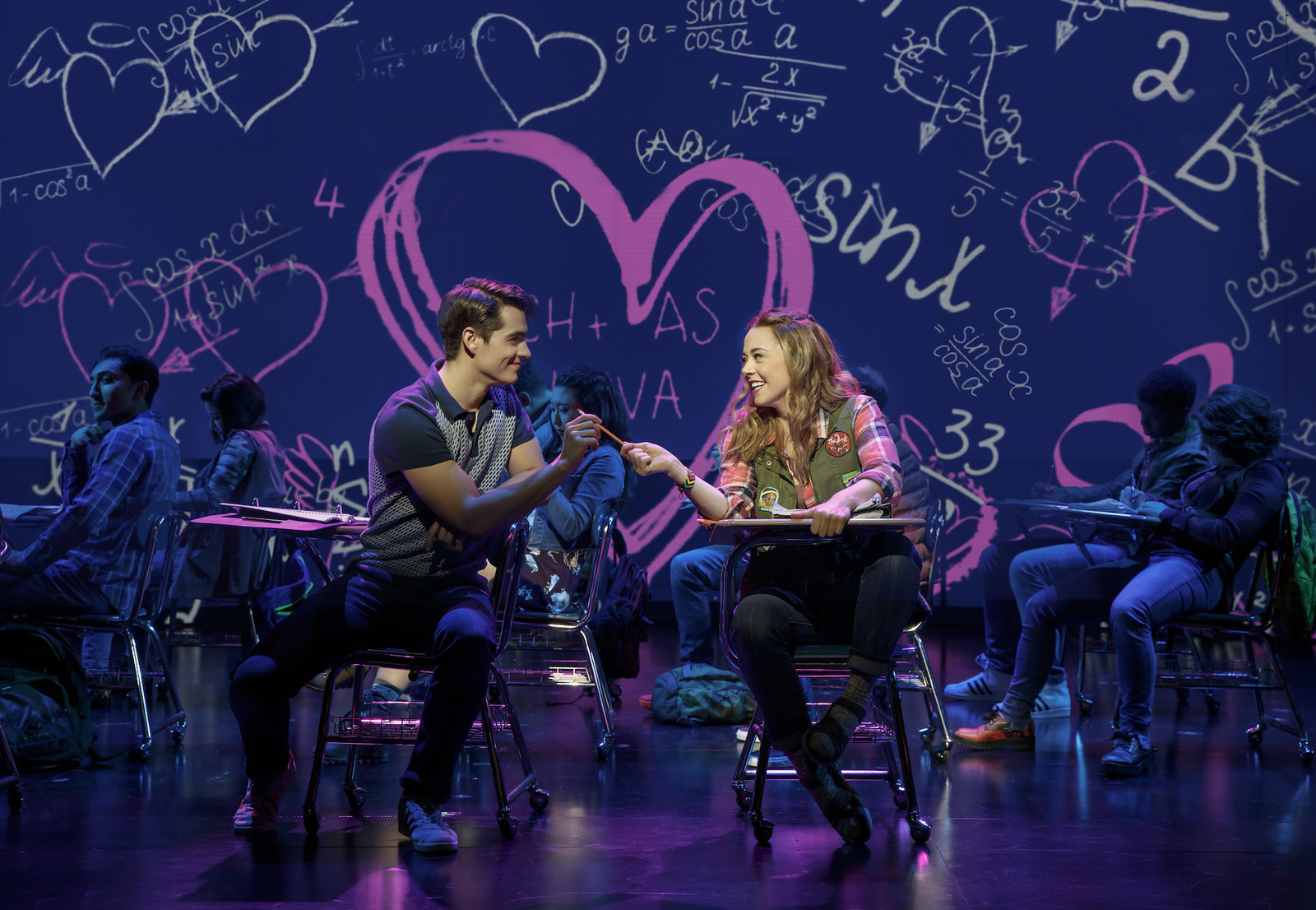 Cady fades into the background.
Harsh truth: Cady has never been anywhere near the most interesting character in Mean Girls. She's actually — forgive me — a little bland. In the movie, that was sort of forgivable, because Lindsay Lohan was such a star at the time that we kind of didn't notice. In the show, Cady can't really compete alongside the Plastics, not to mention the endless charisma of Janis and Damian. That's not to say Henningsen isn't doing a good job: The problem is that there isn't all that much for her to work with. The love story between Cady and Aaron (Kyle Selig) feels more perfunctory than anything else.
Mean Girls could do more to give a sense of who Cady really is. As it stands, she has generic teen movie traits: She's naive, she's hopelessly romantic, she wants to fit in. Even when she turns to the dark side, Cady never really has the edge that the other Plastics do; and sure, we can't all be Regina George, but the show could stand to let her be a little meaner. Musicals allow characters to expose their interior lives through song: Cady deserves something with more depth and bite than the forgettable "Stupid With Love."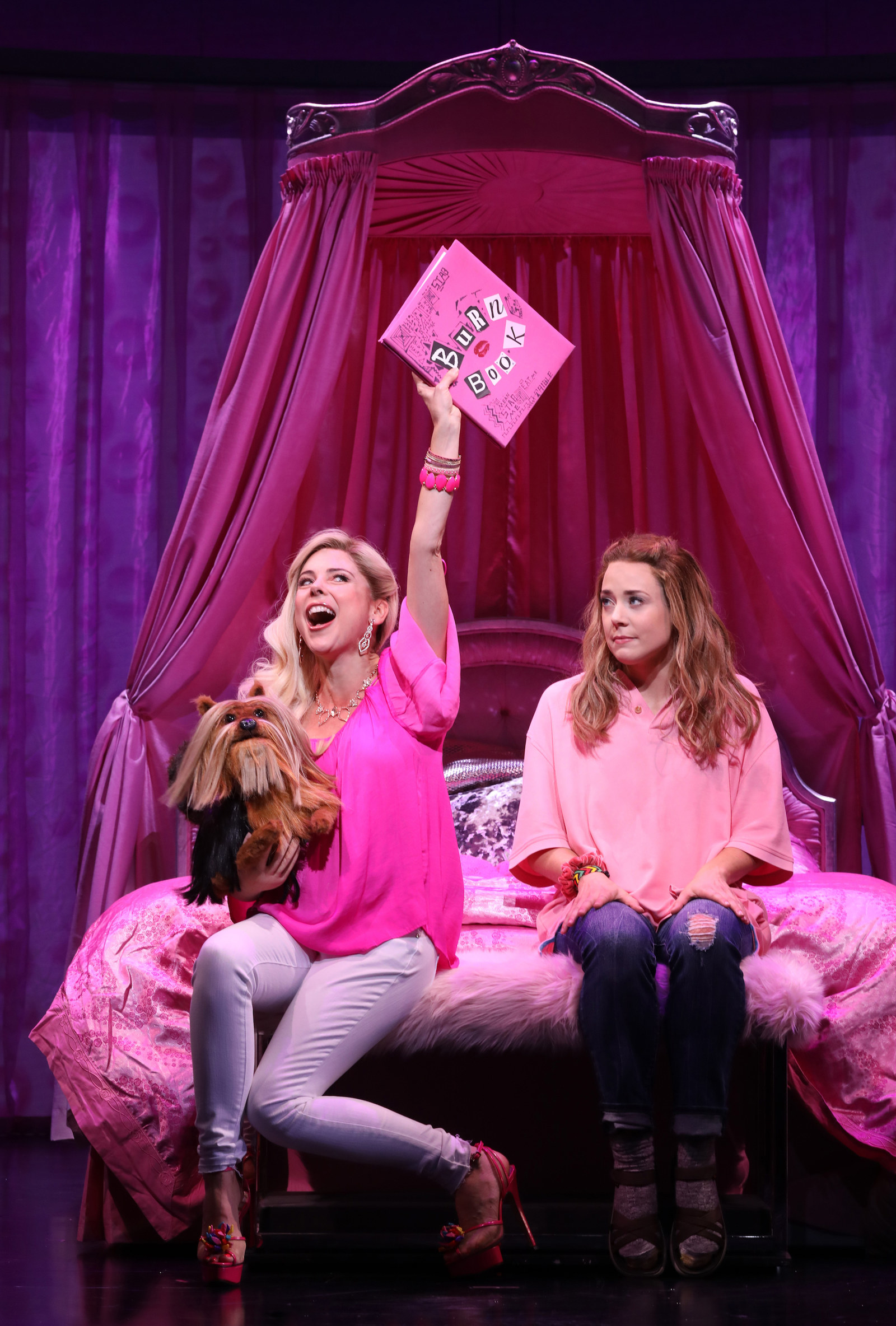 The 2017 updates should have gone a little further.
Yes, Mean Girls the musical makes some notable strides into present day when it comes to inclusion, but there are times when it still feels like it's lagging behind. And there are easy changes the show could make before it transfers to Broadway that would help its representation feel somewhat more evenly applied. Kevin Gnapoor is one notable example: Cheech Manohar is charming, but the character as a whole still feels like a bit of a one-note joke. And while the nod to The Lion King in an early Kenya segment is funny, it only serves to underline the reductive way Mean Girls has always characterized Africa. The musical doesn't need that.
Then there's the big message at the end. Mean Girls smartly points out — like Romy and Michele before it — that most of the people who make your life miserable in high school are doing so because they're miserable in their own way. But given that the characters traffic in slut-shaming (Karen gets called out for her number of sexual partners) and body-shaming (Regina is visibly heavier after all those Kälteen bars), it would be nice to see the show reckon with these dynamics in a sharper, more culturally current way. That might feel overly ambitious for a flashy mainstream musical, but as it stands, Cady's speech seems to come down to how great everyone looks at prom, and the ending is awfully pat. It's not that Mean Girls needs to burden itself with big ideas — it's that the musical is emerging in a world in which teen girls are thinking and writing about these issues. The show doesn't have to go deep, but it could stand to go a little deeper.