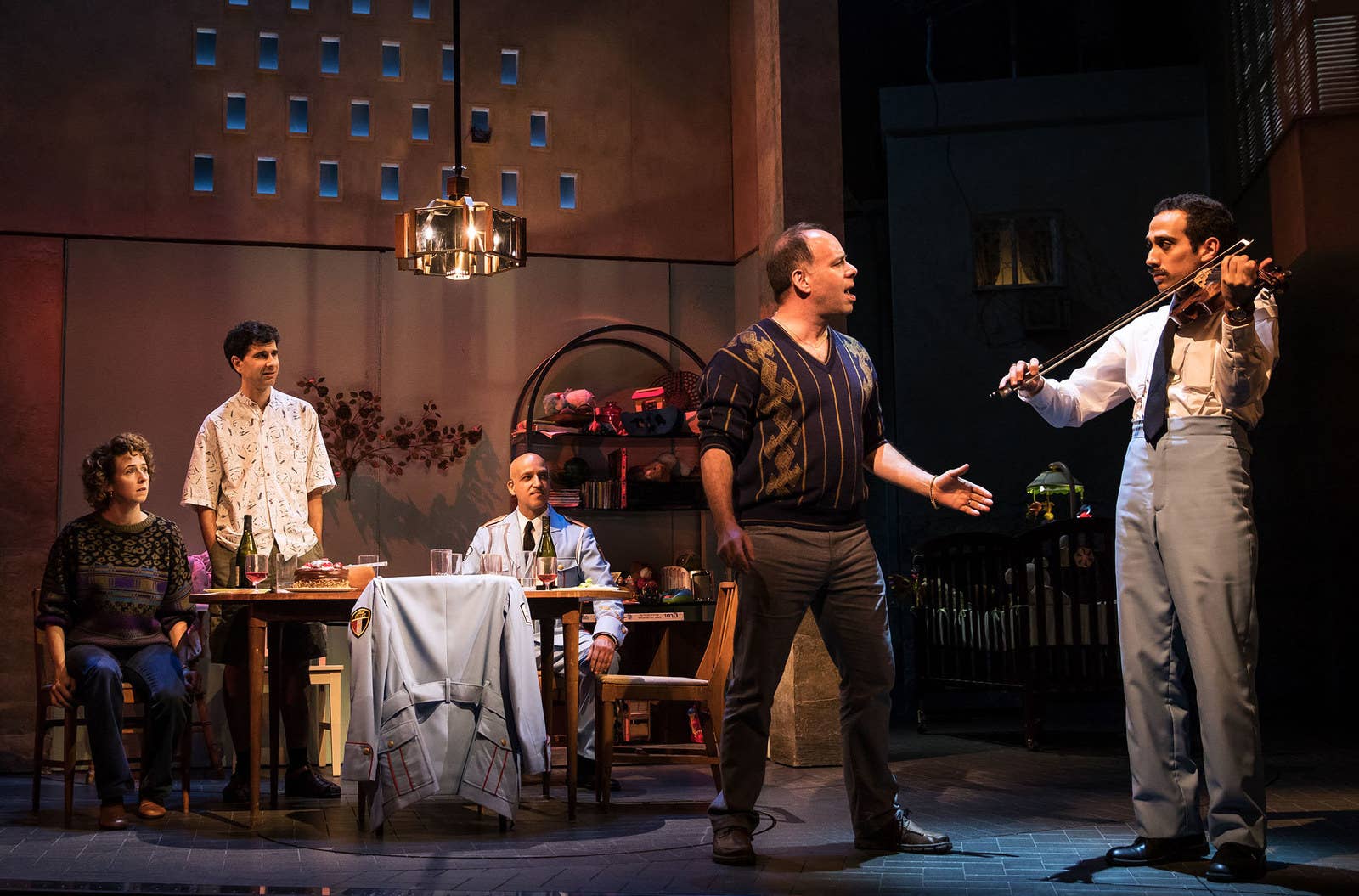 Years before she was in The Band's Visit on Broadway, Sharone Sayegh was a student at Syracuse University visiting New York City to audition for the tour of Hairspray. According to Sayegh, the audition monitor said there were too many people present and they would have to make a cut: Because the show was about black and white race relations in the 1960s, anyone who wasn't black or white would not be considered. Sayegh, who is Iraqi-Israeli, gathered her things and left.
"I wasn't upset," Sayegh told BuzzFeed News. "I was like, Yeah I'm not. I'm not white and I'm not black, so I probably should only start auditioning for Middle Eastern shows. But I was like, Wait a minute, there aren't any, so what should I do?"
With The Band's Visit, which opened in November at the Ethel Barrymore Theatre, Sayegh has found a show that's distinctly Middle Eastern, and that actually reflects the duality of her ethnic background in its exploration of two cultures: Her parents were born in Israel but are of Iraqi descent, and she was born and raised in the US. Based on the acclaimed 2007 film, The Band's Visit follows Egypt's Alexandria Ceremonial Police Orchestra as they find themselves stranded overnight in the sleepy Israeli town of Bet Hatikva. There, the locals take them in, and both the Israelis and their Egyptian visitors realize they're all searching for the same thing — human connection.
While the show could depict a fraught, politically charged conflict between the Arabs and the Israelis, The Band's Visit is quiet and restrained, more focused on their innate similarities and newly formed bonds than on any larger issues that might come between them. That grounded, slice-of-life approach stands out against the more common portrayals of Middle Eastern life, which often center on terrorism or border conflicts.
"I guess it could be inherently political, but I like to think that it's not," said George Abud, who plays Camal, a member of the band. "We just see these strangers meeting and being confused by each other and challenging each other in mostly nonthreatening ways, and just trying to figure each other out and trying to communicate."
For Abud, who is Lebanese-American, the normalcy of the show is part of what makes it such a significant step forward for representation. Not to mention, of course, that the cast includes so many actors of diverse Middle Eastern backgrounds. Abud was so inspired by the work the show was doing that he eschewed listing credits in his Playbill bio, instead opting for the following message: "I hope young Arabic kids, like I was, see this show, or hear it, or read about it, and know that there is starting to be a place for their expression, their stories and their faces. The Arab voice, rich in history and beautiful music, is vital in American theatre."
Explaining his choice for the unconventional bio, Abud said that he wanted to "start planting the seed and normalizing the Arab people and the Arab-American people, to show people who have not come into contact with them as much that we've been here and we're part of the fabric."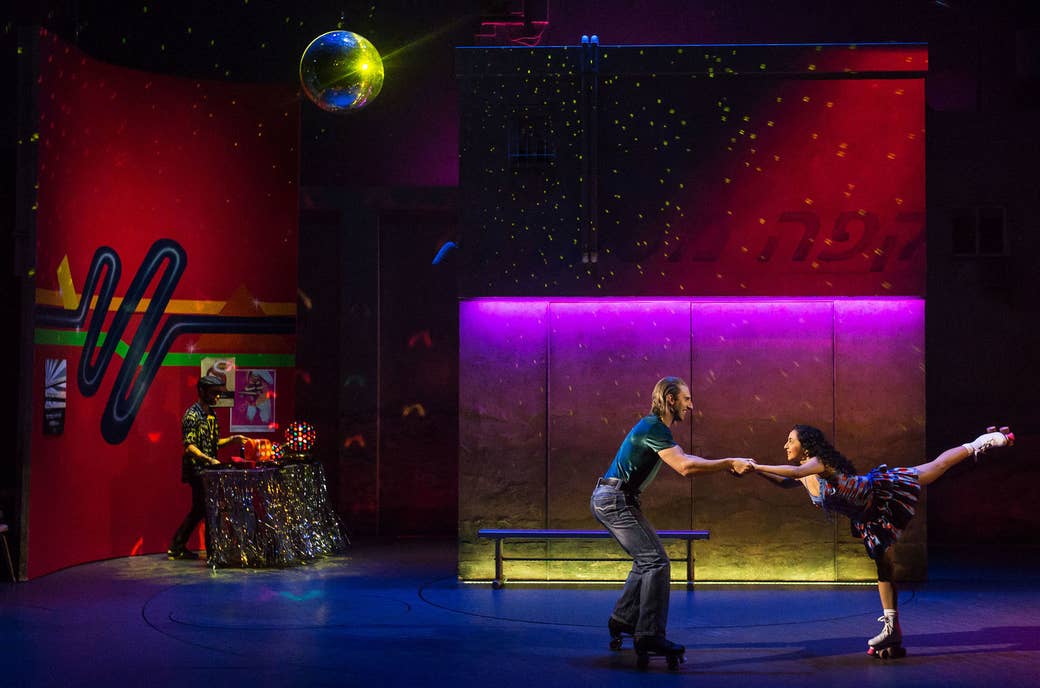 That's part of the work The Band's Visit is doing, and it's why — aside from the gorgeous book and evocative score — these actors have been so drawn to the show. Etai Benson, who plays Bet Hatikva resident Papi, said this is the first time he's really seen himself represented onstage. Half Israeli and half American, he is Jewish but has always felt more of a "spiritual kinship with Middle Eastern culture and traditions," as opposed to the Eastern European Jewish culture depicted in classic Broadway shows like Fiddler on the Roof.
"This was ... a Broadway musical — what I've always dreamed of doing in my life — that had Hebrew in it, that had my culture, that had everything that I grew up with represented onstage," Benson said.
Benson has been cast as Jewish characters throughout his career; Sayegh, on the other hand, has struggled to be seen for Jewish roles despite the fact that she is an American Jew. "I cannot get an audition for Fiddler whenever it's done, because they're like, you don't look Jewish," she said. "And it's like, you don't know what a Jew is!" She has played Latinas and Indians because of a scarcity of roles for people who look like her, although she's uncertain if she would do that again because "it feels inauthentic."
"I rarely go into an audition without an accent because people just don't view me as American or there hasn't been an Israeli show or a Middle Eastern show," Sayegh said. "[The Band's Visit] being an Israeli piece where I didn't have to learn a new accent and I could speak my language and there's Arabic music — I mean, it's just like my whole world."
For Ari'el Stachel, who plays smooth-talking band member Haled, the show has a particular resonance. He is half Yemenite Israeli and half Ashkenazi Jew: The Band's Visit reflects a similar convergence of cultures. But it's also a rare opportunity for Stachel to embrace his ethnic identity, which he admitted was once a source of shame for him. "For a majority of my life I pretended not to be Middle Eastern — anything but Middle Eastern," he said. "If I wasn't perceived as an outsider or as a Yemenite kid or some weird kid with a father with an accent, I felt like I had social permission to play basketball, to sing, to act."
The Band's Visit, in which the characters' Arab and Israeli ethnicities are both essential to their stories and not their only defining characteristic, marks a major turning point for Stachel, who only publicly revealed his ethnic background when he was a junior at NYU. "I just didn't know that there would be roles available for me," he said. "But I think all the time I spent concealing made me obsessed with my identity and dying to be proud of it, and so this show has enabled that for me."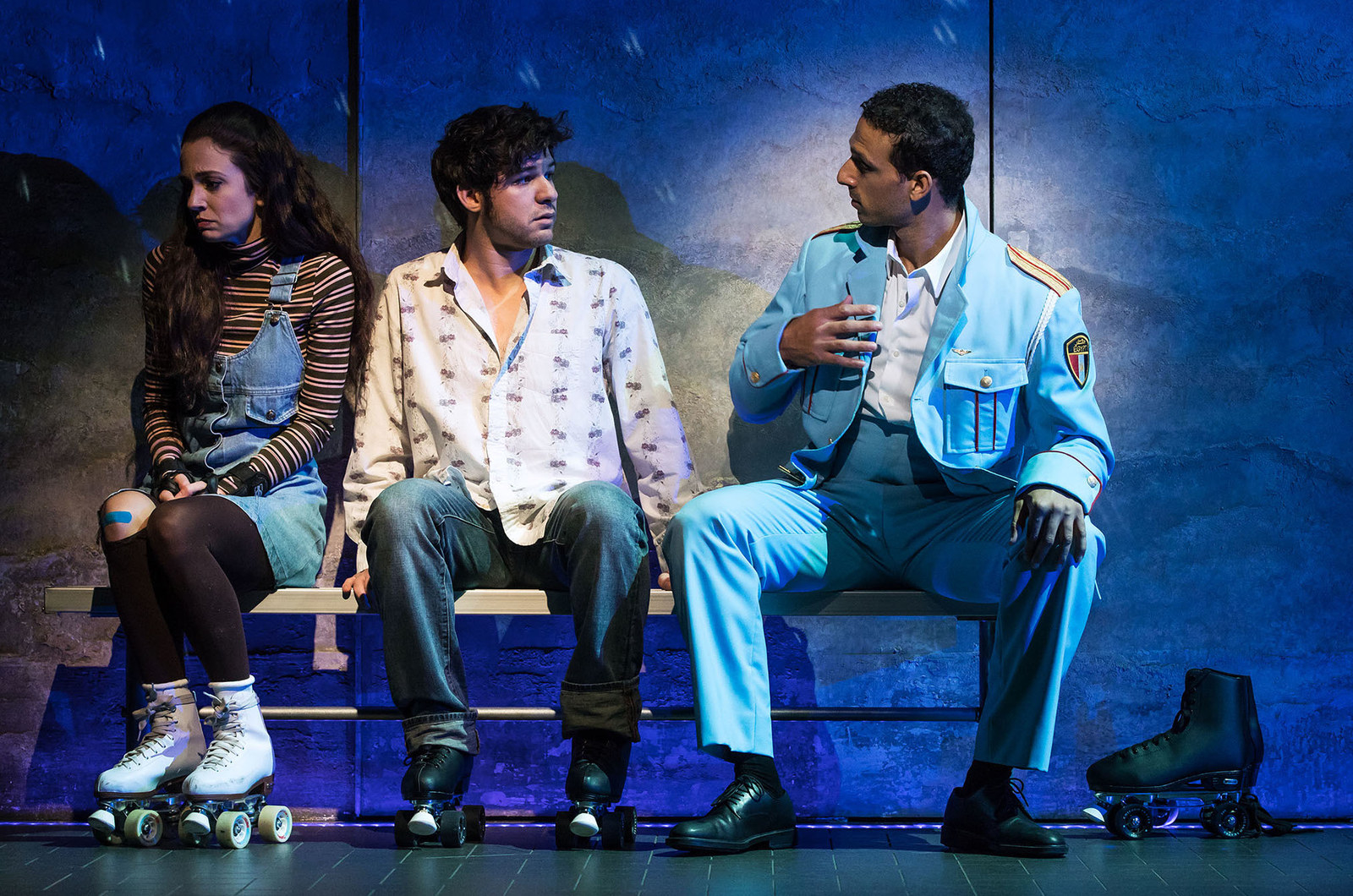 But it's also the story that Band's Visit tells that makes these actors especially excited about it: They all spoke about having had to audition for heavier roles, sometimes terrorists or refugees. And while they agreed that those stories are necessary, they do not represent the full breadth of the Middle Eastern experience. The simple, human story in this particular play offers a meaningful alternative to what most of these actors have faced throughout their careers.
As Benson noted, "Diversity in casting is very important, and I think our show is very emblematic of that. When you look onstage you see kinds of faces that you haven't seen before. But to me, what's just as if not more important is the diversity in storytelling."
Abud put it more bluntly. "We're mostly doing frickin' shows downtown about Syria and the conflict in Syria. I don't want to do fucking 200 shows about Syria," he said. "I want to do a Theresa Rebeck [play] about annoying Upper East Side kids who are taking an art class or something. It has nothing to do with them being white. … We want to play with everybody else."
He said that he sees two forms of progress — one is Middle Eastern actors being cast as Middle Eastern characters in their own stories, and the other is Middle Eastern actors being cast as, well, anyone. And while The Band's Visit represents the former, its work to normalize and showcase the work of Middle Eastern actors will ideally lead to more opportunities down the line, including roles that have traditionally been played by white actors.
Stachel is already feeling optimistic. "Maybe now people will take a chance on me and let me stretch and play other types of things," he said. "The sense that I have in meetings now is quite different, because people are able to see me in what I feel is my truth."
In the meantime, they will continue speaking out whenever possible. Even while celebrating an accomplishment like The Band's Visit, there is a tremendous amount of work to be done — and for these actors, that means both being grateful for the opportunity and making sure this show isn't just a fluke.
"It's my responsibility to help others with my platform in whatever way I can," Abud said. "I have a very, very, very small platform, but any opportunity I can, I like to try and do something, because even if it just gives somebody a little bit of hope — like I've gotten from little things — that's what the theater is."
CORRECTION
A previous version of this post misstated George Abud's religion.