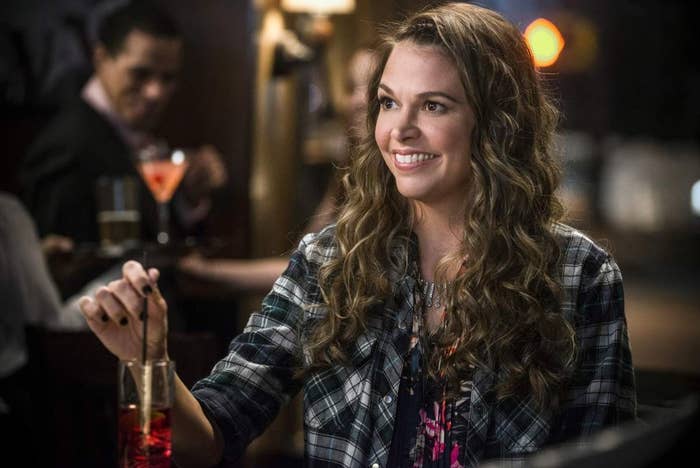 It's been over two years since Bunheads aired its final episode on ABC Family, and the loss is still palpable for fans of the show and for Sutton Foster, who starred on the series as Michelle Simms, a ballerina turned Vegas showgirl who, by a freak course of events in the pilot, ended up teaching dance to a group of young girls in the fictional town of Paradise, California.
Bunheads was critically adored but a tough sell for ABC Family, resting tenuously on the cancellation bubble for six months following the Season 1 finale before the network pulled the plug in July 2013. But Foster's experience on the ABC Family dramedy didn't sour her on television — it just made her more selective about what to do next.
Foster wasn't afraid to wait for the right role, and it wasn't long before she found it in Liza Miller, the lead character on Younger, the new TV Land series from Darren Star (Sex and the City).
Just a few months after Bunheads was canceled, Foster returned to Broadway, where she previously made her mark with starring roles in Thoroughly Modern Millie (2002), The Drowsy Chaperone (2006), and Anything Goes (2011). In November 2013, she signed on to star in a revival of the musical Violet, which eventually earned Foster her sixth Tony Award nomination (she's won twice).
When Younger was picked up, everything fell into place for the actor.
"I wasn't necessarily looking for another TV project, and then my agent sent me the script for Younger, and I thought it had the wit and the smarts that Bunheads had," Foster told BuzzFeed News during an interview at the Crosby Street Hotel in New York. "Nothing is harder than doing theater, for me. Doing eight shows a week is the hardest thing that I've ever done. I was starting to break down a little bit and get really tired and burned out. TV seemed like, in a way, a nice change of pace."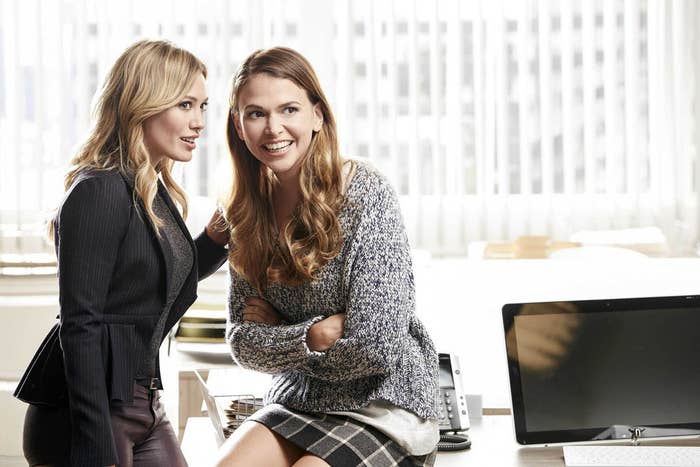 On Younger, Foster plays a 40-year-old recently divorced mother who jumps back into the job market (and the dating pool) by pretending to be 26. She struggles to impress her moody boss Diana (Miriam Shor) while navigating an unexpected romance with a younger man (Nico Tortorella).
"I just felt like she was a character I could play," said Foster, who turned 40 herself earlier this month. "What was great about Michelle Simms on Bunheads is she was holding on to her lost youth and so I understood what that was. In a way, with this character, playing someone who is revisiting her youth … was something that I could understand and wanted to explore."
Between Bunheads and Younger, Foster was going in for roles that weren't the right fit, largely because she was coming across as younger than she was. "I didn't know where I was fitting in," she said.
Now more than ever, "my age is staring me in the face," Foster said. But if there's one aspect of Liza that Foster can truly relate to, it's the sense of being pulled between two worlds.
Foster herself is more 40 than 26 — she admitted to being taken aback by the late-night hipster lifestyle in Brooklyn, where Younger filmed — but she still relates to both sides of Liza, who has allowed Foster to embrace that feeling of being in between, a blend of grown-up obligations and youthful exuberance.
"What does it mean to be 40? I definitely have responsibilities and mortgages. I don't have the carefree twentysomething life," Foster said. "I understand the 40-year-old more than the 20-year-old, but even with that, I go back and forth, which is perfect for the character. She doesn't know what the hell she's doing either."
Younger airs Tuesdays at 10 p.m. ET/9 CT on TV Land.