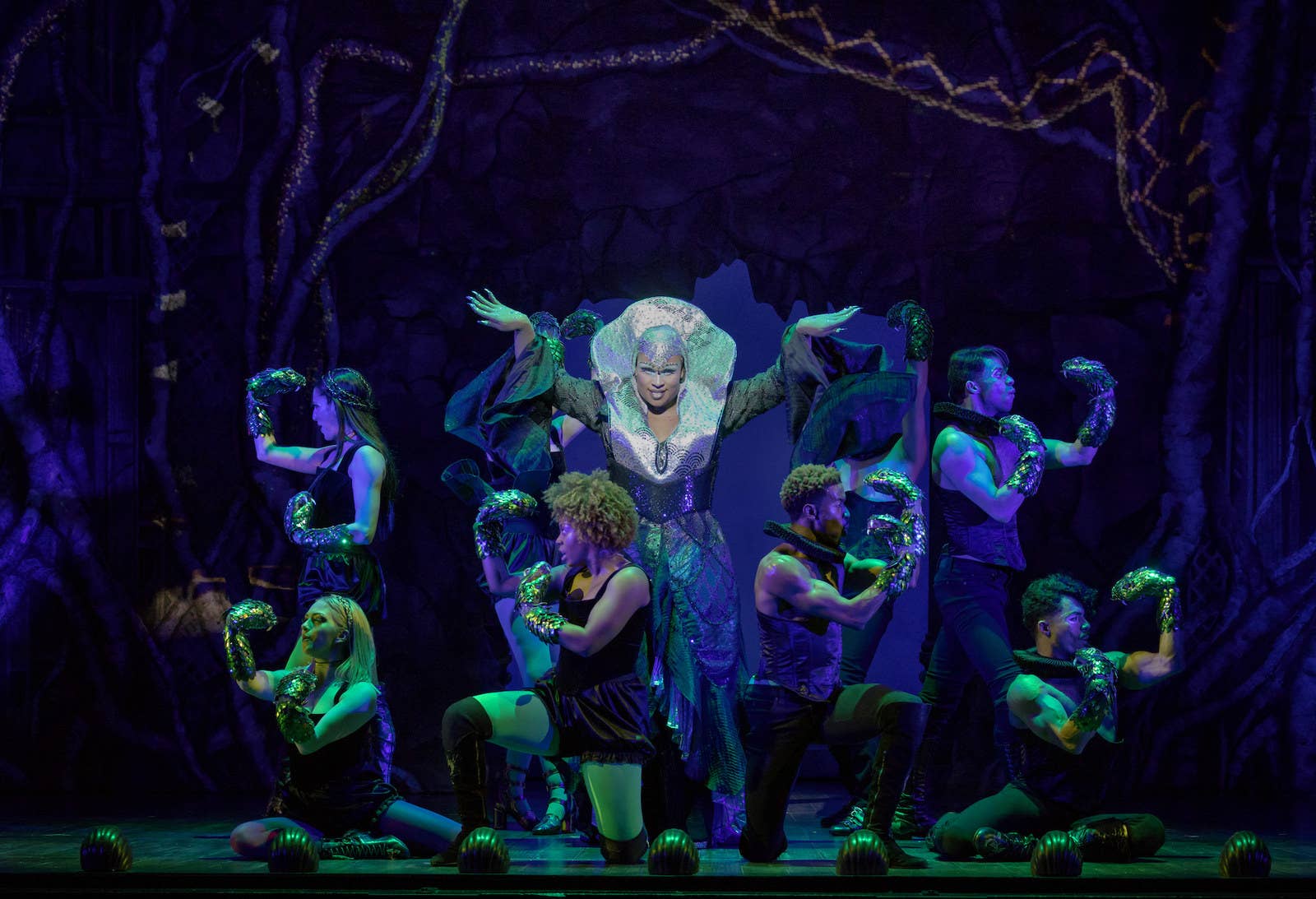 When Pythio emerges onstage in Head Over Heels, the audience bursts into applause. That's partly to celebrate the Broadway debut of Peppermint, the one-time RuPaul's Drag Race contestant, and partly because there's never been an Oracle of Delphi quite like Pythio. This prophesier is fierce, instantly captivating, and surrounded by serpentine dancers. When King Basilius (Jeremy Kushnier) and his servant, Dametas (Tom Alan Robbins), wonder aloud if the Oracle is a man or a woman, Pythio asks a question that turns out to be central to Head Over Heels: "How is gender germane to the discussion?"
"Things need to be one thing or another," Basilius demands.
"My qualities transcend your rude opinion!" the Oracle counters. "Pythio is a nonbinary plural."
Traditionally speaking, the Oracle of Delphi — also known as the Pythia — was strictly female. But there's very little that's traditional about Head Over Heels. The musical is based (loosely) on Sir Philip Sidney's 16th-century classic, The Countess of Pembroke's Arcadia. Jeff Whitty, who won the Tony Award for Avenue Q, and James Magruder are responsible for the book, while the score comprises songs by the Go-Go's. Yes, Head Over Heels is a jukebox musical, a genre derided for its use of established songs, but the show as a whole turns out to be one of Broadway's most original offerings in years.
The transformation of the Oracle into a nonbinary character played by a black, trans woman — the first trans actor to originate a principal role on Broadway — is a radical step forward for mainstream theater. While Broadway has a reputation for being inclusive, queer representation has largely been limited to gay, white men, with some notable exceptions like 2015's Tony winner for Best Musical Fun Home. Trans and nonbinary representation in particular has been severely limited: Shows like La Cage aux Folles and Kinky Boots, though certainly progressive at the time, depict cis men doing drag. Head Over Heels is a rarity in its portrayal of the full spectrum of gender identity and in its casting of a trans actor (and drag queen) to play a nonbinary role.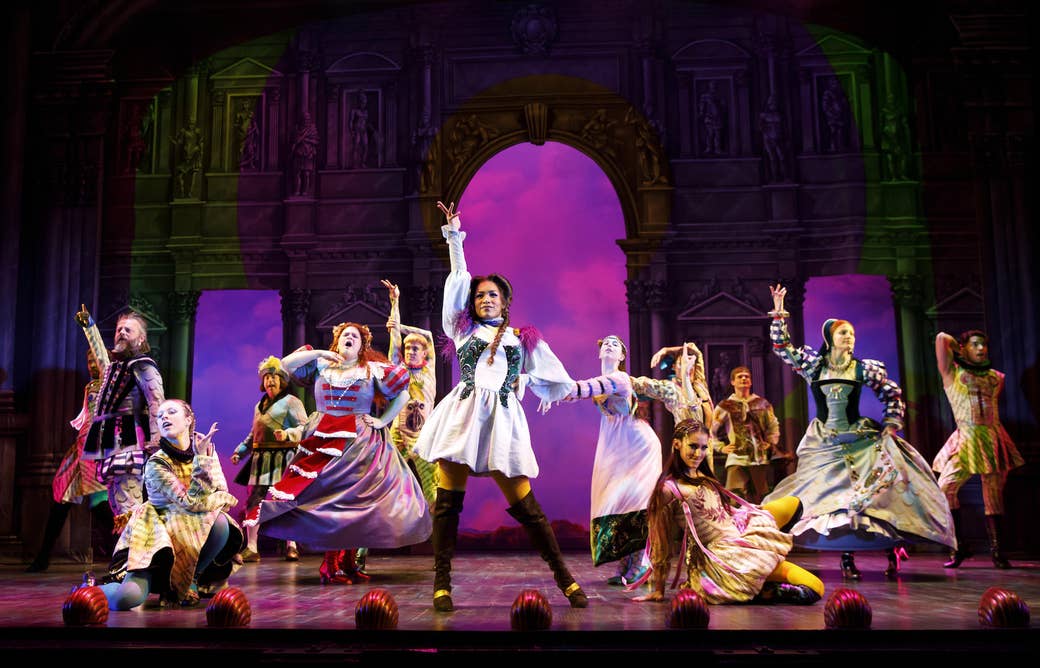 The plot, as in Arcadia, follows Basilius's attempt to thwart the Oracle's dire prophecy — his daughters, Philoclea (Alexandra Socha) and Pamela (Bonnie Milligan), will fall prey to unsuitable suitors, one a liar and the other not a man; he and his wife, Gynecia (Rachel York), will (somehow) commit adultery with each other; and his crown will be usurped by a worthier king. And then things take a turn for the queer. Philoclea finds herself drawn to the Amazonian warrior Cleophila, who turns out to be the shepherd Musidorus (Andrew Durand) in disguise. And Pamela discovers that she never wanted a man at all, as she and her handmaid Mopsa (Taylor Iman Jones) declare their love for each other.
At every turn, Head Over Heels makes the most subversive choices, queering a classic 16th-century text to delightful effect. Mopsa takes a quick trip to Lesbos (yes, really), where she turns "Vacation" into a new lesbian anthem. And Musidorus's cross-dressing, rather than just being played for laughs, inspires a full embrace of his feminine side.
Head Over Heels is earnestly committed to an accurate depiction of sexual and gender fluidity — Pythio's pronouns are treated with respect, even spurring some updated Go-Go's lyrics — while also being exceptionally silly. It is thoughtful but never didactic, a show that cares as much about getting representation right as it does about making sure the audience is having a great time. And with a bevy of Go-Go's tunes — seriously, every song is a bop — the latter is all but guaranteed.
In fact, part of what makes Head Over Heels so impressive is that it doesn't need to be nearly as innovative and clever as it is. The jukebox musical has a reputation for being lazy, and for good reason: Most of these shows rest on the audience's familiarity with an artist's catalog, which means they don't feel the need to provide much beyond that.
These musicals are mostly biographical, offering a highly sanitized version of the subject's life, as in Summer, which glosses over Donna Summer's late-in-life anti-gay attitudes. When they do feature original stories, like the dreadful Escape to Margaritaville, the plots are flimsy and transparent excuses to shove as many hits into two hours as possible. You go to a jukebox musical to hear (and hopefully not sing along to) the songs you know and love. More often than not, it's not any deeper than that.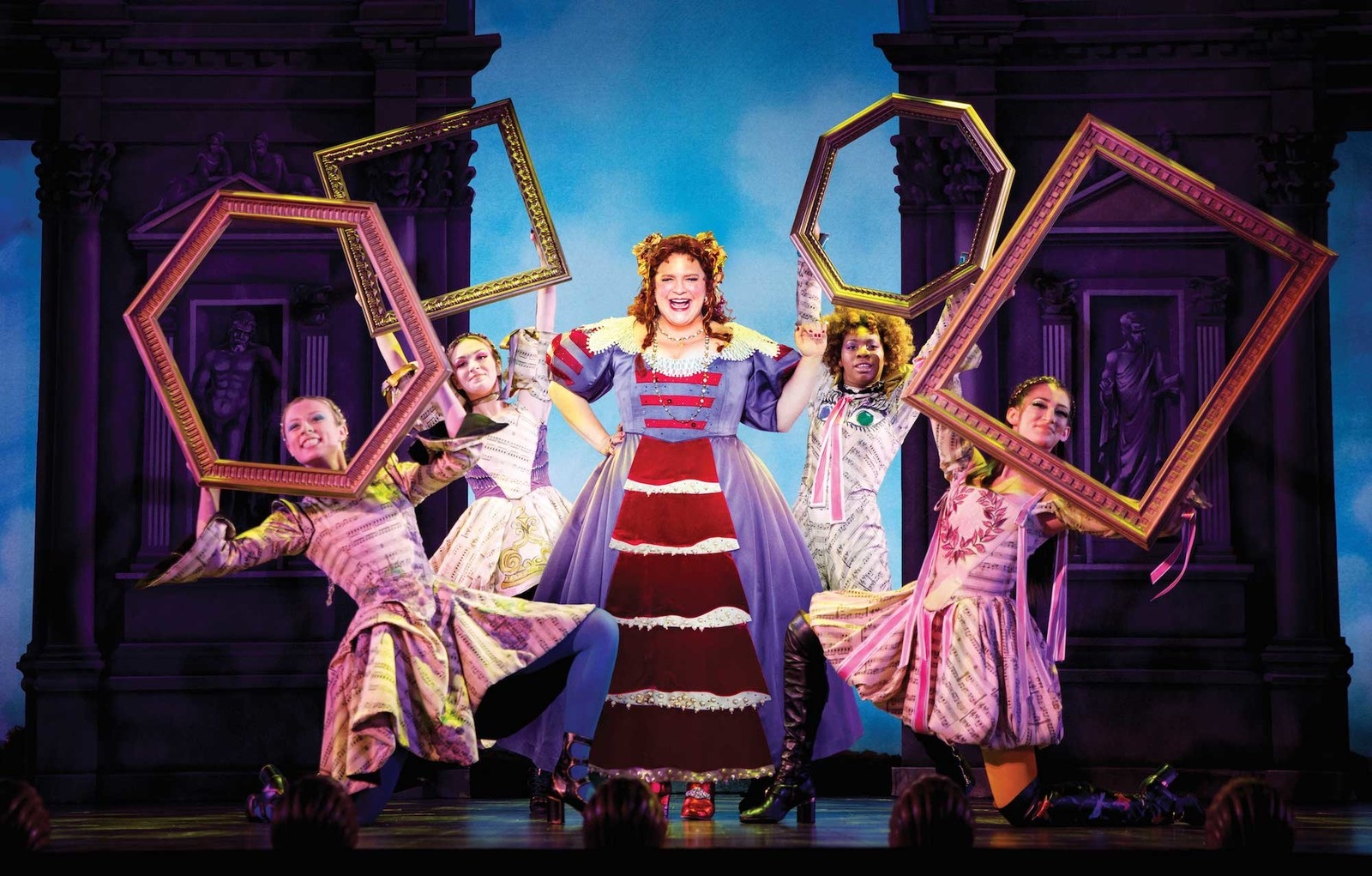 Head Over Heels could have easily gone down that route. The Go-Go's collection of hits speaks for itself: "We Got the Beat," "Our Lips Are Sealed," and the title song are all crowd-pleasers. Instead, the creative team has given us something fresh and exciting: "a vision of nowness," to crib the title from another featured Go-Go's song. The production has also assembled an exceptional cast that reflects racial, gender, and body diversity — not to mention all the amazing vocal chops on display. With her impressive belting and comic timing, Milligan will likely prove to be the breakout star of this show. Her Pamela makes for a stunning Broadway debut. But the entire cast is worthy of celebration: Socha is winsome and deeply sympathetic, Durand displays real versatility, and York has never been funnier. The ensemble fares just as well, especially when guided by Spencer Liff's addictive choreography.
In many ways, Head Over Heels might prove to be a tough sell — the jukebox musical is played out for die-hard theater fans, and the show's unapologetic queerness could alienate more close-minded audience members. But Broadway shouldn't be catering to the latter so much as forcing them outside their comfort zones. The more shows like Head Over Heels that exist, the more opportunities there are to expose people to the full breadth of sexual and gender identities, and the beauty therein. If Broadway wants to be at the forefront of inclusivity, this is the kind of work it needs to be doing.
It's heartening that Head Over Heels arrives alongside the play Straight White Men, which interrogates cis, white, male privilege and features, despite its title, two nonbinary actors, Kate Bornstein and Ty Defoe. These shows are transgressive and that makes them risky, but these are risks worth taking.
Head Over Heels presents a world where the key to paradise is accepting people for who they are, including their sexual and gender identities. That is a powerful message to portray eight times a week, and it's one that everyone, both queer and not, could stand to be reminded of. This show isn't just a blast: It's a stirring reminder of why theater matters.