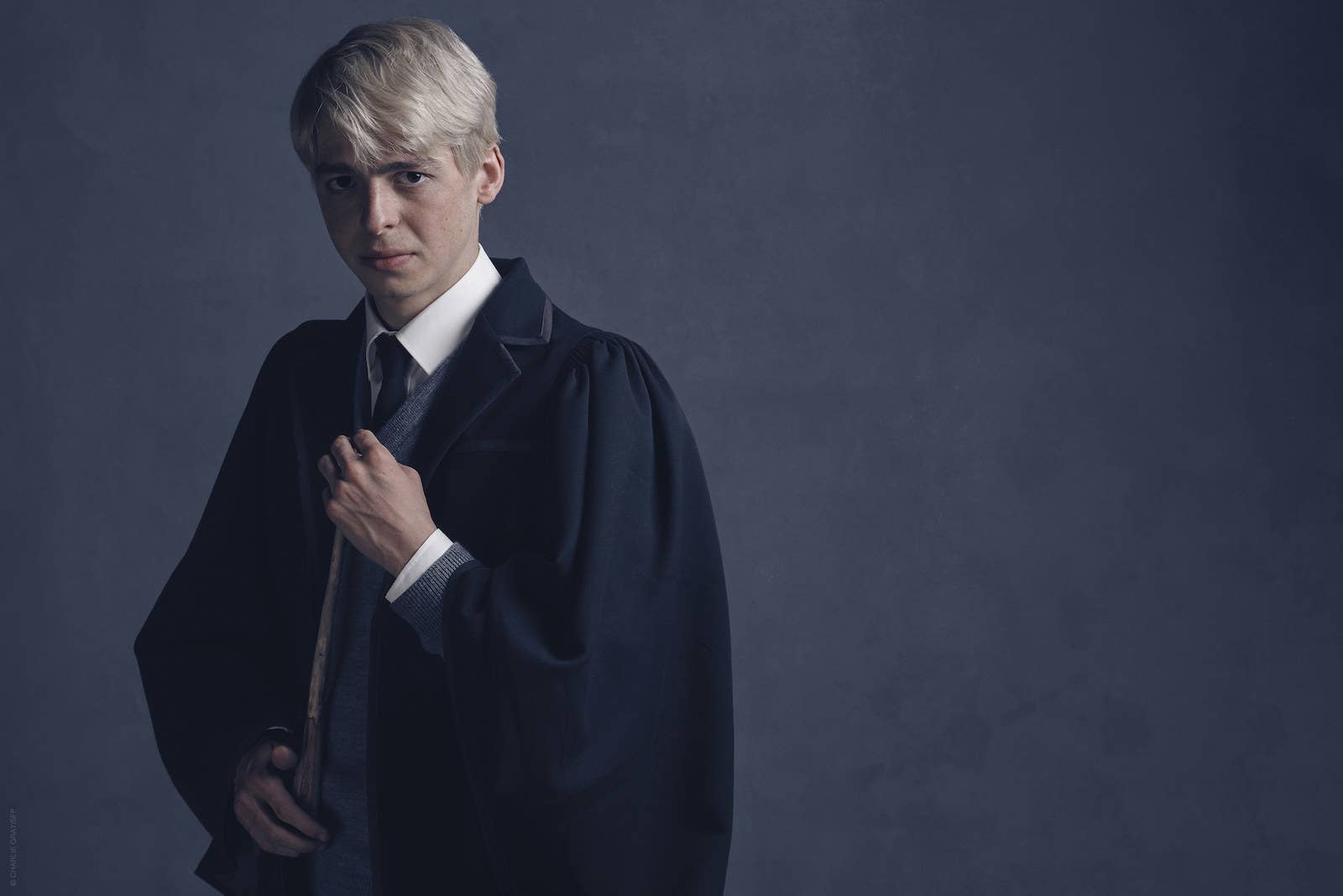 There's a tremendous amount of pressure that accompanies embodying a new character in the world of Harry Potter: J.K. Rowling's series represents a once-in-a-lifetime cultural phenomenon, with an immense and vocal fandom poring over each new entry into the canon. That includes, of course, Harry Potter and the Cursed Child, the two-part play that picks up 19 years after the book series ended.
As Draco's son Scorpius Malfoy, Anthony Boyle is playing one of those new additions to the universe (aside from the character's brief cameo at the end of Deathly Hallows) and holds his own alongside Harry Potter (Jamie Parker), Hermione Granger (Noma Dumezweni), and Ron Weasley (Paul Thornley). Boyle has had some time to settle in since his debut as Scorpius in June 2016 when the play began performances at London's Palace Theatre. Now that he's doing it on Broadway — Cursed Child opened at the Lyric Theatre in April — Boyle told BuzzFeed News that he's feeling a little more confident. "I think maybe I was a bit tamer in London," he said.
Still, he admits, taking on a role like Scorpius requires a certain amount of detachment. "I think if I thought of the seismic shift that J.K. Rowling has created in the world just through her art alone, and that I was going to give voice to a new character, I would probably just shit myself," he said.
Boyle's voice, as it turns out, is one of Scorpius's defining characteristics — he speaks in high-pitched, constrained tones, especially when he's anxious or frightened (which is often). It was Boyle's own idea, inspired by videos of purebred dogs with breathing problems, he explained, while mimicking pug noises. If the Malfoys were pureblood wizards, surely they might experience some of the same genetic abnormalities, like — in Scorpius's case — being barely able to squeak out his words.
Strange as it may seem, Boyle's choice has helped make Scorpius the breakout character of the play. His performance has earned numerous accolades, most notably an Olivier Award for Best Actor in a Supporting Role and a Tony nomination for Best Featured Actor in a Play. It helps, of course, that Scorpius is the most compelling character in Cursed Child, a troubled, kind-hearted young wizard who finds himself at odds with his father, Draco (Alex Price), and the impossible expectations of the Malfoy family name.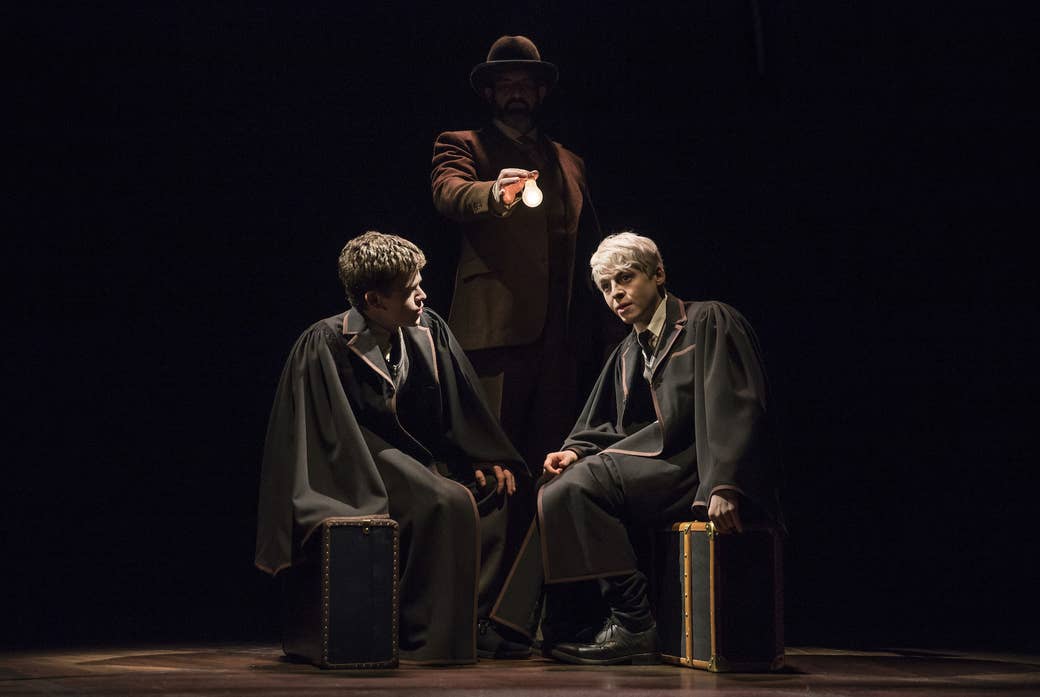 The play follows Scorpius as he finds a kindred spirit in his Hogwarts classmate Albus Severus Potter (Sam Clemmett), the son of his father's former nemesis. Like Scorpius, Albus is tormented by the pressures of his famous family, and together, the boys struggle to carve out their own paths and escape from their fathers' shadows. How they do it is better left unsaid; Cursed Child is a play that works best when the intricacies of its plot remain under wraps. But Scorpius is the real star of the show, standing out even among the stage magic that surrounds him — sometimes in a painfully awkward manner, but always relatable and deeply sympathetic.
Part of that comes from Boyle's commitment to finding emotional honesty in the role. He said he felt attached to the character from the moment he first read the script. "This just hit me like a ton of bricks," he said. "I thought that how he dealt with his mother's death with humor — I just reached that and knew immediately that I had to speak those words that [playwright] Jack [Thorne] had written so beautifully."
And in doing the play, Boyle is determined to keep his performance grounded — yes, even with those dramatic vocal inflections. That means blocking out the bigger picture at times: playing Scorpius the hapless, grieving high school student, not Scorpius the Harry Potter character.
"I just think of it from moment to moment. I never really think of it being Harry Potter or all these accolades that the show has gotten or the size of it or how much a ticket was," he said. "I just think, Who's in front of me onstage? I don't think about wizards or anything. I just want to look in their eyes and find out what's going on with them."
With a fandom as large as Harry Potter's, however, it's impossible to block out the noise all the time. The audience is particularly responsive, Boyle noted, even more so now that the play is in the US, where theater audiences tend to be less restrained than their UK counterparts. They applaud when characters they know appear, cheer and cry at pivotal moments, and leap to their feet at the end of both halves of the play.
"The audience are like having an extra cast member onstage over here 'cause they're so vocal," Boyle said. "It's like having another actor and every night they're a bit different, and for the first couple of scenes, you're sort of getting to know them and finding out where they are."
And then there's the online fandom. Boyle is on Twitter and Instagram, but he avoids Tumblr, where the bulk of Harry Potter's fan-created content lives. That means he's largely missed the fanfic, the fanart, and the seemingly endless takes on Cursed Child and Scorpius in particular. He's content to keep some distance there, although he did just learn about shipping thanks to his 13-year-old sister.
One thing Boyle has picked up on is the fandom's persistent belief that there's more than just friendship happening between Scorpius and Albus. It's not much of a stretch, to be fair, although the homoerotic subtext is less apparent onstage; in the text, there are certainly moments in which one could argue that the young wizards are very much in love. And while Boyle has always seen the relationship as purely platonic, he's open-minded. "If people read into it in a different way, I don't want to comment on the art," he said. "If people see that and take something from that and see themselves in it, represented in it in a good way, I don't want to rain on anyone's parade."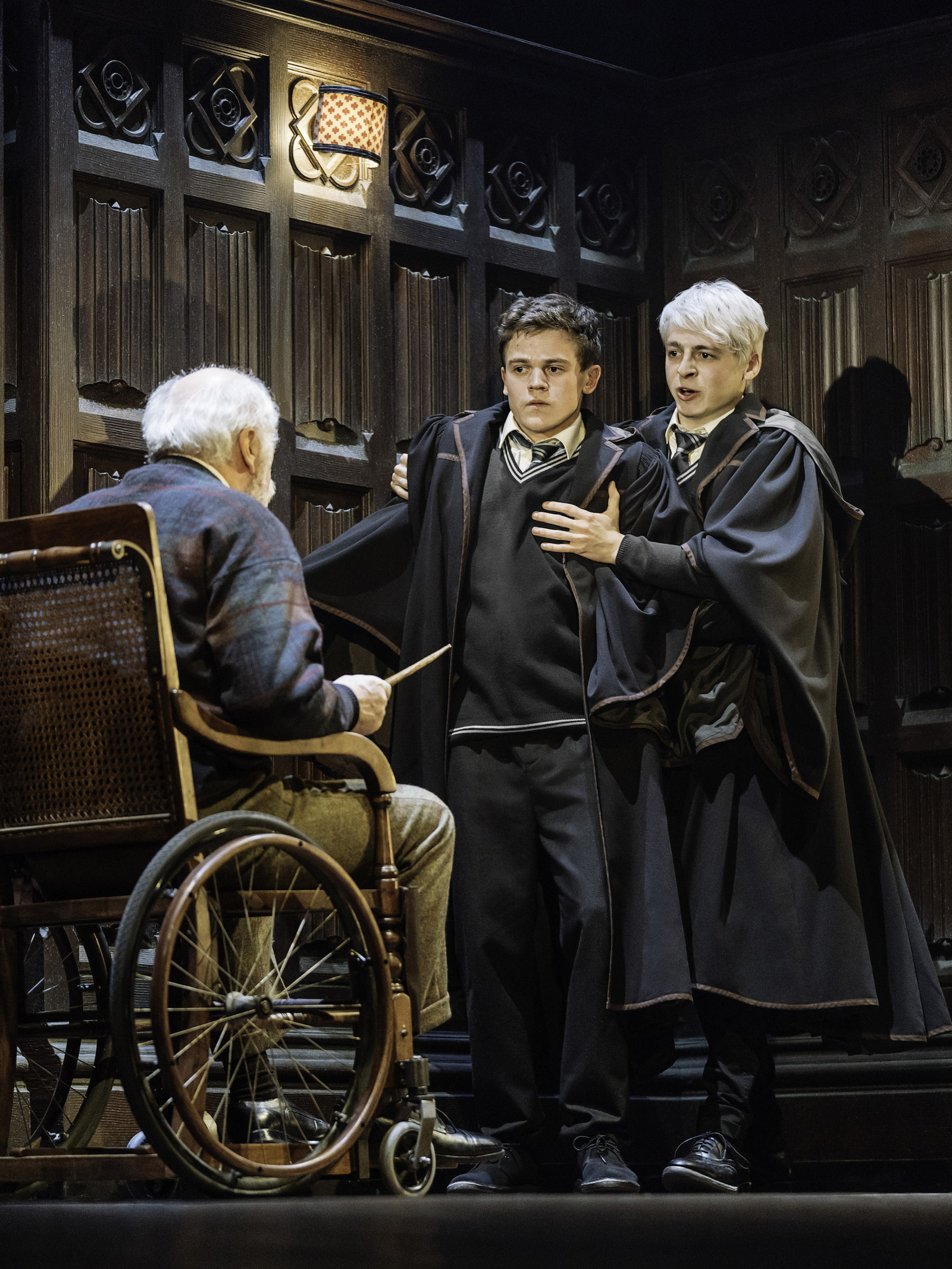 Harry Potter fandom may be overwhelming, but it has also inspired some of Boyle's most memorable experiences. When he spoke about meeting a teenage girl with a terminal illness at the stage door in London — with her crying parents filming the encounter — Boyle began to tear up. While he's performing, he is careful to not think about what Harry Potter means to people. But in those moments after the epic play, he can see the impact Cursed Child has had on those who have found comfort and solace in the world of Harry Potter.
In part, it's the character of Scorpius: Like Harry himself, he is an unlikely hero who rises up against the odds. "He's an outsider and a loser. For kids to see themselves represented as that character, to be the hero and to overcome — the whole world is placed on his shoulders and he has to, through love, save the world," Boyle said. "So many people say to me after, 'I see so much of myself in him.' And it's really good to get the underdog to rise up and smash the fuck out of it."
But the impact is also Cursed Child as a whole. Aside from his specific role, Boyle gets to be part of a production that offers a bit of magical escapism to those who desperately need it. He may forget that while he's onstage, but it's something he clings to when he's off.
"There's so much fucking hate in the world right now," he continues, "and I think these shining little moments, the light in the darkness for people — it's just an honor to be in something that gives people a little bit of light."