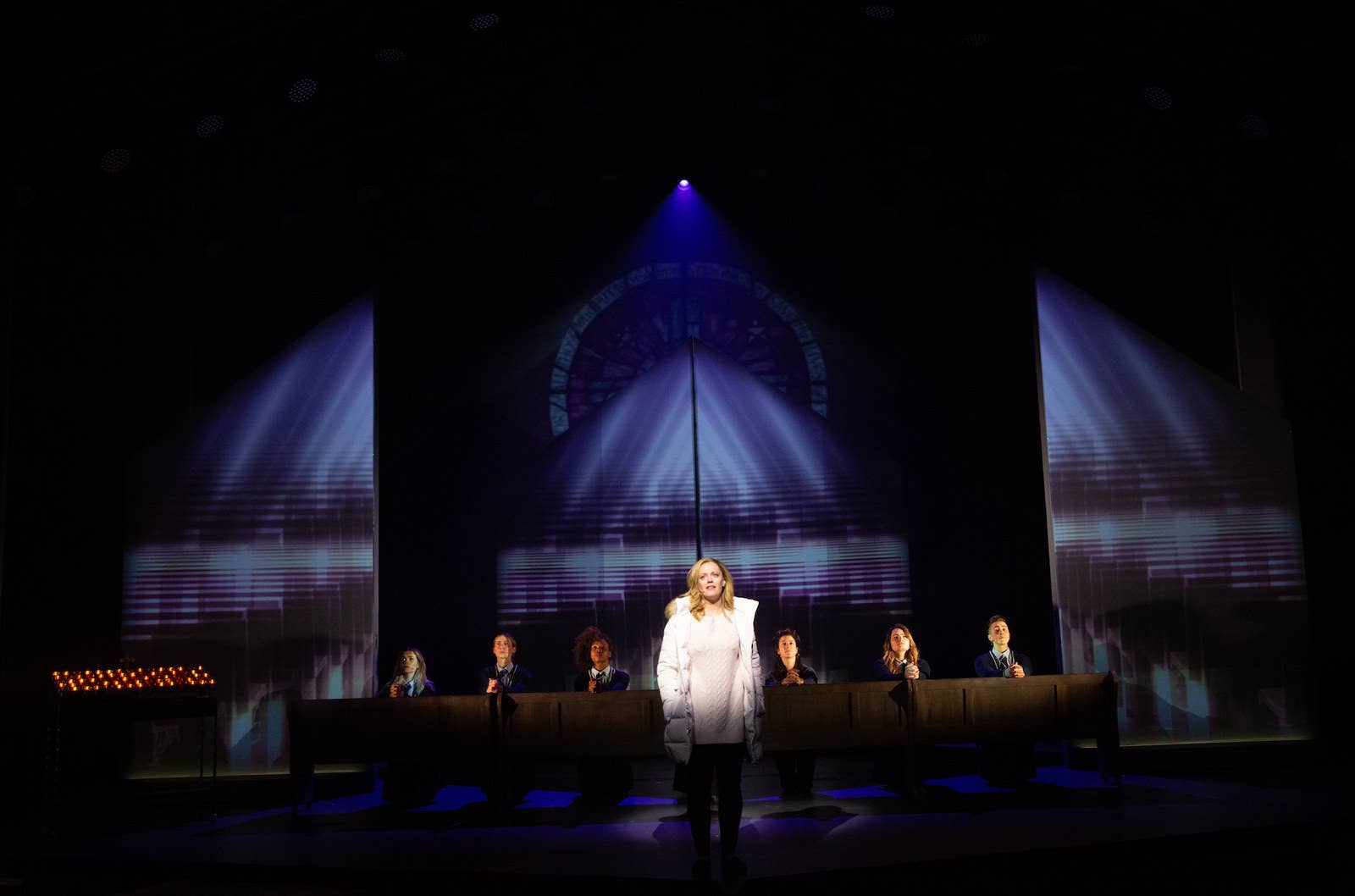 Isn't it ironic that a musical inspired by a 1995 album is possibly the most 2018 piece of theater imaginable? To be fair, Jagged Little Pill — currently running at the American Repertory Theater in Cambridge — isn't based on the album itself, instead using the music of Alanis Morissette to tell an original story. But that story, written by Academy Award–winning screenwriter Diablo Cody, is timely in a way few other pieces of contemporary art have even attempted: This is a musical that touches on the opioid epidemic, rape culture, transracial adoption, and gender fluidity. There is doing the most and then there is Jagged Little Pill, a show that does the most — and then somehow does even more.
And yet, Jagged Little Pill is ultimately a success, in large part because it wears its ambition on its sleeve. Yes, this is a show that wants to present the full spectrum of The Way Things Are Now, but it's completely upfront about that, and its earnestness — tinged, of course, with Cody's occasionally sardonic tone — proves to be one of its greatest strengths. Responses are almost certain to be divided, and your reaction to the musical can probably be predicted by your feelings toward Julie Taymor's 2007 film Across the Universe, another jukebox musical that used well-known songs to underline a cultural moment. Across the Universe tried to cram the '60s into its 133-minute runtime; Jagged Little Pill does the same with 2018. If the former worked for you, chances are the latter will, too. And if you thought Across the Universe was an overwhelming assault on the senses, well, Jagged Little Pill might be equally tough to swallow.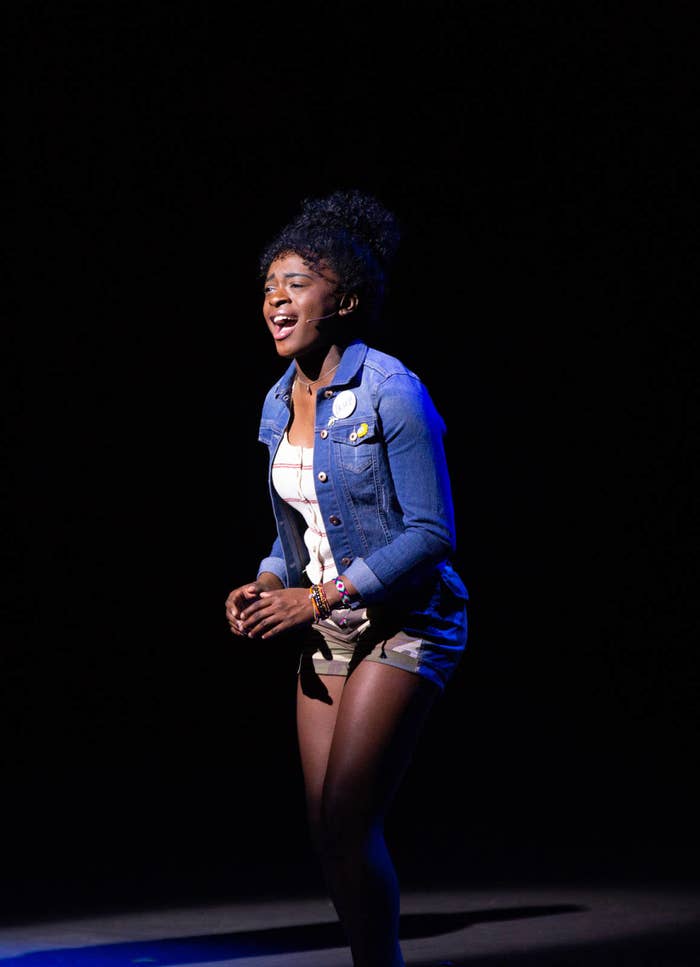 Trying to encapsulate the plot of this two-hour-and-40-minute show is a challenge, but here are the basics: Mary Jane Healy (Elizabeth Stanley) is a mom obsessed with keeping it all together despite the fact that her life is spinning out of control. She's secretly harboring an addiction to prescription pain pills, and her marriage to Steve (Sean Allan Krill) is distant and sexless. Her daughter, Frankie (Celia Gooding), who is adopted and the only black member of the family, feels alienated by the way her "colorblind" mother has diminished Frankie's black identity. She's also exploring her burgeoning queerness with her best friend with benefits, Jo (Lauren Patten), who is genderqueer. Mary Jane's son, Nick (Derek Klena), is dealing with the pressure of being the golden child of the family — and that's complicated when one of his friends is accused of raping Frankie's other BFF Bella (Kathryn Gallagher). All that and, yes, a bevy of Alanis Morissette songs — including all of the titular album, a handful of tracks from later works, and two new original numbers — that punctuate the ups and downs of this tangled family drama.
There's no simple, straightforward logline here, and while that might make Jagged Little Pill a tough sell, it also makes the show a more accurate depiction of real life. People rarely deal with one problem at a time: There's a reason why "when it rains, it pours" is such an enduring cliché. Jagged Little Pill shares some of its DNA with shows like Next to Normal and Dear Evan Hansen — both of which deal with mental illness and teenage angst — but its aims are far more expansive. It refuses to be pinned down as a show about addiction or sexual violence or racial and gender identity, because it is about all of those things and so much more. The fact that it doesn't completely collapse under its own weight is a testament to Cody's skill in constructing an impressively complex story that, by and large, comes together in the end.
That's not to say there aren't moments when some narrative restraint would have been advisable. Frankie's romance with new kid Phoenix (Antonio Cipriano) feels mostly superfluous, even if it does allow for a charming duet of "Head Over Feet." And Nick, despite a compelling performance by Klena, often gets lost in the shuffle, the consequence of the sheer amount of plot happening around him at all times. Still, Jagged Little Pill is more cohesive than it has any right to be, and that's a credit to Cody's strengths as a writer. She returns here to some of her most fruitful themes — the too often forgotten personhood of mothers and the monstrousness of adolescence chief among them — which creates a through line for a show with so many disparate plot points. And despite those broad strokes, she remains a master of specificity. Cody doesn't shy away from the messy details, grounding Mary Jane's addiction and Bella's rape in a way that few shows would ever attempt.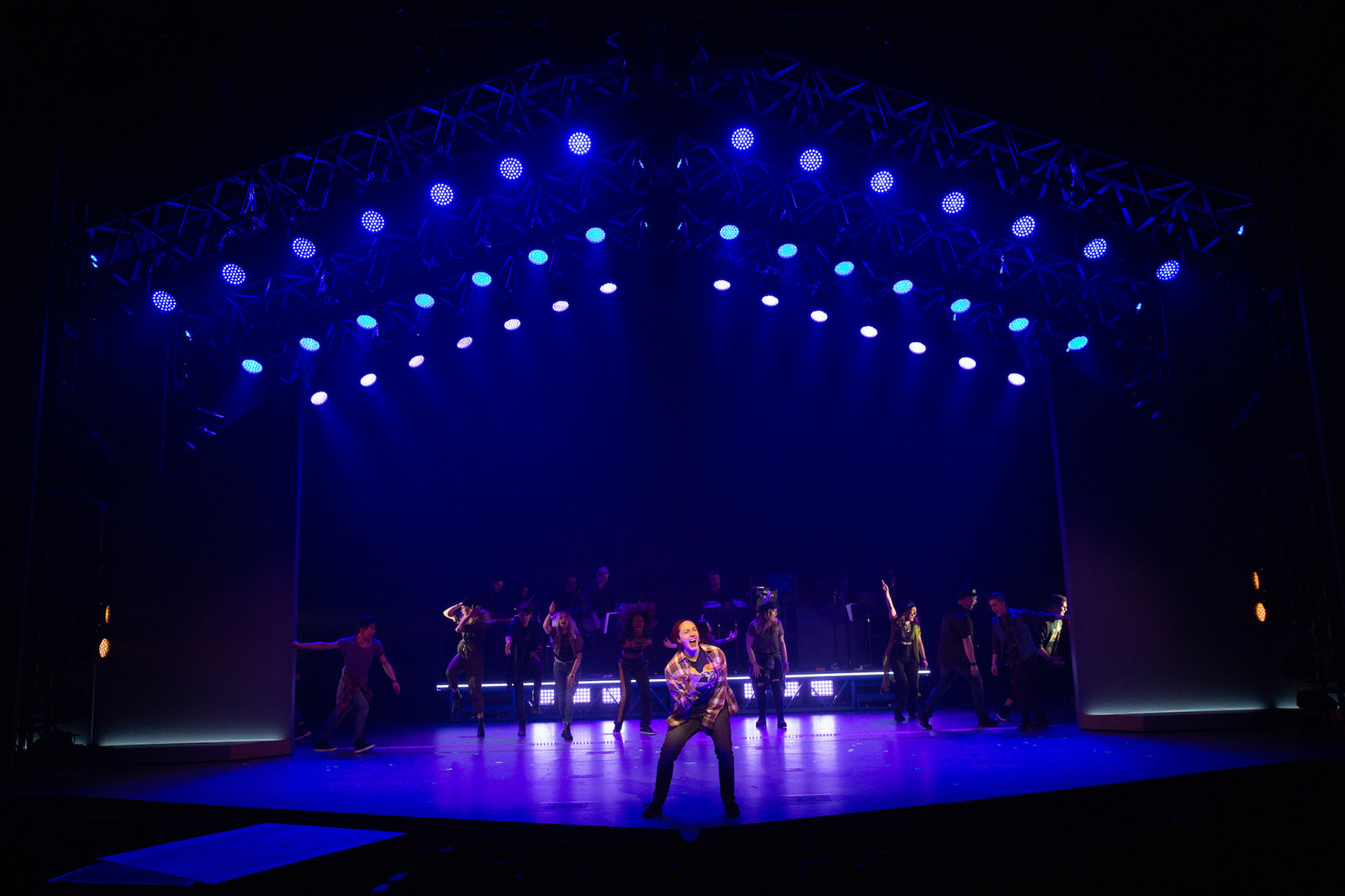 Yes, but what about the music? The potency of 1995's Jagged Little Pill turned it into an instant classic, and the songs in this show — both from that album and from Morissette's later catalog — are as stirring and resonant as they have ever been. But if there is a downside to the amount of ground that the show covers, it's that sometimes the musical numbers get a little bit swallowed. There are, of course, standouts: the Act 1 finale, "Forgiven," is breathtaking, and "Uninvited" — which, no joke, Mary Jane sings while getting high on fentanyl and wrestling with her own double — is remarkably effective. But it's telling that the best moment in the entire show is Jo's searing rendition of "You Oughta Know," which earns a midshow standing ovation at every performance. Here, Jagged Little Pill lets the song speak for itself, as it should: "You Oughta Know" has always told a complete story, without the need for any theatrical embellishments. The show as a whole could stand to allow for more of these moments in which Morissette's songs do the heavy lifting, as her discography is more than capable of doing.
If Jagged Little Pill is going to transfer to Broadway — and with an established brand, a strong cast, and an exceptionally relevant story, that feels inevitable — the creative team will likely need to do some tightening. The show's unwieldy nature is part of its appeal, but New York audiences may not have the patience for something this sprawling. Ideally, there's a happy medium, a revised Jagged Little Pill that maintains the messiness while making it just a little easier to digest. That might mean shaving off some of the plot, or even ditching a couple characters, in the service of delivering something that's not quite so all over the place. But regardless of what the future holds for this show, we should continue to champion works that are this ambitious, and that take huge swings in an effort to broaden our perspective of what theater can do. Because while Jagged Little Pill may not be perfect, it's just chaotic enough to capture what it feels like to be living through our current moment.