TORONTO — There are only 12 notes in an octave, Bobby (Sam Elliott) explains in A Star Is Born: "All any artist can offer the world is how they see those 12 notes." It's something he learned from his brother, Jackson Maine (Bradley Cooper), a rock star whose alcoholism repeatedly threatens to derail his career.
Vox Lux — which had its North American premiere at the Toronto International Film Festival Friday — and A Star Is Born — which has its North American premiere at TIFF Sunday night — offer the same notes but sound substantially different. Both films are about the creation of a pop star, which requires some mythologizing and sacrifice of personal identity, and both showcase the high cost of fame, particularly the loss of privacy and the self-destructive tendencies that frequently accompany stardom. Both films are also anchored by dynamic leading performances: Natalie Portman at her most unhinged as Vox Lux's Celeste and Lady Gaga, equal parts charismatic and ferocious, as A Star Is Born's Ally. But while Vox Lux is remote and caustic, A Star Is Born is inviting and easy to fall in love with.
Vox Lux won't appeal to everyone — it's certainly not trying to, anyway. That's evident from the first scene, in which a high school student opens fire on his classmates, including a young Celeste (Raffey Cassidy). At a memorial service, Celeste debuts an original song, which becomes a viral hit. Enter a manager (Jude Law), and soon she's on her way to pop stardom. By the time we reconnect with her as an adult, played by Portman, she's long ago reached diva status, complete with the standard pitfalls: a disastrous love life, an estranged relationship with her daughter (also played by Cassidy), and a substance abuse problem. As an adult, Celeste is never all that likeable, but she's deeply compelling. What we see of her live concert — the original songs in the film were written by Sia — makes it easy to understand her loyal fan base.
The major problem with Vox Lux is how underbaked it feels. Narration by Willem Dafoe gives it an odd charm — even through scenes of a school shooting and a terrorist attack — but it's also a shortcut that lets the film gloss over many of the elements of Celeste's life that have turned her into the nightmare she is in the present day. In the first part of the film, which takes place at the turn of the millennium, we do see hints of Celeste's transformation — how she's crafted into a more marketable version of herself, as well as her loss of innocence. But when we skip ahead, she is hardened and cruel, a walking (or rather, stumbling) disaster.
It's a cheat to deny the audience any real arc, and it makes it difficult to connect emotionally with the Portman segment of the movie, despite the fact that her performance makes it the more entertaining half. There are some interesting ideas here: A journalist (Christopher Abbott) suggests a link between pop stars and terrorists (including, perhaps, school shooters). But Vox Lux never really interrogates that question, which makes those horrific scenes of trauma feel lazy and unearned. There's nothing wrong with challenging an audience, but writer-director Brady Corbet doesn't seem to have a clear handle on what it all means.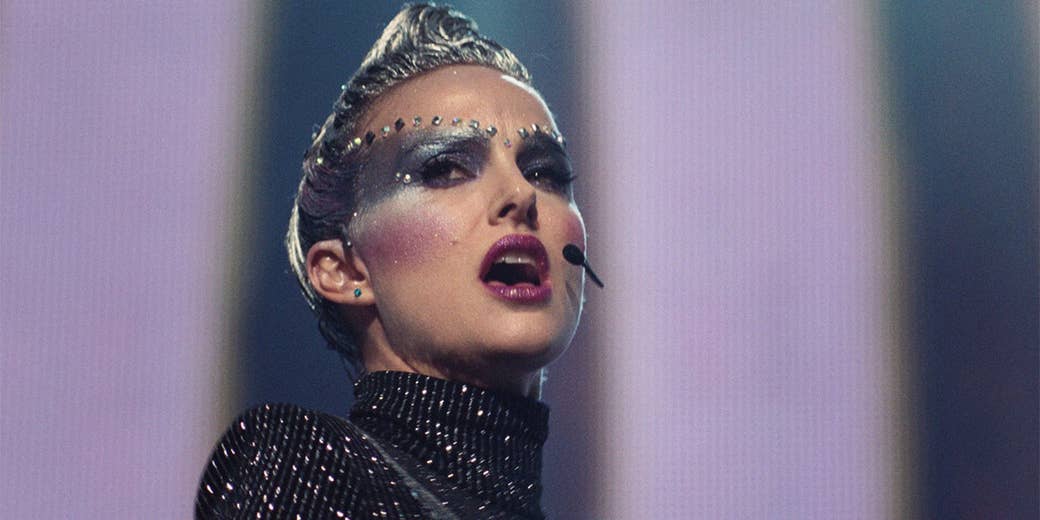 A Star Is Born, on the other hand, is a lot more conventional: It's the third remake of 1937's A Star Is Born (following the 1954 Judy Garland version and the 1976 Barbra Streisand iteration), and the biggest risk is that it's helmed by an actor turned director (Cooper) and stars a woman known primarily for her music career. But even when it covers familiar territory — if you've seen any Star Is Born, you know where this is headed — it's a captivating and deeply felt film, with chill-inducing musical sequences and a movie star–making performance by Lady Gaga that will earn her at least an Oscar nomination, if not the statue.
This is, of course, a love story, about a woman who can't save the man she's fallen for, as her career rises while his falters. But it's also a film about how Ally, the woman who sings at drag shows in her free time, becomes Ally, the international pop icon. And, yes, that bears a not insignificant resemblance to the career trajectory of Gaga, the artist formerly known as Stefani Germanotta. Here, Ally's image transformation also includes a dye job, but as she puts it, "I don't want to be fucking blonde." (She becomes a redhead instead.) As in Vox Lux, there are outfit updates and new choreography to learn. "I don't want to lose the part of me that's talented," Ally worries.
But A Star Is Born has something more substantial to say about what it means to be a star, beyond the dumbing down of lyrics that earns Ally a spot on Saturday Night Live. "You don't tell the truth out there, you're fucked," Jack reminds her. It's a theme that runs throughout the film: We're all telling different versions of the same story, but it's how you tell it that matters. And if the way you share your story doesn't feel authentic, you'll lose your audience. It's in finding her voice that Ally ascends to the upper echelons of fame — but the concept also holds true for A Star Is Born and Vox Lux. Both films are variations on a theme, but only A Star Is Born feels honest enough for it to succeed.
There's an irony to the fact that A Star Is Born's anthem — the song with the incredible Gaga vocal riff in the trailer — is called "Shallow," when the film as a whole is layered and emotionally resonant. Some will prefer the sleek aesthetic and deliberate coldness of Vox Lux, a movie that does, to its credit, know how to put on a show. That may be enough for Celeste, who as a girl explains her penchant for pop music by saying, "I don't want people to have to think too hard. I want them to feel good." But A Star Is Born — like the pop hits that really get under your skin — has a lot more on its mind. And that's the movie that sticks with you long after the screen has gone dark.